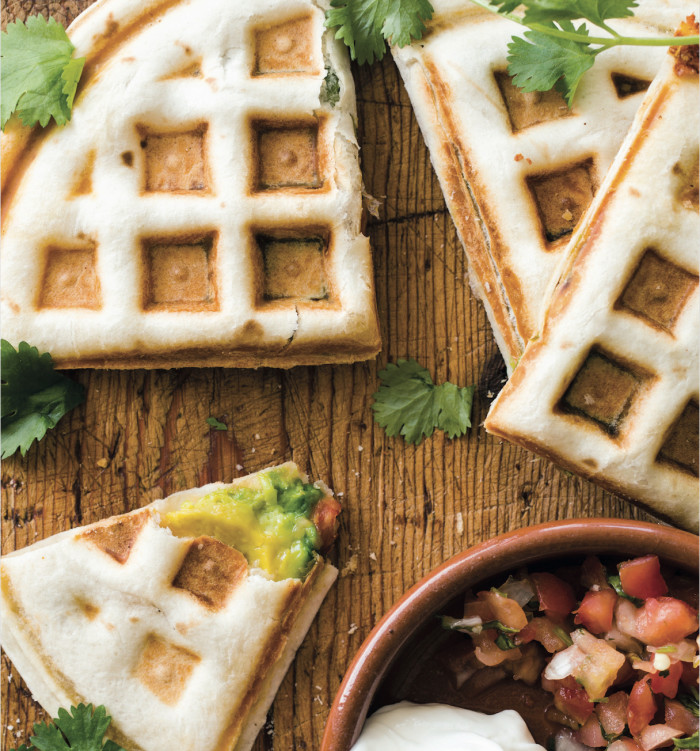 Portland-based food writer and cookbook author Lara Ferroni turns her focus on the humble but mighty avocado in her new collection of recipes. Pick up a couple of "gator eggs" and a copy of An Avocado a Day to switch up your creamy green game and infuse this wondrous ingredient into things you never imagined. Take, for example, these waffled avocado quesadillas. 
What's better than a cheesy avocado quesadilla made in a waffle iron? You have to try it to believe it. Just be careful to avoid getting cheese in the waffle iron, or you'll have a lot of cleanup to do!
Ingredients
2

flour tortillas, slightly larger than your waffle iron

1

tablespoon

avocado oil or melted unsalted butter

3/4

cup

grated Monterey Jack or cheddar cheese

1

avocado, sliced

Pico de Gallo (optional)

sour cream, for serving (optional)
Directions
For the quesadillas
Heat your waffle iron to medium-high per the manufacturer's instructions.

Place the tortillas down on a flat surface and brush one tortilla with half of the oil. Place it oil side down on the waffle iron, and layer about half the cheese, the avocado slices, some pico de gallo, and then the remaining cheese. Top with the other tortilla, and quickly brush the remaining oil on the top.

Cook according to your waffle iron's recommendations, typically 3 minutes.

Remove the quesadilla from the waffle iron with a fork, and cut it into quarters. Serve immediately, with a bit more pico de gallo and sour cream.