Costco's Thanksgiving Kit Will Feed Your Whole Family For $25 Each
Bhofack2/Getty Images
There's no denying it: Thanksgiving is hard work. For the host and cook, it's not unheard of to spend the entire day in the kitchen, cooking up and preparing what is arguably the biggest eating holiday of the year. Fortunately, there are alternative ways to get your turkey and pumpkin pie fix. 
Many restaurants are open and offer traditional Thanksgiving dinners for dine in or takeout, and plenty of grocery stores sell the entire, pre-prepared meal that you simply pick up and heat up, but sometimes those options come at a hefty price. The big box store giant, Costco, however, can make the fourth Thursday of November a breeze, for a fee that won't break the bank.
Costco's pre-made Thanksgiving dinner will feed a family or group of friends of eight people and retails for just under $200, which comes out to about $25 per person, much less than what you'd pay at a nice restaurant. All you need to do is roast the turkey breast (which is pre-brined), heat up the six trays of side dishes, and thaw the rolls. Oh, you'll also have to slice the two pies that are included. But, in total, it'll save time, which is priceless.
Costco's holiday feast is something to be thankful for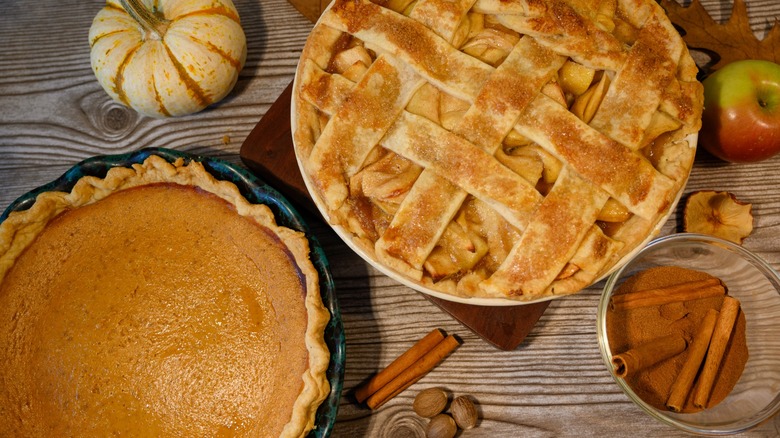 Amy Sparwasser/Getty Images
In 2022, Fox29 reported that it cost an average of $6.50 per person to cook Thanksgiving dinner at home, which is far less than what Costco offers for their $199.99 bundle. Yet, when you take away the grocery shopping, planning, prepping, timing, cooking, and serving (not to mention beverages, table setting, and house cleaning), the $25 per person price tag might be completely justifiable for a lot of people who consider time is money.
When you order Costco's Thanksgiving Dinner, you'll receive a five-pound, all-natural turkey breast, mashed potatoes, gravy, macaroni and cheese, sweet corn, green beans, stuffing, cranberry relish, a dozen dinner rolls, a pumpkin pie, and an apple pie. In other words, a legitimate feast all ready to go. To ensure you get the meal in time, you must place the order by November 5 and it will be delivered some time between November 8-17 and you can freeze it until the big day.
Now that the food is pretty much off your plate, consider focusing on other factors. For instance, all those side dishes that come with the pre-made meal will need to be heated up so your oven is going to be working overtime and should be cleaned properly beforehand. And instead of grabbing whatever wines are at arms length on your way to picking up the right sized turkey at the store, you can spend more time choosing the best wines for the meal. In the end, it should be money well spent, less stress, and precious time to take in what really matters most on the holiday: Family, friends, and being together.