How To Buy Wine For A Holiday Party, According To Experts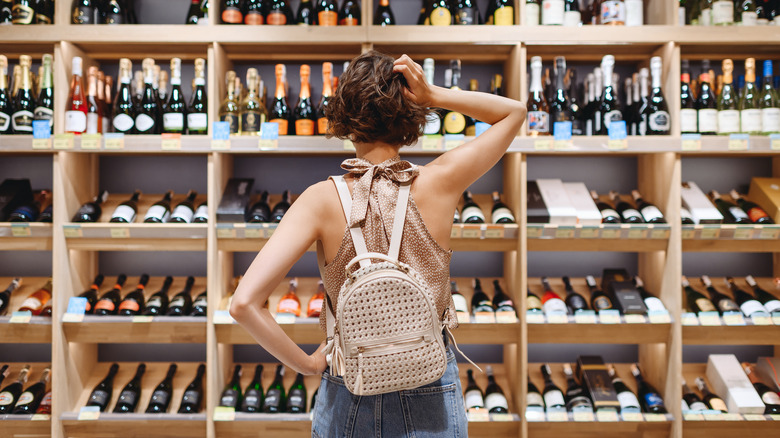 ViDI Studio/Shutterstock
Hosting a holiday party can be a stressful endeavor because there are so many details to oversee. In addition to planning the guest list, playlist, and menu, selecting the right wine to serve can be overwhelming. To help you narrow down your choices, Food Republic spoke to two experts with insights for hosting or attending a holiday party.
Cody Pruitt, the founder and beverage director at Libertine, a French bistro in New York City, advises against attempting to find something that "everyone will like." It's a nearly impossible task. Instead, view this as an opportunity to explore wines that deviate from your usual selections, seeking out "something that can provide conversation fodder or ice-breaker moments." If you've enjoyed a particular bottle at a restaurant, Pruitt suggests tracking it down for your party, allowing you to share that memorable experience with your guests, making it more meaningful. 
Wondering how many bottles you'll need? It's not an exact science, but a standard 750 milliliter wine bottle contains five servings. In practice, however, it's more like four servings. Assuming that guests will enjoy a glass before and after dinner, as well as two glasses during the meal, you'll need one bottle of wine per guest. If your guests tend to be more enthusiastic wine drinkers or you're also serving other cocktails, you can employ this formula: Multiply the number of guests by the projected number of glasses each guest will consume, and then divide that total by four. See, easy math.
Choosing the perfect wine to bring as a gift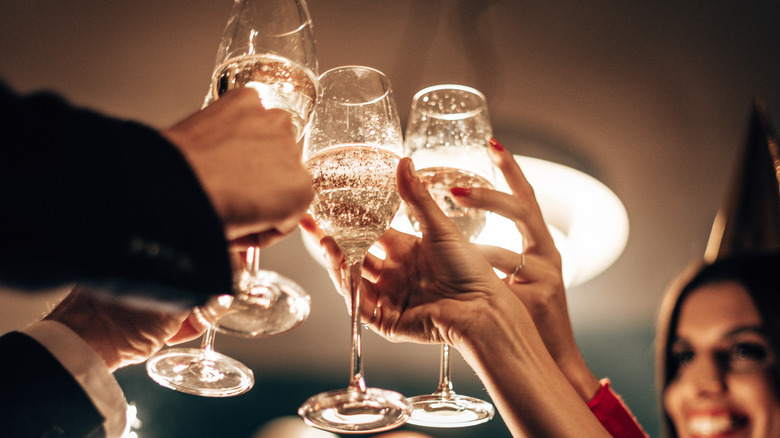 Franckreporter/Getty Images
When selecting a thoughtful bottle of wine to bring as a hostess gift, you want to ensure your choice stands out among the typical offerings from other guests. According to Jerome Noel — the general manager of taste56, a new wine store and interactive tasting room located in DUMBO, Brooklyn, New York — the best choice isn't necessarily the most expensive one.
For example, if the host "mentioned a certain producer or style of wine they loved, or recently visited a wine region, a related gift is always welcome," Noel suggests. Similarly, if you've shared a memorable bottle at a restaurant, making an effort to find that vintage can be a meaningful gesture.
When you don't know the hosts well, you can't go wrong with sparkling wine. "Not only do many people consider them celebratory, but sparkling wines are incredibly versatile with food, and pair very well with a variety of cuisines," Noel says. If Champagne is beyond your budget, he recommends considering a French sparkling wine like Cremant de Bourgogne or a Spanish Cava.
Don't fret over whether the bottle has a cork or a twist-off cap. Many high-end wine producers now use user-friendly screw caps. The key is to make the selection meaningful.