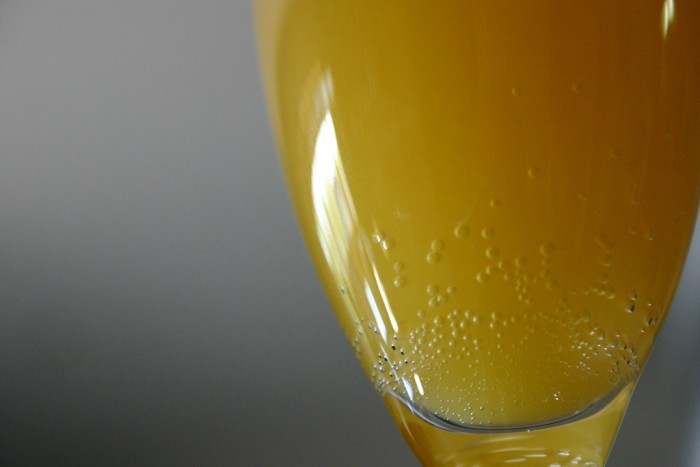 This is our kind of week here at Food Republic. From this afternoon out, there is an excellent reason to drink nearly every day through the weekend. Thursday, tequila for Cinco de Mayo. Saturday, bourbon for the Kentucky Derby. Friday, well just because it's Friday. And Sunday we are thinking nothing sounds more appropriate for Mother's Day brunch than some mimosas.
To make a proper mimosa, use equal parts sparkling wine and orange juice, with a splash of Grand Marnier if you are feeling fancy. If you want to keep things a little less alcoholic, try a Buck's Fizz, which is very British and consists of 2 parts OJ to one part vino. But what kind of sparkling wine to use? Allow us to examine the options for you.
Champagne
By law, Champagne must come from the Champagne region of France, and is normally made of Pinot Noir and Chardonnay grapes. There are good champagnes and bad — if you find yourself drinking an not fabulous bottle, a mimosa is a great way to save it. But as a general rule, given it's price point, Champagne is not the best choice for mimosas, where the wine will be obscured by the juice.
Crémant
Crémant wines are also from France and are produced in the Loire, Burgundy, Alsace and the Jura. These wines are often more affordable than Champagnes of similar quality, but they are also a little more delicate and are best enjoyed on their own.
Cava
For any kind of brunch cocktail, Cava, which hails from Spain, is a great choice for a slighter drier brunch cocktail. These sparklers can often be found for under $10 a bottle and also taste great straight.
Prosecco and Franciacorta
In Italy sparkling wine comes in two kinds: the Champagne style Franciacorta and the lighter, crisper, fruitier Prosecco. Prosecco is the traditional choice for Bellinis — sparkling wine mixed with peach nectar, and is also great for other brunch cocktails, like mimosas.
Sparkling Wine
In the U.S. most bubblies are called simply sparkling wine. American sparkling wines can be found all price points. Do not use a $100 bottle of sparkling wine to make your mimosas, there are plenty of options at $15 or under.
---
More doses of Your Daily Wine from Food Republic: