The Best Cheeses To Pair With Coffee, According To An Expert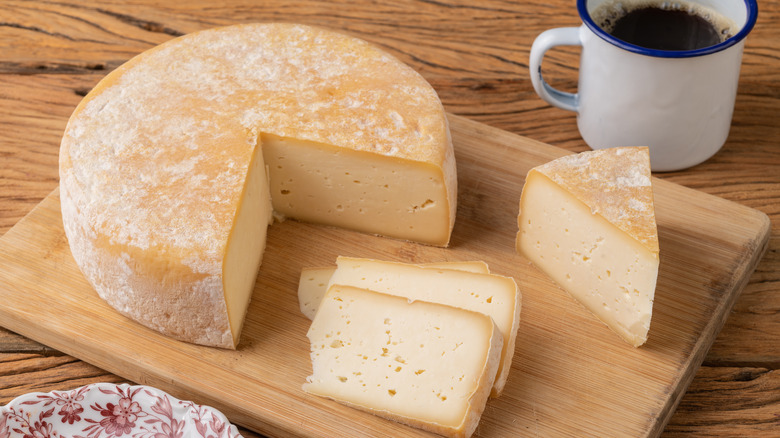 Odu Mazza/Shutterstock
Wine and cheese are a classic combination. The depth of flavor and varying notes bring out the best in each other, but did you know that coffee can do the same thing? Chad Galer, the vice president of Product Innovation and Food Safety at Dairy Management Inc., knows a thing or two about cheese and beverage pairings. He spoke with Food Republic about cheeses that pair well with coffee, ranging from sweet and creamy to bold and nutty.
Galer notes that "coffee can range from light to dark roasts and have flavors that include bitter, earthy, acid, or even nutty," which are tasting notes that you could also use to describe many different cheeses. A cup of joe and a piece of cheese with similar flavor undertones creates a classic like-with-like pairing. If you think about it, it totally makes sense. Eating cheese with coffee evokes a similar balance as having milk or cream with your brew — the dairy mellows bitter and acidic flavors while amplifying the more subtle tastes.
What cheeses should you pair with coffee?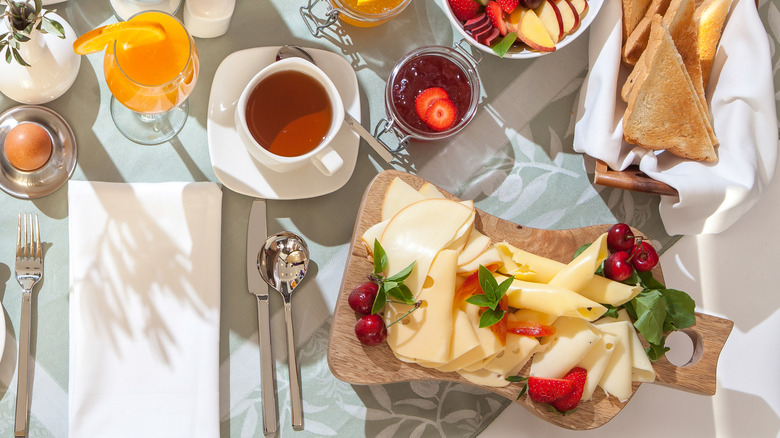 Sarioglou Vassilis/Shutterstock
Chad Galer says that buttery cheeses — like Colby, brie, and mascarpone — can pair particularly well with coffee and provide some balance to bitter flavors. Colby has just a touch of acid, so Galer recommends pairing it with "light roast coffee that has acidic flavors." Creamy brie also should be paired with a light roast brew, but choose one that leans earthy to pull out those same earthy flavors in the brie. Rich mascarpone can stand up to a medium roast coffee — try mascarpone on tangy sourdough topped with orange marmalade and pair it with a coffee that has undertones of citrus.
If you are more of a dark roast drinker, Galer has a pairing in mind for you too. Sample aged gouda for its "intense sweet and caramel flavors" that can "tone down the harsh notes of a dark roast and complement both the cheese and coffee's cooked flavors."
If the world of pairing cheese with all sorts of beverages is blowing your mind, Galer has plenty of tips. He has also shared his thoughts with Food Republic on the best cheese to enjoy with an Aperol Spritz and the best cheeses to pair with apple cider.