The Flavorful Butter Ina Garten Always Keeps Stocked In Her Fridge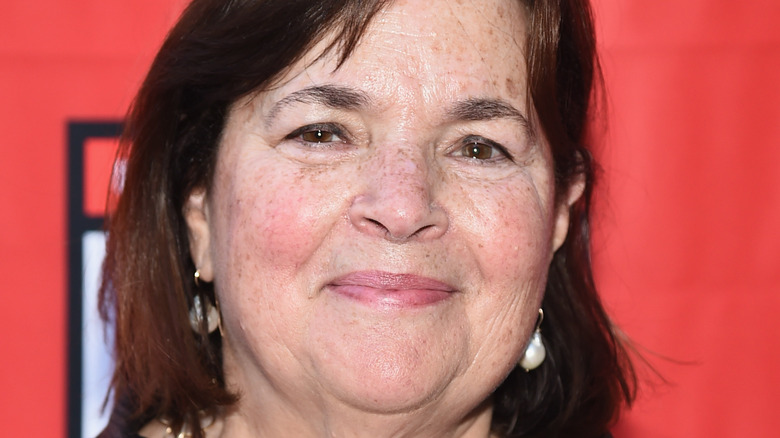 Michael Loccisano/Getty Images
A staple in most kitchens, butter is much-loved for its rich flavor and the texture it brings to food. Using different kinds of butter can have a transformative effect on a number of dishes, both sweet and savory, from flaky croissants to silky sauces.
It comes as no surprise that Ina Garten also relies on the dairy favorite to enhance her own cooking, and there's one type she always has on hand: herb butter. It's something she self-prepares in large quantities, using a variety of different herbs she adds in.
Her trick is known as creating a compound butter, which means mixing butter with herbs or spices, or even booze or bone marrow. It's something many top chefs do to elevate a variety of dishes to restaurant-level offerings. Easy to make, a simple herb butter can also help home cooks deliver a boost of flavor to many different dishes, and it can also be tailored to your own tastes and preferences, no matter what you're cooking.
Herb butter can transform all sorts of dishes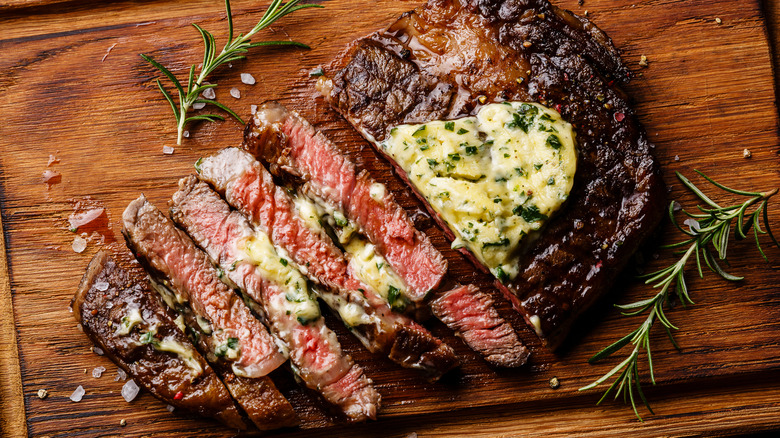 Lisovskaya/Getty Images
Ina Garten uses herb butter in a number of ways, from spreading it on bread to add the perfect touch to delicate smoked salmon sandwiches to mixing it with caramelized roasted vegetables. But, herb butter is endlessly versatile, and can make a welcome addition to many different dishes.
A fresh herb butter with garlic takes a simple roasted chicken or grilled steak to the next level when a spoon or slice of it is melted over the top of the hot, finished dish. It can also make a tasty addition to fish dishes, or try it stirred through hot baby potatoes or other vegetables. Herb butter even works when mixed with pasta or gnocchi for a quick but flavorsome weeknight dinner, not to mention making homemade garlic bread taste even more delicious.
And the good news is, it's very easy to make a compound butter, using whatever fresh herbs you have available in your kitchen. Then, like Garten, you can keep a stash in the fridge, ready to enhance everyday dishes whenever you desire.
Herb butter is easy to make for limitless flavor combinations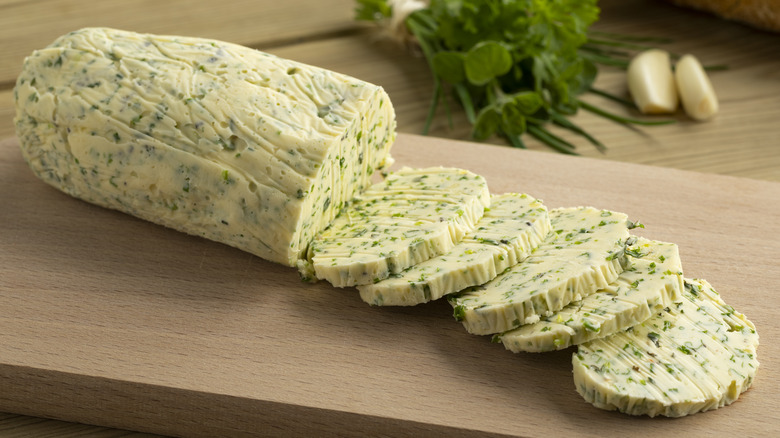 Picturepartners/Getty Images
Making herb butter couldn't be simpler. It simply involves taking a stick of room temperature butter, and combining it with whatever fresh herbs you like best, whether that's dill, parsley, tarragon, rosemary, thyme, chives, or any other option. Ina Garten uses a mixer with a paddle attachment to make mixing even easier, and also likes to add lemon juice or lemon zest, plus minced scallion, salt, and pepper.
Garten prefers Cabot unsalted butter, as she revealed on her website, but you could use any good brand. Choosing unsalted butter means you can add salt to taste, as opposed to salted butter, which can contain varying amounts. Using different fresh herbs, such as oregano, basil, cilantro, mint, or sage, makes for different flavor combinations, depending on the dish, or you can try adding chili flakes or a pinch of cayenne for a little heat.
Once you've made the herb butter, you can use it straight away, or form it into a log, wrap it in cling film or non-stick baking paper, and chill it until it's firm enough to slice. It will last in the fridge for up to a week. Or, if you feel like whipping up a larger batch, it also keeps in the freezer for up to a month, with no need to defrost if you only want a small amount. Just use a hot knife to slice a piece off and melt it over your favorite dish.