Ina Garten's Grilled Cheese Croutons Transform Tomato Soup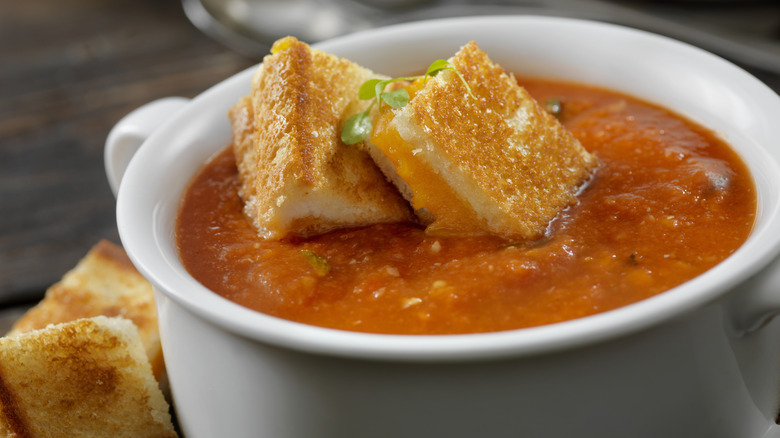 Lauripatterson/Getty Images
It's easy to see why a grilled cheese sandwich and a bowl of tomato soup are some of the most-loved comfort food meals. Warm, tangy tomato soup with a cheesy, buttery, crunchy sandwich for dipping is the culinary equivalent of getting a great big hug from someone you love. Leave it to Ina Garten to turn this classic food pairing into a singular dish, without sacrificing any of the flavor, or ingredients, for that matter. In fact, you practically prepare your soup and sandwich as you always do, but when it comes to serving, the sandwich goes into the soup, as croutons.
Garten prepares a grilled cheese sandwich using white bread, shredded gruyere cheese, and butter for the outside of the bread slices. After grilling the sandwich on a panini press, she cuts the sandwich into one-inch squares, which are then sprinkled on top of a bowl of tomato soup. Instead of dipping your sandwich into your bowl, you scoop up little bites of grilled cheese along with a spoonful of soup, which is brilliant! How easy is that?
Flatten your sandwich when making croutons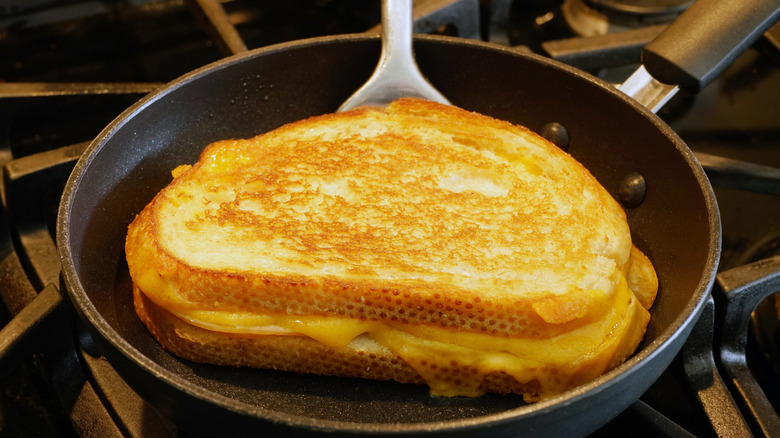 Rix Pix Photography/Shutterstock
When it comes to your grilled cheese croutons, use your imagination but also remember that you don't want giant, thick bites to top your soup. For one thing, they could fall apart when you cut them into small pieces, or they could sink to the bottom of your bowl. You want the sandwich to come out rather flat — which is why a panini press works so well to make them as it essentially smashes the ingredients down. If you don't have a panini grill, you can use the classic method of browning the sandwich in a skillet. Try placing a heavy can on top (like a large can of tomatoes or baked beans) as it cooks to get a thin result.
You could also use your oven to toast your sandwiches, which is the best method if you're cooking for several people. Assemble your sandwiches, butter the outsides (fun fact: a slathering of mayonnaise works great in place of butter), and place them on a baking sheet in the oven, flipping halfway through the cooking time until both sides of the bread are toasted and the cheese is melted. To flatten the sandwiches, place another baking sheet on top of them as they bake. The cheese should act as the "glue" to hold everything together — making it easier to cut each sandwich into crouton soup toppers.
Mix and match your tomato soups and sandwiches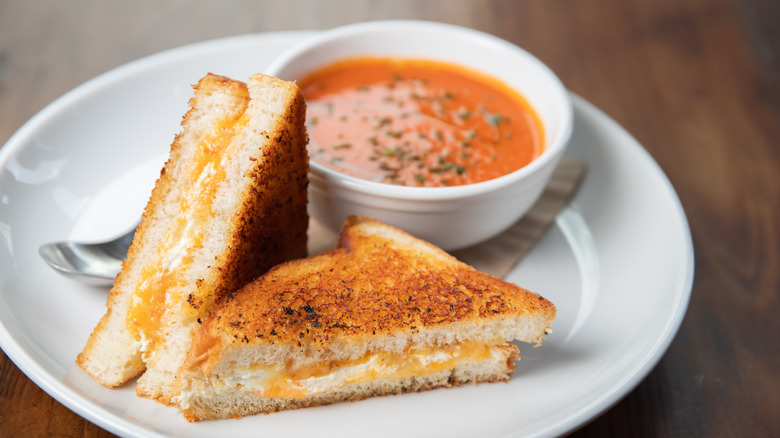 Cavan-Images/Shutterstock
If Ina Garten can transform tomato soup and grilled cheese sandwiches, couldn't we all? Although most of us don't have 13 cookbooks under our belts, we can still experiment. For starters, consider putting your favorite tomato soup in an oven-safe bowl, topping it with a few slices of toasted baguette, covering the top with shredded cheese, and popping it under the broiler until the top begins to brown. The concept is like French onion soup — but, instead, you get a taste similar to grilled cheese and tomato soup. Another idea is foregoing the grilled cheese altogether and pairing your soup with cheese straws; all you need to make them is some puff pastry and shredded cheese, or try them with feta and Turkish chili. Fried mozzarella sticks dipped into tomato soup could be a surprising pairing, too.
You could try a chilled gazpacho with a melty quesadilla; use a small biscuit cutter to stamp out small pieces of it to use as croutons on the soup. Or try tomato soup made with coconut milk, cumin, and cilantro. For croutons, forego the bread altogether and cut up some paneer cheese into bite-sized cubes. It fries up beautifully and gets a nice browned color and a light crisp on the outside. And if good old condensed canned tomato soup is your favorite, by all means, warm up a can.