Why You Should Start Adding Broth To Cocktails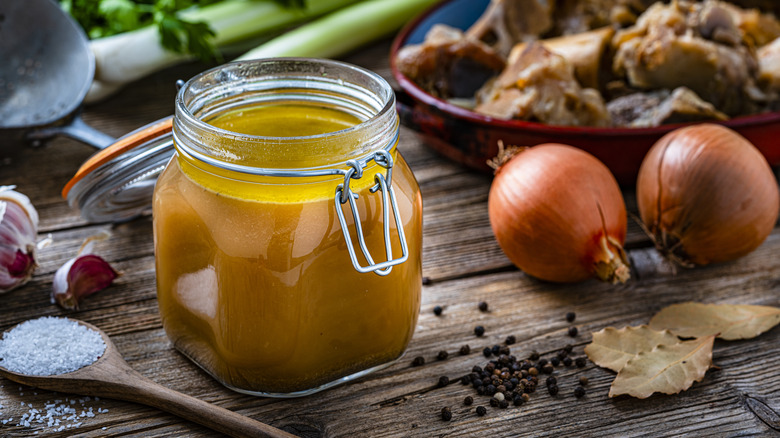 Fcafotodigital/Getty Images
The trend of sipping bone broth on its own as a warming, nutritious drink has been around for close to a decade, with a surge in popularity during the peak pandemic years as people sought to stay healthy. But somewhere along the line, broth made the transition from purely a restorative beverage to a flavor-boosting component for cocktails, too. "Our brains are hardwired to want salty things," Michael Moberly, Beverage Innovation Manager at Monin, an international flavor company, told Food Republic. "Broth is perfect for adding salty umami flavor and rich texture to warm drinks."
The addition of bone broth or vegetable stock (as a vegan alternative), which are both made by simmering animal bones or assorted vegetables in water with salt (and sometimes herbs or spices) over the course of hours, adds layers of savory flavors to a cocktail. This balances the sweetness or bitterness of other ingredients in the drink — while also making its consistency more full-bodied and satisfying.
The broth cocktail trend and how to join in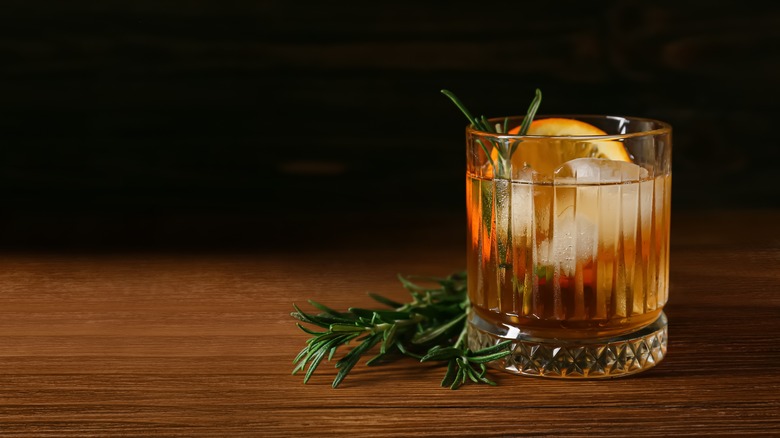 Pixel-Shot/Shutterstock
The concept of adding broth to a cocktail has been slow to catch on. Campbell's Soup launched a Soup on the Rocks campaign in 1955, advocating for swapping an old fashioned for a shot of beef bouillon, without much success. In 2021, the company tried again with a "brothtails" series that finally got a positive response. By that point, several bars had already added broth cocktails to their menus to jump on the growing interest in broth as a beverage, rather than a food. The broth acts as a substitute for water, which is usually added to a cocktail while it's being prepared or immediately prior to serving, and dilutes the drink, drawing out its flavors.
In Chicago, Illinois bartender Julia Momose makes a rum-based drink with black trumpet mushroom stock, and in Denver, Colorado bartender Dylan Holcomb prepared a Manhattan cocktail variation called a Bone & Bacon with bison bone broth ice cubes. If you're interested in trying this at home, start with something simple, like an old fashioned cocktail with beef broth — or Moberly suggests a lemon drop cocktail with vegetable stock.  Moberly also recommends trying a tom kah gai broth-tail, featuring lemon grass syrup, basil, coconut, white rum, and lime juice, all topped off with chicken broth for a sweet and savory drink. He also suggests using vegetable stock and pickle brine to make a dirty broth-tini, topped off with Monin's jalapeño concentrated flavor.