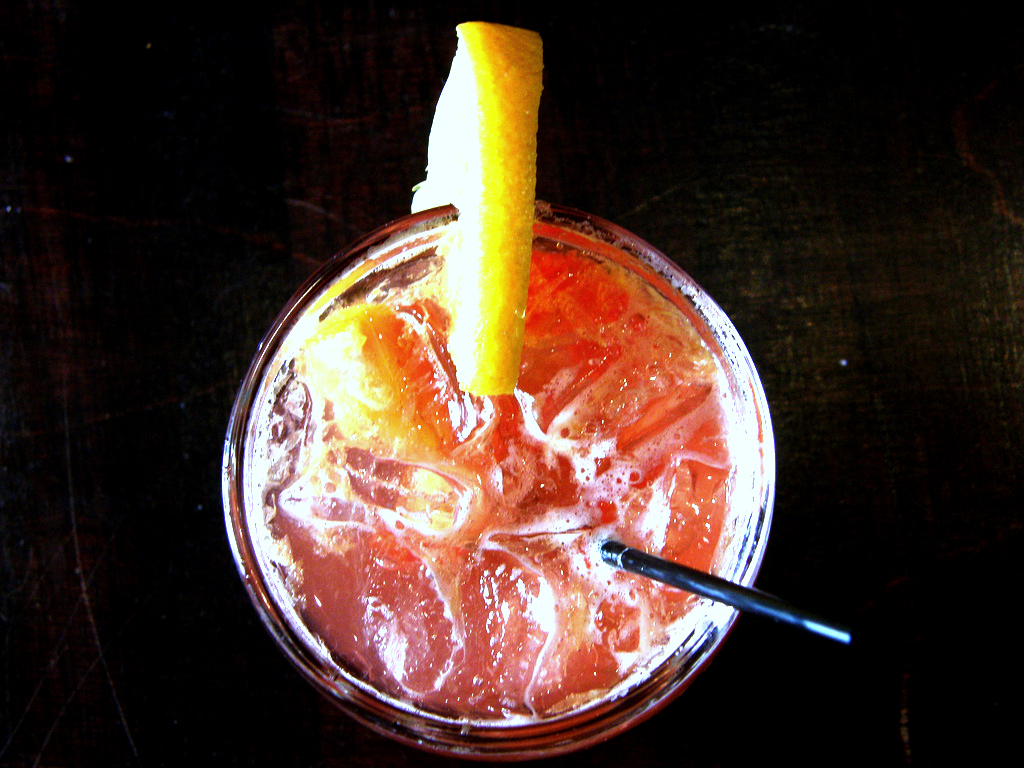 Jeffrey Morgenthaler is Food Republic's new Contributing Cocktail Editor and author of the occasional column, Easy Drinking. Jeffrey is an industry veteran, having worked at many styles of bars for the past two decades. He currently manages the bars Clyde Common and Pépé Le Moko in Portland, Oregon and is the author of The Bar Book: Elements of Cocktail Technique. In this space, he will talk about making excellent drinks at the home bar — which, as the name suggests, does not need to be difficult — as well as suggest favorite products, gear and maybe tell you where you need to drink when not perfecting the Blood and Sand at home.  
Lately one of the most popular drinks ordered in my bars — and in many modern cocktail bars around the world — is a drink about as far from modern as you can possibly get. The most requested drink these days is the Old Fashioned, and it's the oldest cocktail in the book.
But look up "Old Fashioned" in the Jerry Thomas Bartender's Guide, the first printed book of drink recipes from 1862, and you won't find the drink listed anywhere. You will find lots of other drinks: flips, crustas, punches and a drink that looks remarkably similar to the Old Fashioned we make at my bars, called, simply, a cocktail.
The May 13, 1806 edition of the Hudson, New York newspaper The Balance and Columbian Repository defined the cocktail, in a response to a letter to the editor asking about such, as "a stimulating liquor, composed of spirits of any kind, sugar, water and bitters — it is vulgarly called bittered sling."
Over time, the word "cocktail" came to encompass all drinks, much as the word "martini" came to define anything in a V-shaped stemmed glass in the 1990s. When at one time a guest could simply walk into a bar and order a "brandy cocktail" and be handed a mixture of brandy, sugar, bitters and water, by the turn of the century that order became a little confusing. Which brandy cocktail are you looking for? Brandy Crusta? Brandy Alexander?
One could imagine that a guest, wishing to order a cocktail in its purest, unadulterated form, might have asked for an "Old fashioned cocktail" from their bartender, or a "whiskey cocktail, in the old fashioned way."
These days, Old Fashioneds are everywhere. Partially thanks to Don Draper's constant guzzling of them on Mad Men, everyone and his fraternity brother is barking orders for them at bars all over the world these days. I'm proud to say that we make a great Old Fashioned at my bars, and I always tell new bartenders that this is one drink that is very easy to make well, but very easy to screw up.
So how can you whip up a cocktail bar-quality Old Fashioned at home? You really only need a small handful of ingredients: a spirit, some sugar, some bitters, ice and a little citrus peel. Notice that you're not required to have, or even like, whiskey to have yourself an Old Fashioned. If we look at the original recipe from that 1806 letter to the editor, the drink is "composed of spirits of any kind," which is great news for drinkers, as we can tailor our Old Fashioned to our particular taste without bastardizing the original intent of the drink.
A note about sugar: you'll want to make a simple syrup and have it on hand. I always keep a few simple syrups in my fridge at home for use in cocktails. I make mine at a ratio of two parts sugar to one part water, both measured by weight, and heated over low heat on the stovetop and stirred constantly until the sugar is dissolved. But which sugar to use? Well, that's the beautiful thing about the Old Fashioned — you can match your sugar syrup to match your spirit. How about a tequila Old Fashioned made with agave syrup? Or a rum Old Fashioned made with Demerara sugar syrup?
Experiment with the recipe below and tailor it to your own personal preference, and soon you'll be able to regale your guests with the best Old Fashioned they'll have ever tried. I guarantee it.
Old Fashioned
2 ounces spirit (I most often reach for bourbon, but nearly anything will do)
1 teaspoon of 2:1 simple syrup (see instructions above)
2 dashes bitters (I prefer Angostura bitters, but again, experiment with your favorites)
1. Stir ingredients with ice cubes for 20-30 seconds or until well chilled.
2. Strain over fresh ice in an Old Fashioned glass and garnish with a large swath of citrus peel. I typically use orange peel, but other citrus can make for interesting flavor combinations.
Read more Easy Drinking on Food Republic: