Ina Garten's Pro Tip For Better Croutons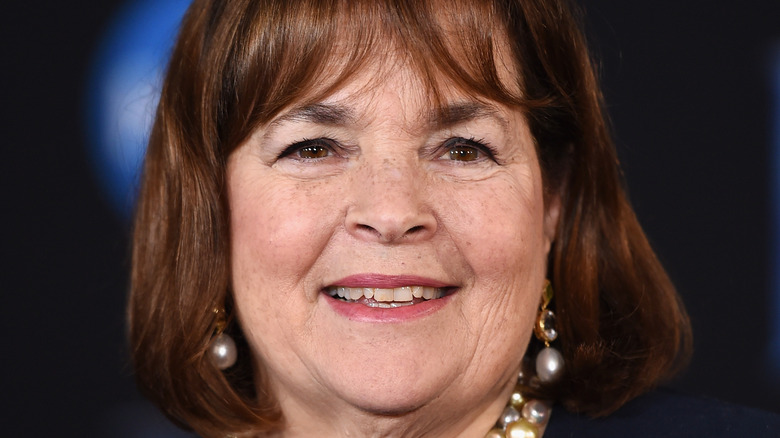 Amanda Edwards/Getty Images
Croutons are arguably the best part of any salad and the only reason some of us enjoy a bowl of raw kale. They are irresistible as a crunchy garnish for creamy soups and are bingeable right out of the pan for snacking. Unlike supermarket brands that crumble into dust when you take a bite, homemade croutons have a crunchy exterior and tender inside with plenty of salty, buttery goodness.
Homemade croutons are easy. However, Ina Garten has a pro tip for improving them in her cookbook "Cook Like a Pro." Her croutons are so irresistible and, dare we say, pretty that Garten features the recipe on the cookbook's cover. 
Demonstrating the proper technique, the Barefoot Contessa took to Instagram to make pro-level croutons, and we paid attention. According to Garten, starting with a preheated pan is essential to turn the bread cubes golden brown. Once the pan is hot, Garten adds a couple of tablespoons of good-quality olive oil, which should heat up quickly, then the bread. Garten points out that if you add cold oil and bread to the pan simultaneously, the bread will absorb the oil, preventing the cubes from evenly toasting.
With a couple of impressive flips of her massive skillet, Garten redistributes the croutons to ensure the bread is evenly seasoned with kosher salt and freshly ground black pepper and golden brown on all sides. While Garten's recipe is undoubtedly delicious, there are other methods for making croutons we can explore.
Additional crouton tips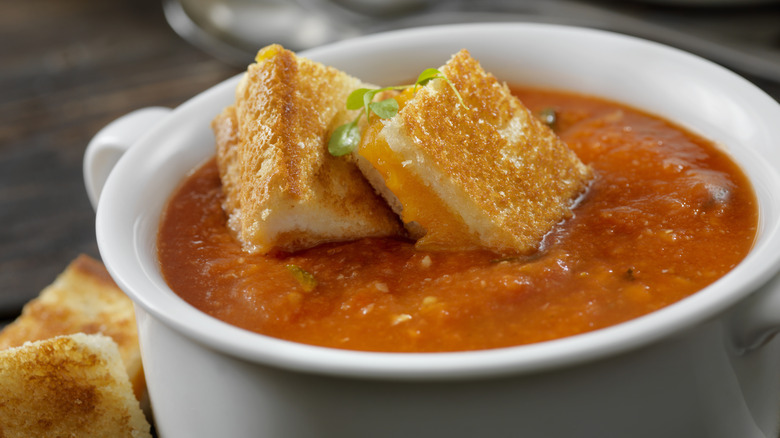 Lauripatterson/Getty Images
Croutons are simply pan-fried or toasted bread cubes, so imagine the possibilities. Stale bread stashed in the freezer or left over from last night's dinner gets a new lease on life when tossed with oil or butter. While any bread (fresh or stale) can be used, a rustic loaf (white, whole wheat, or French) works best to give you the texture you crave. Use hearty pumpernickel or rye studded with caraway seeds for a slightly sweeter, earthier crouton. A thin sandwich bread can be used in a pinch, but it lacks the chewiness that a thicker-cut, homemade bread delivers.
Ina Garten uses olive oil in her recipe, but any fat will work. A combination of butter and oil is delicious, or for a smoky element, pan-fry the bread in bacon grease.
Crouton size is a matter of preference, but remember, they should be one-biters. Three-quarters of an inch is ideal. If the bread has a thick crust, you may want to trim some or all of it. For a uniform look, cut the croutons with a knife or tear the bread into pieces for a rustic presentation with more texture. When seasoning, stick to dried herbs and hard cheeses like parmesan. Once cooked, fresh herbs and softer cheeses can be added. 
Alternative methods for making croutons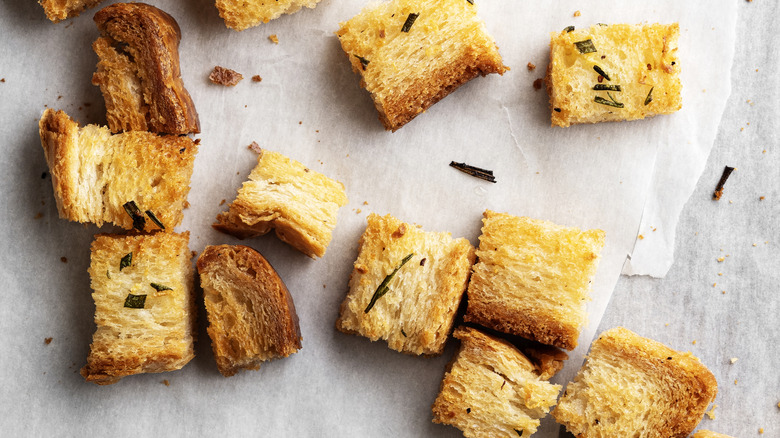 Pinkybird/Getty Images
Ina Garten's sauteeing method gives cooks the most control over the process but isn't the only way to prepare croutons. Croutons can be hands-off when prepared in the oven. Dress the bread cubes in a large bowl by slowly drizzling olive oil (or your preferred fat) evenly. Give the bread a few tosses to ensure all the cubes are coated since each one is a sponge and will absorb the oil. Season the bread with dried herbs, kosher salt, and pepper and place them on a parchment-lined, rimmed baking sheet. Bake the croutons at 350 degrees Fahrenheit for about 15 minutes, flipping halfway through cooking until golden brown. Keep an eye on the tray to avoid burning.  
Croutons can also be made quickly in a 350-degree Fahrenheit air fryer. Season stale bread cubes and place them in the air fryer basket for roughly 5 minutes. There's no need to flip the croutons with this method since the hot air circulates in the basket. Due to the limited capacity, this method is best when making smaller quantities.
Do not crowd the pan/basket when cooking. Place the croutons in a single layer with room to breathe, turning them frequently to ensure each side is crispy and golden. Overcrowding the pan will create steam, which results in soggy croutons.