Apple Cider Simple Syrup Is A Revelation For Fall Cocktails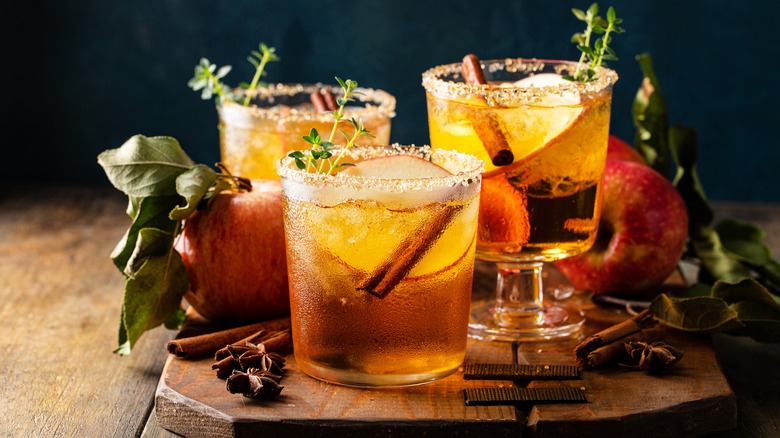 Elena Veselova/Shutterstock
Simple syrup has been a component in cocktails since at least the 1800s, making appearances in a variety of drinks from old fashioneds and French 75s to mai tais and variations on traditional martinis. Consisting of a basic blend of equal parts water and sugar, this mixture is used to add a touch of sweetness to drinks in a format that's easy to mix. However, if you're looking to elevate your cocktails this autumn, consider using apple cider to make your simple syrup for a unique twist on the classic formula.
As the name suggests, making traditional simple syrup is straightforward: All you need to do is pour water and sugar into a saucepan and bring it to a boil until the sugar dissolves. For apple cider simple syrup, the process is virtually the same, except you replace the water with apple cider. You can also personalize the syrup by adding cinnamon or by reducing the sugar slightly, given that apple cider already contains its own natural sugars. While traditional simple syrup is typically quite thin, you can simmer your apple cider syrup until it reaches your desired consistency. Once it's ready, store it in the refrigerator until you're set to shake or stir up your favorite cocktails.
How to use apple cider simple syrup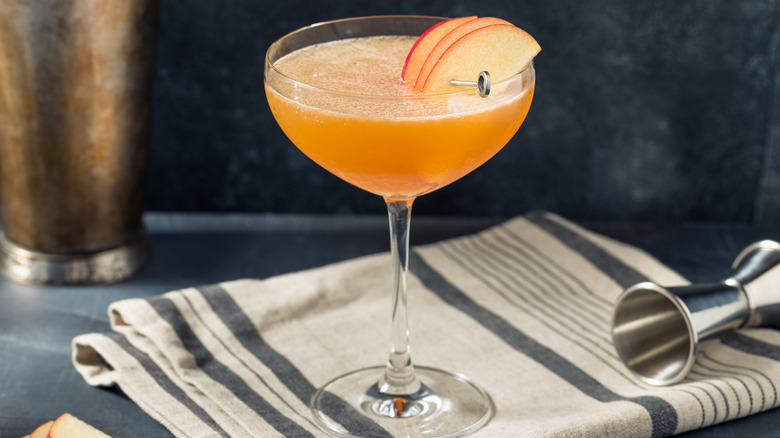 Bhofack2/Getty Images
The crisp, cool weather of fall pairs perfectly with a pour of brown liquor — and apples are a great complement. Whiskey, rum (especially spiced), and brandy can all be enhanced with a splash of apple cider simple syrup. You can also give classic cocktails an autumnal twist by substituting this special syrup for the traditional version. Consider making a whiskey sour, an Old Fashioned, or sweetening a hot toddy on a cold day.
However, you don't have to limit the apple-infused syrup to just darker-colored spirits. Vodka, with its neutral flavor, can also be elevated by it. Create a more sophisticated version of the traditionally neon-colored appletini, or use it to complement the ginger in a Moscow mule.
If you're in the mood for apple flavor without the alcohol, there are options for that as well. Use the syrup in place of sugar or honey in hot or iced tea, mix it into ginger ale, or sweeten unflavored sparkling water. You can also think beyond beverages — substitute the syrup for some or all of the sugar in whipped cream or icing recipes, or use a pastry brush to apply it to cakes and quick breads.
Other simple syrup variations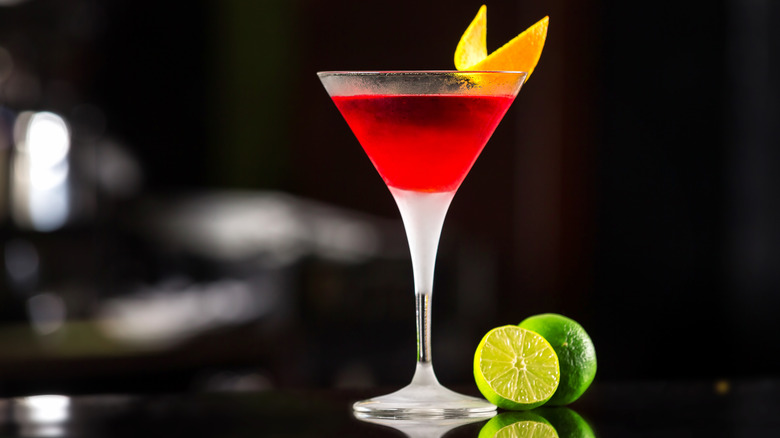 Andrei Mayatnik/Shutterstock
If you're looking to infuse other autumnal flavors into your beverages, consider swapping out the apple for other cozy fall favorites. Cranberry juice provides a syrup that's both sweet and tart, perfect for crafting a Cosmopolitan cocktail. Alternatively, you could use pear juice or pumpkin puree for a more unique flavor profile.
While cinnamon is a classic pairing with apple, other warm spices can also capture the essence of the season. Nutmeg, cloves, and ginger, as well as blends like apple pie spice, are all good options. You can also infuse vanilla flavor into the syrup by adding vanilla extract or vanilla beans while simmering — just remember to strain them out afterward.
Finally, if you want to add rich flavor to your fall-inspired simple syrup, consider swapping out the granulated sugar. Opt for light or dark brown sugar to craft a syrup that's full of caramel-like flavor.