How To Pair Cheese With Hot Chocolate Like A Pro
Gayvoronskaya_Yana/Shutterstock
When we think about what to drink with cheese, most of us think about boozy options — wines, beers, or ciders. Non-alcoholic cold drinks also work well on a warm day, and you can even successfully pair cheese with lemonade. But as temperatures dip and the air turns crisp, perhaps you'd rather opt for a warm drink. Hot chocolate is undoubtedly one of the coziest, most comforting hot beverages, but surely it's not a natural partner for cheese? 
It turns out that it is. You just need to pick the right cheese to go with the right type of hot chocolate. According to cheese expert Chad Galer, who is VP of Product Innovation and Food Safety at Dairy Management, Inc, it's worth thinking beyond sweet, milky chocolate drinks, and also trying matching cheese with dark hot chocolate, as well as Mexican hot chocolate.
And it's not just about the taste. The warmth that comes from a drink such as hot chocolate also elevates the experience, because it "helps the cheese melt in your mouth even faster, allowing for a more flavorful experience," Galer told Food Republic. Galer grew up on a dairy farm, earned a degree in microbiology, and has spent his entire career working in dairy. Suffice it to say that he knows his way around cheese — and hot chocolate. He emphasizes that you just need to pair flavors based on what complements what.
How to pair cheese and hot chocolate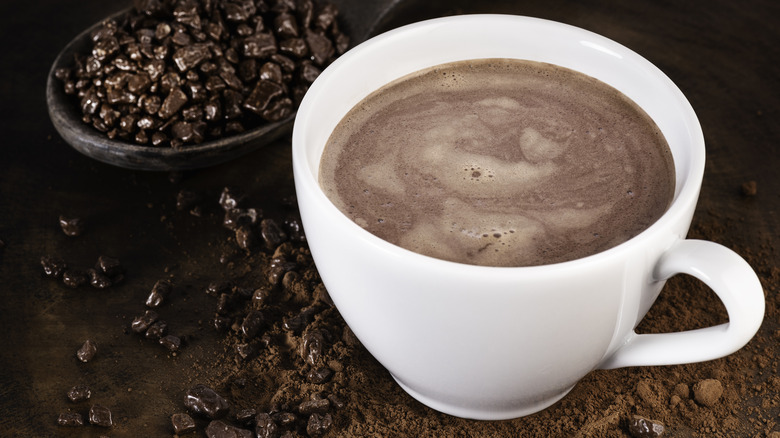 Sefa Ozel/Getty Images
Mascarpone is "the perfect complement" to hot chocolate, believes expert Chad Galer, who is well-known for coming up with innovative cheese pairings. The slightly sweet, buttery flavors of the Italian soft cheese "enhance any hot chocolate from mild to dark, and even the cinnamon flavors of Mexican hot chocolate." Galer likes to eat mascarpone spread on a graham cracker, with a cup of hot chocolate on the side. But he has another top tip for adventurous foodies: Try adding a dollop of mascarpone directly into your hot chocolate, "for a creamy and buttery flavor enhancement."
With its "buttery and slightly earthy" flavors, brie, one of the best-known French cheeses, also makes a good match for sweet hot chocolate, and Mexican hot chocolate in particular, suggests Galer. Or try the mild but slightly acidic Danish cow's milk cheese, Havarti, with a soothing, milky hot chocolate. It's not just cheeses with mild flavors that can pair well with hot chocolate, either. The earthy, savory flavors of a cave-aged cheddar "play off the sweetness" of dark hot chocolate drinks, believes Galer. "The contrasting flavors are enhanced when enjoyed together." 
But surely blue cheese is a step too far? Think again. "This might not be an obvious choice, but the bitterness of dark chocolate and the salty, punchy flavor of blue cheese work well together," he says — which shows that sometimes, opposites really do attract. Especially when it comes to food and drink.