The Free Meat Prep Whole Foods' Butcher Counter Will Do For You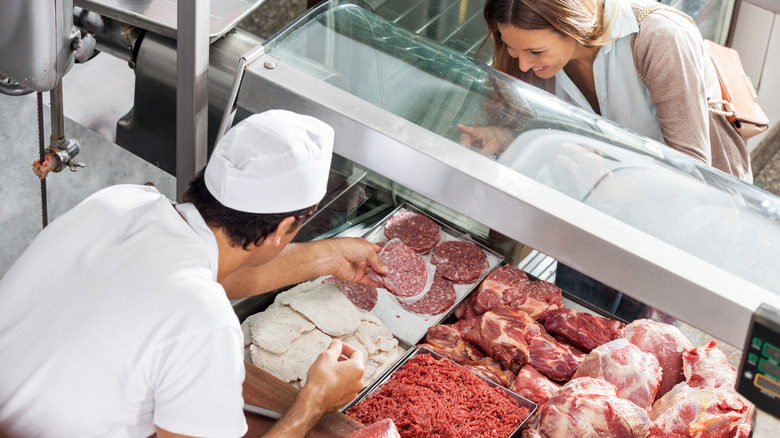 Tyler Olson/Shutterstock
Nearly every grocery store in the United States offers prepared and packaged meats that are pulled right off the shelf and brought home. The butcher's trade, one that has been around for millennia, has practically vanished thanks to 20th-century advancements in refrigeration and commercial processing plants. However, there are still traditional butchers keeping the trade alive including, surprisingly, at Whole Foods. Whereas some other supermarkets focus far more on pre-packaged meats, Whole Foods has experienced butchers and apprentices at every one of their stores. They are ready and available to custom cut any piece of meat that's needed; from steaks to roasts and everything in between, they can provide it.
These butchers are also well-versed in tying and barding meats, a skill that was once de rigueur for butchers everywhere but has since become a lost art. These added touches make a difference in the kitchen; well-prepared, tied meats result in even cooking throughout and retain far more moisture in a roast. But this isn't the only thing that Whole Foods butchers can provide their customers: If you need your meat seasoned or marinated, they can do that too.
Whole Foods' butcher counter will prepare and season any meat you want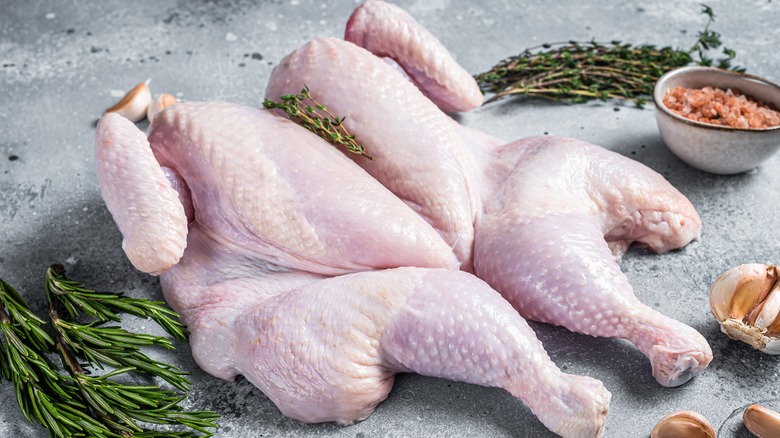 Mironov Vladimir/Shutterstock
Very few of us actually look forward to preparing something big and time-consuming like, say, a turkey: They're big, unwieldy, take forever to cook, and you likely have a lot of people relying on them to taste good. Whole Foods' butcher counter can help ease the stress of cooking a whole bird. Their butchers are well-versed in preparing poultry. They can break down an entire chicken or turkey and will even spatchcock a bird for their customers. Spatchcocking is the equivalent of performing kitchen open-heart surgery, so knowing that it has been done by professionals goes a long way — plus, think of the time saved.
Furthermore, Whole Foods' butchers will season any kind of meat on site, taking a lot of guesswork out of the equation for the home chef. The meat counter will have different seasoning blends and marinades behind the counter, and guests can request that the butcher also add one to the bird, beef, or pork before packaging it up again. While we all have our favorite custom spice blends, that little addition can be a boon on busy weeknights.
Ask for recommendations, and ye shall receive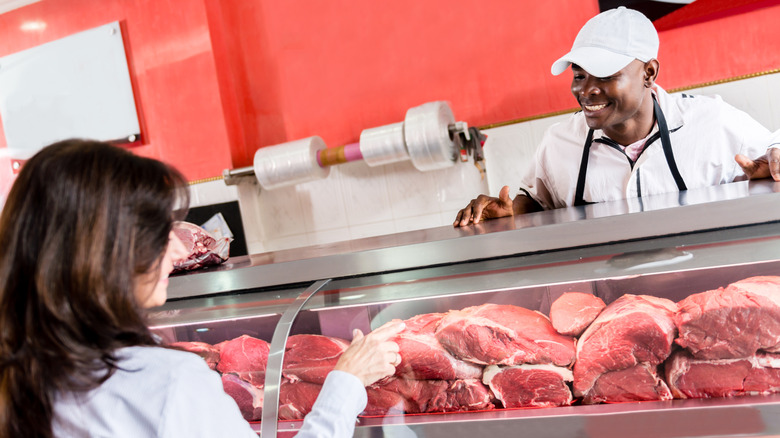 Andresr/Getty Images
What's the best cut when you need to cook a roast? Is it better to grill or braise pork chops? What is bratwurst anyway? The Whole Foods' butcher counter knows it all. They can provide suggestions for the best piece of meat for any occasion, whether it's an intimate dinner for two or a large outdoor barbecue. This also includes the big holidays like Christmas or Thanksgiving when people may want to have a fancy dinner, but they don't have the experience of cooking something big like a prime rib.
These butchers can both recommend cooking techniques and prepare the meat properly so that you don't need to spend time Googling to figure out how to best prepare that particular steak or roast. While the service you're getting is bound to have a higher price point attached, it definitely has its uses when we're busy and need something we can just toss into the oven, slow cooker, or straight onto the grill — whether it's the holidays and we're overwhelmed, or it's just your standard busy Wednesday after-work slump.