A Stainless Steel Straw Is The Perfect Gadget For Homemade Cocktails
Hxyume/Getty Images
As single-use plastics have come under ire for the amount of waste that they contribute, straws have become a big topic of debate. It's estimated that between 170 to 390 million plastic straws are used by Americans daily, which can clog up landfills and waterways where they have been seen to harm wildlife including many sea creatures. While paper straws have started to become utilized by many restaurants across the country to help alleviate the problem, there are still issues with cutting down trees and flimsy materials.
But there may be an even better option — stainless steel straws. Not only are they eco-friendly, but they are durable, too, allowing you to take countless sips of your drink without the material becoming soggy or breaking. Just wash them and you can reuse over and over again (and even take them out with you to a bar or restaurant if you don't like the feel of paper straws). Beyond convenience and responsibility, though, metal straws can also elevate your homemade cocktails by providing an option to not only enjoy your drink in small, concentrated doses but can help you taste-test cocktails before serving them at a dinner party and even create fancy garnishes.
Have a few on hand for you and your guests, and you'll find that metal straws serve many purposes, from preparing your drink to fully indulging in it. 
Taste test and garnish cocktails with metal straws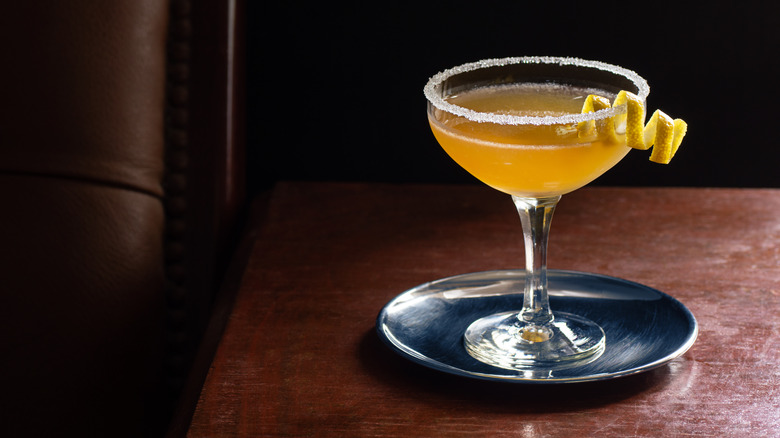 viennetta/Shutterstock
Stainless steel straws can be a huge help for a home bar, with uses beyond just sipping your drink. When making single-serving cocktails for guests, you should taste test it before handing it over to make sure the ratio of ingredients is well-balanced. You can do this without sipping directly from the glass by using a metal straw. Dip the straw into the cocktail glass while placing your finger over the top so you can trap a little liquid inside it. Then, lift the straw to your mouth and release the few drops of liquid on your tongue to sample the cocktail and see if it's ready to be enjoyed or if you need to adjust it with any extra ingredients.
Besides sipping, taste testing, and stirring your drink, a steel straw can also assist in the making of an impressive cocktail garnish, like an elegantly spiraled sliver of lemon. Not only does it look pretty, but this bit of citrus adds a refreshing aroma and a slightly tart flavor to many cocktails, including vodka martinis. To make the perfect lemon twist at home, simply take a thin sliced strip of the fruit's peel and wrap it tightly around your steel straw, then gently slide the peel off so that it keeps its spiral shape. Then, carefully place the twist on the rim of your cocktail for the perfect finishing touch.
The best drinks to enjoy with stainless steel straws
Senata/Shutterstock
Straws are recommended as part of the drinking experience for plenty of classic cocktails, especially those served on the rocks in tall glasses, in which case the straw can be used both to stir up the mixture of ingredients as you enjoy it (especially if you're a slow drinker) and also to help access any liquid hiding beneath a hefty amount of ice at the bottom of the glass. This is common practice for tiki drinks, like the mai tai, and refreshing summery drinks like a mojito, mint julep, and Tom Collins.
Of course, after you've finished your cocktail, you'll want to be sure to take care of your metal straw so you can continue to use it again and again. This also helps avoid bacteria from forming inside. To clean, briefly rinse it off, then insert a straw brush inside and twist a few times to make sure nothing is stuck inside the narrow tube. After, soak your straw in hot water with dishwashing soap. If you have a dishwasher, you can add your straw alongside utensils in the proper compartment to ensure it's fully sanitized, then store it in a dry space.