Panera's 'Roman Empire' Menu Isn't As Fun As It Sounds
TikTok is nothing if not a hotbed for food trends. Food-related content on the app has caused shortages of items ranging from feta cheese and Kewpie mayonnaise to tinned fish. More recently, restaurants have decided to harness the power of the app by designing menu items specifically in response to viral content. Examples include Chipotle's fajita quesadilla, Popeye's "girl dinner," and McDonald's limited-time offer featuring four different menu hacks. Now, Panera is getting in on the game with its TikTok-inspired Roman Empire Menu. However, the menu may not be quite as grand as you'd expect from something named after such an impressive civilization.
While a Caesar salad certainly seems to align with the Roman Empire theme (in name only, of course), it's a bit harder to connect the menu's mac and cheese, broccoli cheddar soup, and chipotle chicken avocado melt to the theme. Even more puzzling is the attempt to link the Empire to a cinnamon crunch bagel, toasted frontega chicken sandwich, or a Fuji apple salad with chicken. As it turns out, Panera designed the menu to reflect the items "you just can't stop thinking about" — much like the Roman Empire, according to the viral TikTok trend.
What is the Roman Empire trend?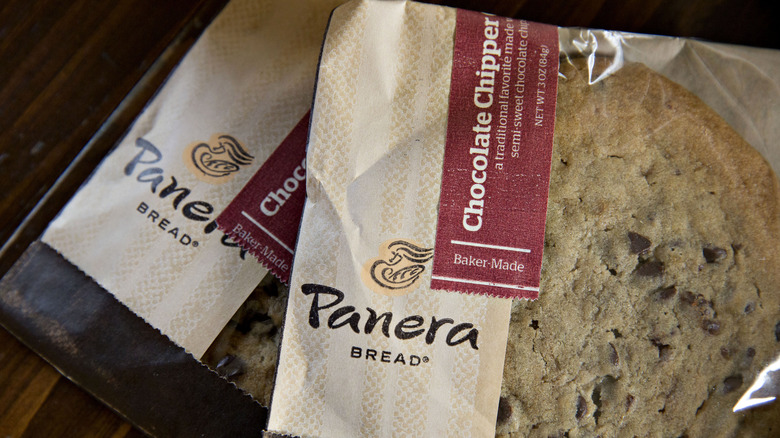 Bloomberg/Getty Images
Rather than being directly related to a specific food or a content creator's hack at the restaurant — as is the case with many menu items crafted at other restaurants in response to a viral post on the app — Panera's Roman Empire Menu is based on the Roman Empire trend, which has nothing to do with food at all. The trend appears to have started when a Roman Empire reenactor suggested in an Instagram post that women ask the men in their lives how often they think about the Roman Empire. The topic then migrated to TikTok, where women posted videos revealing their partners' answers to the question. Supposedly, many men seem to think about the Roman Empire fairly frequently — some even daily.
So Panera has taken the leap in assuming that the items on this menu are ones that people think about presumably as much as, or more than, the Roman Empire. Given that the menu features a collection of their already-existing food items, and there's no indication of any difference in pricing, it might be a little less impressive than, say, the Empire itself.