The Fresh Fruit You Need To Put In The Air Fryer Immediately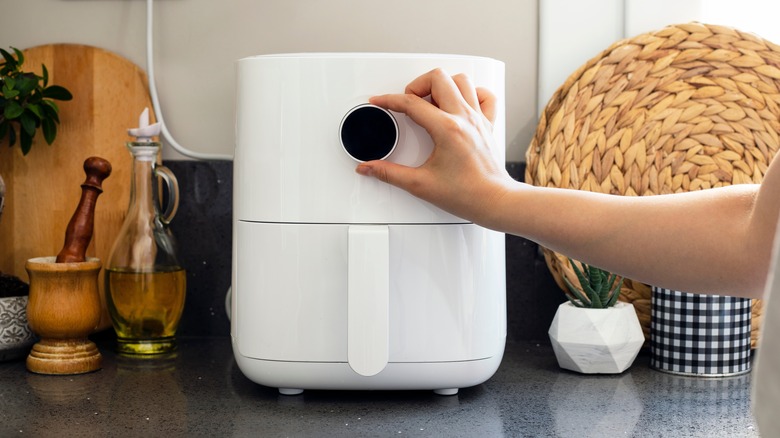 Hazal Ak/Shutterstock
Whoever invented the air fryer certainly deserves an award. This countertop convection cooker allows you to quickly prepare a variety of fried foods with far less oil and mess. From veggies like potatoes and broccoli to proteins like tofu and chicken, this versatile appliance cooks food to crispy, golden-brown perfection on the outside while keeping it moist and chewy on the inside. However, when it comes to air-fried treats, there's one fresh fruit you should try immediately: grapes.
While microwaving grapes might be explosively dangerous, they're perfectly safe — and delicious — to cook in an air fryer. Arguably, it's one of the best ways to use this juicy fruit. The air-fried grapes trend has certainly taken TikTok by storm.
"Some things are just not meant to be fried," one user commented on an air-fried grapes recipe video posted by user @bearenger. Another user joked, "So, raisins?" Yet others were more open to the idea, and couldn't wait to try this sweet treat. Of course, to hop on this viral TikTok trend, you'll need both an air fryer and grapes. But the secret to making them exceptionally flavorful comes down to your choice of seasoning.
How to make air-fried grapes
Certainly, air-fried grapes are like raisins — but better. They offer the perfect blend of warmth and sweetness, making them more similar to roasted grapes than their dried counterparts. Besides their robust, delicious flavor, the best part is that they are incredibly easy to make. After washing your grapes thoroughly, toss them in a bowl with an air fryer-safe cooking oil, such as light olive oil or avocado oil, and add a sprinkle of salt. (A dash of pepper is also an option, but entirely up to you.)
Mix the ingredients together and place the grapes into the air fryer basket. Cook them for about 10 minutes at 400 degrees Fahrenheit. Once they're caramelized, you can enjoy them just as they are as a sweet, warm snack. However, for an elevated breakfast experience, we also recommend kicking your old jam jar to the curb for a day and serving the air-fried grapes on toast.
Other ways to enjoy air-fried grapes
That's right, air-fried grapes are the new jelly, and trust us, your morning slice of toast has never tasted so good. For a delectable, melt-in-your-mouth breakfast — or snack, or brunch, whatever suits you — toast a slice of your favorite bread, such as sourdough or multi-grain. Spread on some cream cheese and layer the crispy grapes on top. Finally, drizzle a bit of honey or another liquid sweetener of your choice, like agave nectar or maple syrup, for a satisfying meal that's chewy, crunchy, and delicious.
Much like roasted grapes, these air-fried gems make the perfect charcuterie board-approved appetizer. Pair them with a soft, creamy cheese like French brie and serve alongside crackers or slices of crusty bread. But don't limit yourself to air-frying just grapes. From apples and bananas to pears and peaches, a variety of fruits can be cooked in this versatile countertop appliance. You can even dehydrate lemons in the air fryer for an intense flavor boost. Use the lemon slices to garnish cocktails or infuse soups, sauces, stews, and more — the options are endless.