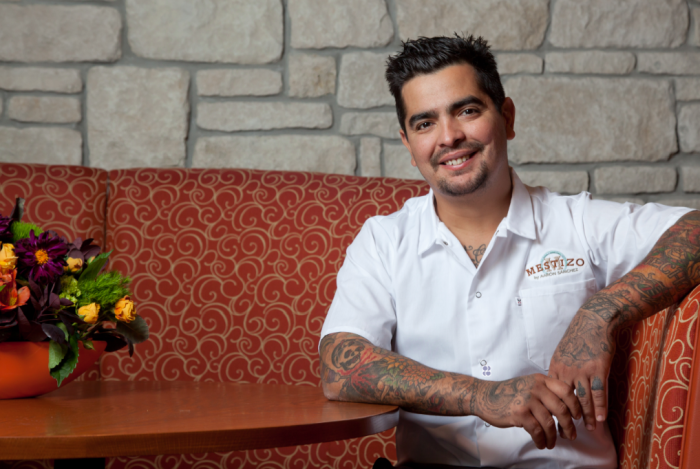 Halloween may be over, but Day of The Dead is in full swing (it runs through Saturday), which is why we asked Mexican-American chef and longtime Food Republic pal Aaron Sanchez to fill us in on how food ties in to this festive Latin celebration. The Chopped judge and NYC-based chef shares his thoughts on the holiday and on Mexican cooking, and throws in a family recipe for tamales de mole Amarillo, which you should try to make this weekend!
What can you tell us about this tamales de mole Amarillo recipe (see below) and why it's special to you?
This is a recipe inspired by my mom's second cookbook about the food and life of Oaxaca. The state of Mexico is known as the land of 7 moles. This mole is special because of the beautiful color that's achieved after it's cooked.
Why is the dish a great recipe for Día De Los Muertos?
Tamales and mole are both celebratory items. They take time to make, so it is perfect to cook when you're spending the day with family and friends. They're also perfect for feeding large groups.
Why is Día De Los Muertos an important holiday for food?
By cooking and making something with your hands, you truly honor those who are no longer here in a physical sense.
What should we be drinking for the holiday?
Mezcal for sure. This iconic liquor is from the state of Oaxaca and is artisanally made by the local Zapotec people.
What was the most recent Mexican dish you've eaten, and how was it?
I ate some wonderful tostadas in Jalisco, Mexico, that had octopus and pork rinds. It had great texture and meaty flavor. I also had tostadas with avocado and chiles, yum.
What are your plans for the rest of the year?
I'm getting ready to open my new restaurant on Orchard Street here in the city, and writing my new book. Also, spending as much time with my son as I can.
True or false: The key to great Mexican food is the sauces?
False, there are many different components to great Mexican food, although sauces play a big part.
What's the strangest thing you've ever put mole on?
Iguana.
Last question: Do you have any Day of the Dead tattoos? (and who does most of your tattoos?)
Yes, I have one of the skulled La Catrina for my grandmother, and on my right forearm it says "old school" in Spanish. I get most of my tattoos done at Daredevil Tattoo.
---
Tamales with Yellow Mole: Tamales de Amarillo Mole
Recipe courtesy Aaron Sanchez
Total Time: 1 hr 30 min
Prep: 1 hr 0 min
Cook: 30 min
Yield: 10 tamales
Ingredients
10 dried corn husks
1 1/2 cup masa harina
1 1/4 cup chicken stock
1 teaspoon salt
1 cup shredded cooked chicken
Amarilla Mole, recipe follows
Directions
In a large mixing bowl soak the corn husks for 30 minutes.
In another bowl, add the masa harina and salt and with a whisk, mix well. Slowly add the chicken stock to the masa harina and mix well until a dough-like consistency. Make 10 ping-pong ball size balls of dough.
In a plastic-lined tortilla press (both sides), press out each ball of dough to form a 5-inch round (about the size of the press). Carefully remove the tortilla, and place a spoonful of amarillo mole sauce, a spoonful of shredded cooked chicken. Fold each side of the tortilla and place in a corn husk length-wise. Secure both ends with a string or part of the husk used as a string, and repeat process.
Steam for 30 minutes.
---
Mole Amarillo:
3 guajillo chiles, seeded and deviened
1 ancho chile, seeded and deviened
1 medium onion
4 garlic cloves
5 medium tomatillos
2 medium green tomatoes
15 black pepppercorns
7 whole cloves
3 large hoja santa leaves or 5 dried hoja santa leaves
3 tablespoons lard or vegetable oil
3 tablespoons masa harina
3 tablespoons water
Directions:
Toast chiles on a griddle. Remove and place in a bowl. Cover with boiling water and let stand for 20 minutes.
In a hot cast iron pan, roast the onion, garlic, tomatillos, and green tomatoes. Roast until well charred on all sides. Place in a bowl and let cool.
Meanwhile grind peppercorns and cloves in coffee grinder. When the vegetables are cool enough to handle peel off the charred skin and puree them in a blender with the hoja santa leaves, drained chiles, and spices.
In hot pot, heat the lard, add the pureed strained sauce, and cook for 5 minutes.
In a small bowl, add the masa harina and water. Mix until well blended. Add this mixture to the sauce and cook for 5 minutes more, until done.