TikTok's Kids Menu Tip For Cheap Olive Garden Lunches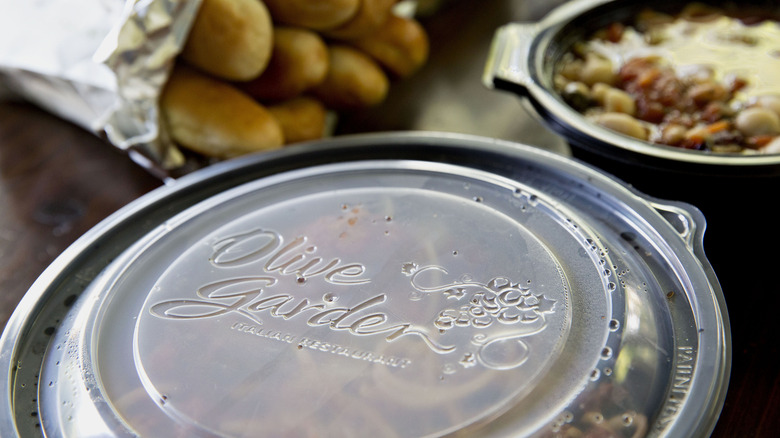 Bloomberg/Getty Images
A money-saving Olive Garden menu hack has gone viral on TikTok, and the gist of it is for adults to order off of the kid's meal menu, which is significantly less expensive than the regular adult menu, yet still comes with a satisfying amount of food. This is not meant for dining in at the restaurant, as kids menus are intended for actual children, aged 12 and under. Restaurants set their own policies in this regard, but it is generally frowned upon for an adult to order from the kids menu for a sit-down meal. Rather, this hack works like a charm for when you are ordering online or through the Olive Garden app — where you can customize your take-out order and then go pick it up in-store or curbside, where your age is nobody's business.
Known as much for its huge portions as it is for its never-ending soup, salad, and garlic breadsticks, it follows that Olive Garden's kid-sized portions are pretty big too. The plentiful servings are large enough for most adults to fill up on and are cheaper than a combo meal lunch at most fast food outlets. The kid's menu meals are less than $8.00 dollars, and yes, they even include two of the heavenly, freshly-baked Olive Garden breadsticks (but do not come with the soup or salad).
The stay-at-home parent approved kids menu curbside hack
TikToker and stay-at-home parent @studiosomer's viral video details that she doesn't want to get out of the car when she's driving around hungry, and there's a sleeping infant in the backseat — and she's tired of eating from a fast food drive-thru menu. In the video, she displays all the food that came with ordering a kids meal using the restaurant's app: spaghetti with Alfredo sauce, broccoli on the side, and pink raspberry lemonade to drink. She also shows off the two must-have breadsticks, which look large enough to be a meal in themselves. The key to this hack for Somer is not just the cheap price, but the option to pick up curbside, without having to wake her children.
A wide variety of people have found the tip helpful. Many parents commented on the importance of not having to wake up their sleeping babies in order to go pick up lunch — while others who are childfree still find this super handy. People on a budget loved the idea of an affordable and enjoyable meal, and others mentioned how convenient it is when you just don't want to cook. Some with medical conditions chimed in as well, noting that those undergoing certain treatments will often not have a big appetite — while individuals who have had gastric bypass surgery literally cannot eat much more than child-sized portions.
How to deal stack and save even more at Olive Garden
The children's menu at Olive Garden is not the typical boring fare usually reserved for kids. There's not a dry PB&J or a drab hot dog in sight. Instead, it features child-sized versions of favorite grown-up dishes. Meals hover around $7 and include an entree, side, beverage, and breadsticks.
The mains include cheese or pepperoni pizza, chicken fingers, macaroni and cheese, cheese ravioli, or your choice of pasta from fettuccini, spaghetti, or shells with five-cheese marinara, Alfredo, meat, or tomato sauce, and there's even a gluten-free rotini. The grilled chicken kids meal with rotini costs a little more — or you can add a protein to any dish for under $3 dollars — there's sauteed shrimp, grilled chicken, meatballs, or chicken fritta. For sides, you can have broccoli, grapes, french fries, or spaghetti with tomato sauce ... and if you go with spaghetti, you can get twice the pasta for the same price.
Here's another tip for stacking your hacks: Olive Garden offers a $6 dollar take-home entree deal. With the purchase of any entree, kids menu included, you can get the additional entree to-go for only six bucks. The take-home entrees are pre-made and chilled, so all you need to do is reheat, and you've got yourself a bonus cheap meal. Three classic options are available: Fettuccine Alfredo, spaghetti with meat sauce, and five-cheese ziti al forno.