Ina Garten's Salads Are Never Soggy Thanks To One Dressing Tip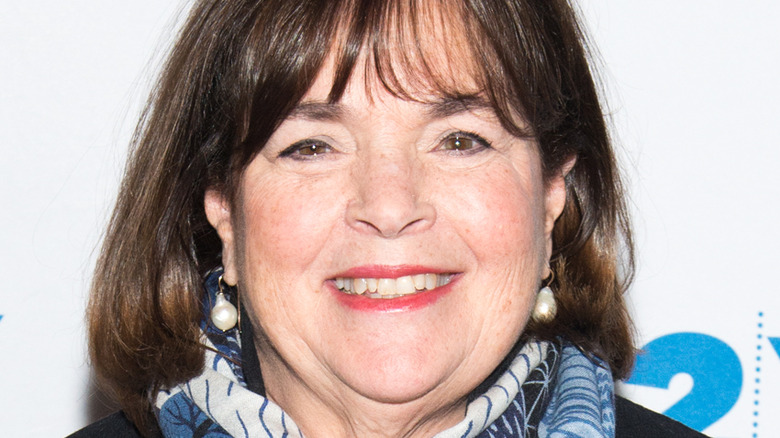 Noam Galai/Getty Images
Salads are far more than just healthy lunches or small side dishes at dinner. A well-composed salad can be the star of the meal, whether it features a dozen finely chopped vegetables tossed in vinaigrette, a single type of bitter green dressed with lemon juice and shaved parmesan, or a wedge of iceberg lettuce adorned with creamy blue cheese dressing, bacon bits, and grape tomatoes — each one is delicious.
Since no one wants a soggy salad, home cooks often prepare it at the last minute, sometimes sacrificing its full potential. Unsurprisingly, entertaining guru Ina Garten has a solution for that.
Garten took to Instagram to share her secret for prepping a salad in advance without wilting the lettuce before serving. She prepares her favorite homemade lemon vinaigrette in a liquid measuring cup and pours a generous amount into the bottom of an oversized wooden bowl. She then places the greens on top without mixing them in. The feather-light lettuce rests on the vinaigrette until she's ready to serve, preventing the acidity of the lemon juice from breaking down the delicate leaves. At the last moment, she tosses everything together, evenly coating each leaf and seasoning the salad with salt and pepper.
Other reasons your salad is soggy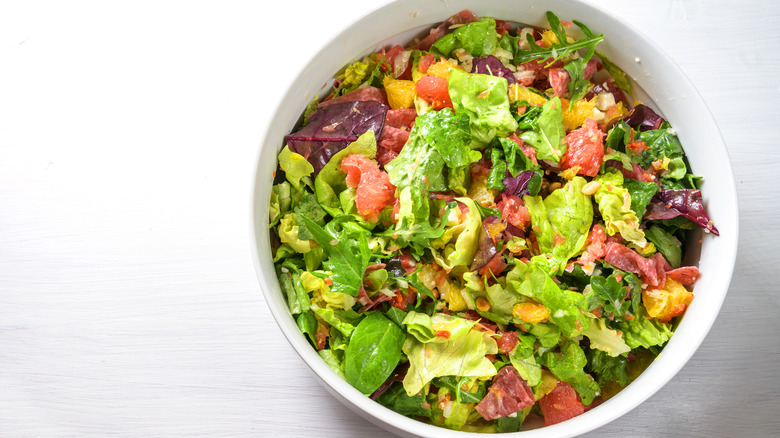 Fermate/Getty Images
Salads are incredibly versatile and, with a little guidance, can be as satisfying as something you'd get at a restaurant. Using the freshest ingredients is crucial when composing a salad, particularly if the ingredients are raw. Whenever possible, opt for seasonal ingredients, as they always taste better. If that's challenging in your region, especially during the winter, consider roasting or grilling vegetables to enhance their natural sweetness. A salad can include more than just raw lettuce, cucumbers, and tomatoes.
While you should always make sure your fresh produce is clean, drying it after you wash it is crucial for both texture and flavor. Wet greens can become slimy prematurely and prevent the dressing from adhering to the ingredients, leaving the salad bland. To dry greens effectively, use a salad spinner that expels water from the leaves' nooks and crannies, or dry them with clean dish towels. Lay the washed lettuce in a single layer and blot away the excess water.
If you're dressing the salad just before serving, drizzle the dressing along the bowl's perimeter before gently tossing it with your hands. Pouring the dressing directly into the center necessitates excessive handling of the delicate leaves, which can break down their cell structure — especially with heavy, creamy dressings like ranch. If you plan to enjoy leftover salad for lunch the next day, however, set aside a portion before adding the dressing. Once greens are coated in vinaigrette, they will undoubtedly become soggy quickly.
How to layer a salad in advance
Rubleva Elena/Shutterstock
Although Ina Garten's salad approach is simple, her technique also works well for multi-ingredient salads, such as chopped salads, particularly when you want to enjoy them on the go. To keep ingredients crisp and prevent bruising, however, layer a container — like a quart-sized mason jar — starting with the dressing at the bottom. Produce should be layered from the hardiest and heaviest to the most delicate.
Hardy vegetables like kale, carrots, and broccoli can withstand contact with acid for a few hours and may even benefit from some softening. Therefore, they should be placed directly on top of the dressing. Next, add legumes (such as chickpeas and black beans), grains (like brown rice, farro, and quinoa), and high water-content vegetables like tomatoes and cucumbers. Removing their seeds and pulp will help reduce excess moisture in the jar.
There are many types of lettuces you could use for a salad, but place delicate greens like arugula and crunchy ingredients such as nuts, seeds, and croutons at the top to prevent them from becoming soggy. When you're ready to eat, empty the jar's contents into a large bowl and toss everything together, ensuring all ingredients are coated with the salad dressing. Don't forget to bring a little salt to season the salad before enjoying it.