Up Your Margarita Game With Smoky Grilled Lemons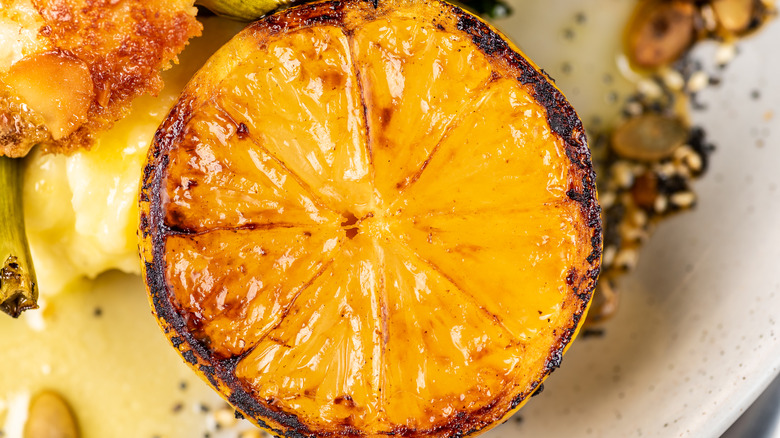 Adam Calaitzis/Getty Images
Maybe you're looking to level up your margarita-making skills or maybe you just happen to have run out of limes — either way, it's time you tried a smoky grilled lemon margarita. The bright, tart flavor of lemon balances perfectly with a mezcal-like smoky aroma that comes from the grill, creating a citrusy, complex, and endlessly craveable cocktail. Best of all, you only need three ingredients.
This margarita calls for two parts tequila, one part Cointreau, and one part grilled lemon juice. While you can pull the first two ingredients from your bar at a moment's notice, you'll have to prepare the last ingredient in advance — but don't worry, it's fairly quick and easy! To start, oil the grates of your grill to keep the lemon from sticking. Cut a lemon into half-inch thick rounds, then place it on the heated grill until lightly charred. Allow the lemon pieces to cool. Set one aside to garnish your drink, then juice the rest.
Making your margarita (and making it your own)
Once you have your lemons grilled and juiced, it's time to make your margarita! Combine the tequila, Cointreau, and juice in a cocktail shaker with ice. Give it a good, hard shake, then strain your drink into a glass that has been filled with ice and garnish with a grilled lemon wedge and salt rim.
Cocktails are endlessly customizable, so feel free to experiment to make this margarita your own. One way to start is to play with the citrus element. Lemon can easily be replaced with grapefruit, blood orange, or the citrus of your choice! Keep in mind that Cointreau already has an orange flavor of its own. You can also make your margarita spicy by incorporating jalapeño. This can be done by simply adding a fresh slice of jalapeño into your finished drink, or, with some advance notice, you can make a jalapeño simple syrup or infuse tequila with jalapeño.
Sharing your grilled lemon margarita with friends
The simplicity of this drink means that it's perfect to make at home for yourself at the end of a long day, but it's also ideal for a group gathering. Stock up on lemons and make sure you have plenty of ice. The day before the event, you can grill and juice the lemons in the morning. You'll need about an ounce of this juice for every guest invited — or more if you think anyone will have a second drink. In the evening, combine the tequila and Cointreau with the juice to make a large batch of the cocktail. Pour the batched cocktail into a large pitcher, then store this in the fridge overnight.
On the day of the event, wait until your friends arrive to add the ice and garnishes. If you want to lean into the lemony flavor of the drink, you can also make hummus to be served with chips or pita as a snack along with your margarita!