Don't Toss The Excess Bread From Egg In A Hole. Make A Bonus Grilled Cheese Instead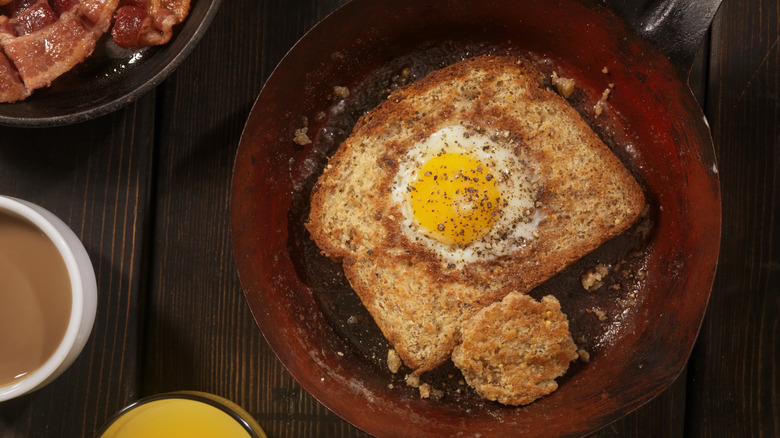 Lauripatterson/Getty Images
Is there anything more fun than making an egg-in-a-hole for breakfast? Combining elements of cooking and crafting, the dish is simple to make, pretty to look at — and delicious to boot. As you cut through the pan-fried bread and dunk it into the luscious yolk of a sunny-side-up egg, you are rewarded with the contrasting texture of the crunchy toast and the smooth creaminess of egg yolks. Paired with some breakfast meat and a bit of fruit, it is a wonderful dish to start the day with.
However, have you ever considered the bread center you cut off? Sometimes discarded, these circles of bread centers shouldn't be left behind. However, instead of throwing it into the trash or simply eating it as a bit of toast, use it to make a little circular grilled cheese to go with the rest of your breakfast. Requiring little material and effort aside from some cheese, these mini-grilled cheeses will make for a nice bonus snack.
A cute little round grilled cheese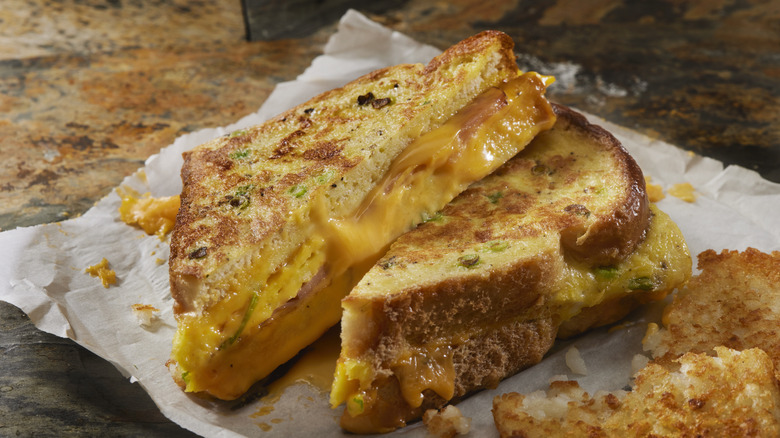 Lauripatterson/Getty Images
To make the egg in a hole with bonus grilled cheese, cut a hole in the middle of your sliced bread with a glass or a circular mold. Take the circular centers and stuff some cheese of your choice between the two pieces. You can use any cheese you wish — although types that can melt easily, such as cheddar or Swiss, will work better. Optionally, you can pinch the edges of the mini grilled cheese to seal it, just like an adult Uncrustable.
Melt some butter in a wide pan and start frying the bread slices. Drop an egg into each hole and let them cook, and place your little grilled cheese in the pan to fry in the butter. Season everything with salt and pepper and remove from the pan when the eggs are done to your liking, and the little grilled cheese is browned on the outside. Dunk the little grilled cheese into the creamy egg yolk, and enjoy a combined sensation of salty cheese, creamy egg yolk, and crunchy bread.
Delicious and versatile circles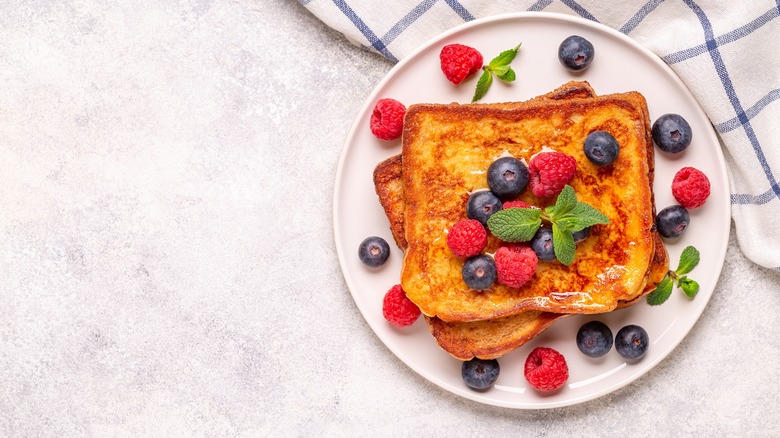 Tatiana Bralnina/Shutterstock
If eating grilled cheese first thing in the morning sounds a bit too much for you, you can still save and use your circular leftover bread for other purposes. Simply store these pieces in a freezer bag and use them when you have enough. For those who enjoy savory tastes, try making crunchy garlic croutons out of them. Simply toss the bread with some olive oil, garlic powder, salt, pepper, and any additional seasoning you prefer. Arrange them on a wire rack on top of a cookie sheet, and bake in a 400-degree Fahrenheit oven until well browned and crispy. Toss them with your favorite salads or use them to dunk into soups.
For those who have a sweet tooth, these little bits of bread can also be useful. For example, you can make tiny little French toast coins by dunking these bread pieces into a simple custard made of eggs, milk, sugar, and vanilla. Fry them in a pan until they are golden brown and delicious. Served with maple syrup and jam for dipping, these little treats will be a hit with kids at your next brunch gathering. You can similarly stuff them with sweetened mascarpone cheese or Nutella for stuffed French toast coins.