Replace Your Avocado Pit With Spicy Ground Beef For Silky Taco Bowls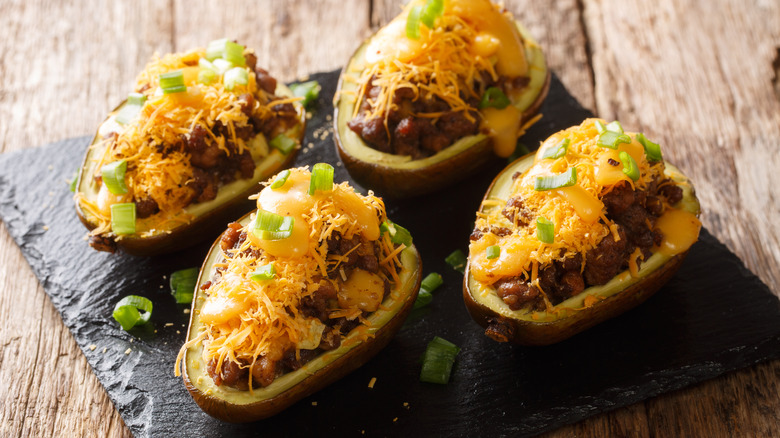 AS Foodstudio/Shutterstock
Taco Tuesday has been around since at least the early 1980s in the United States, and it doesn't look to be losing any traction anytime soon. In fact, according to market data collected by Gitnux in 2023, Americans consume approximately 4.5 billion tacos each year, and that number is projected to continue to rise. But also on the rise is the popularity of low-carb diets like keto, paleo, and others. So what is a taco-lover living a low-carb lifestyle (or you have celiac or are trying to reduce processed foods) to do?
While you could certainly substitute a salad for the warm wrap as a base for your favorite fillings, the more satisfying answer may be to turn to yet another on-trend food: avocados. You can easily trade out those corn or flour tortillas and instead let avocados cradle your hearty, warm meats, vegetables, or plant-based proteins.
For spicy ground beef stuffed avocados, all you need is the beef and avocados along with your favorite taco seasonings and toppings. It's an easy recipe that only requires browning the beef before scooping it into halved avocados where it mingles with the silky flesh of the fruit that's become your edible bowl. If you enjoy tacos with guacamole, you're going to absolutely love everything about this.
Prepare the stuffed avocados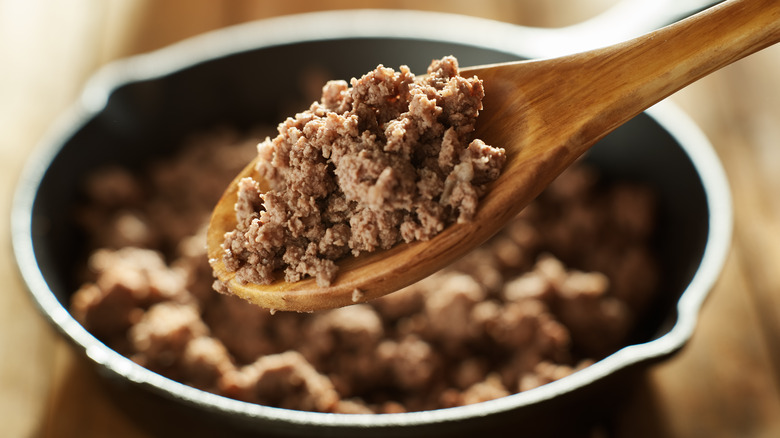 Joshua Resnick/Shutterstock
To start, make sure to have your avocado "bowl" and your toppings ready so that you can serve the meal immediately once the meat has been cooked. First, slice your avocados in half and remove the pits. Use a pastry brush to apply lime juice to the avocado so that it doesn't brown — or use a spray bottle to spritz the avocado with the juice. Then, dice up veggies like onions, tomatoes, black olives, and jalapenos. You can also set out shredded lettuce or cabbage, beans, and cheeses like cheddar or cotija.
To prepare the filling, heat oil in a large skillet over medium-high heat. You can use any neutrally flavored oil, like sunflower oil or avocado oil. Add the ground beef to the pan and press it down using a wooden spoon or spatula. Contrary to what may seem to be the typical technique for browning, you'll actually want to avoid breaking up the beef immediately. Allowing as much surface area of the beef to come in direct contact with the pan will produce more flavor and significantly better texture.
Once the bottom has browned, flip the meat over. At this point, for the ease of flipping, you can separate it into larger chunks but should still avoid crumbling it. Once that side has browned as well, use the spoon to break the meat up, add your spices and seasonings, and cook until all of the meat is brown throughout. Then, spoon the spicy ground beef into the avocado halves and serve.
Tips and variations
Rudisill/Getty Images
There are a few ways to make sure that your beef has the perfect taste and texture. First, use paper towels to blot away any excess moisture on the beef. Getting rid of excess moisture will help the beef to brown. Another way to reduce moisture in the pan is to add baking soda to the beef. Evenly sprinkle about a quarter teaspoon on the beef while it sits on the counter prior to placing it in the skillet. The baking soda can help to control the amount of liquid that is released during the cooking process, improving your chances of achieving perfectly browned beef.
And, of course, you can substitute other proteins. Swap out the ground beef for seasoned shredded beef for a take on birria tacos, or trade out the beef altogether for either ground or shredded pork or chicken. For vegetarian or vegan avocado taco bowls, use a plant-based alternative or a blend of sauteed vegetables, beans, and grains.
Finally, when it comes to the avocado, size up how much space is available after removing the pit. If you anticipate using a large amount of meat filling, simply use a spoon to remove a bit of the avocado to make more room. Easily repurpose it by dicing it up to use as a topping. Or, use it to whip up an easy side dish for your stuffed avocados, like avocado and broccoli salad.