Easy Avocado And Broccoli Salad Recipe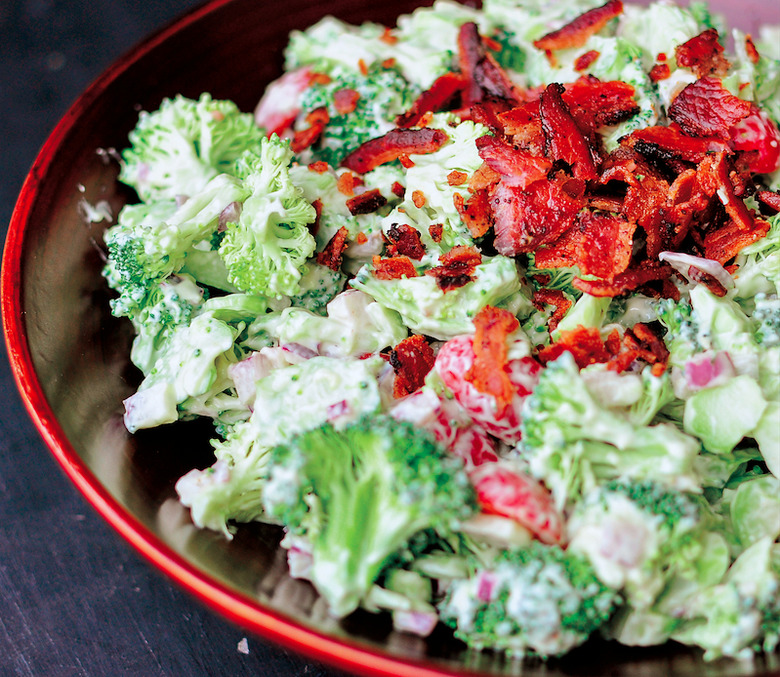 We may receive a commission on purchases made from links.
If you've ever found yourself staring down the perfectly ripe avocado in your kitchen willing yourself not to make yet another batch of guac, meet your new favorite cookbook. Cook and blogger Elizabeth Nyland has 75 recipes for the star of the produce bin, starting with your new favorite first course: broccoli salad tossed with avocado dressing and bacon bits.
Some friends of ours brought a raw broccoli salad over to our house one night for a get-together and we all fell in love. It was simple, traveled well and tasted amazing. After thinking over the combinations that would work well with the broccoli, I settled on this iteration. The creamy avocado contrasts with the crispy, salty bacon and the tart lemon does the same with the sweet cherry tomatoes, making for a dish perfect for parties. It pairs well with chicken, fish or pork and keeps well in the refrigerator overnight.
Easy Avocado And Broccoli Salad Recipe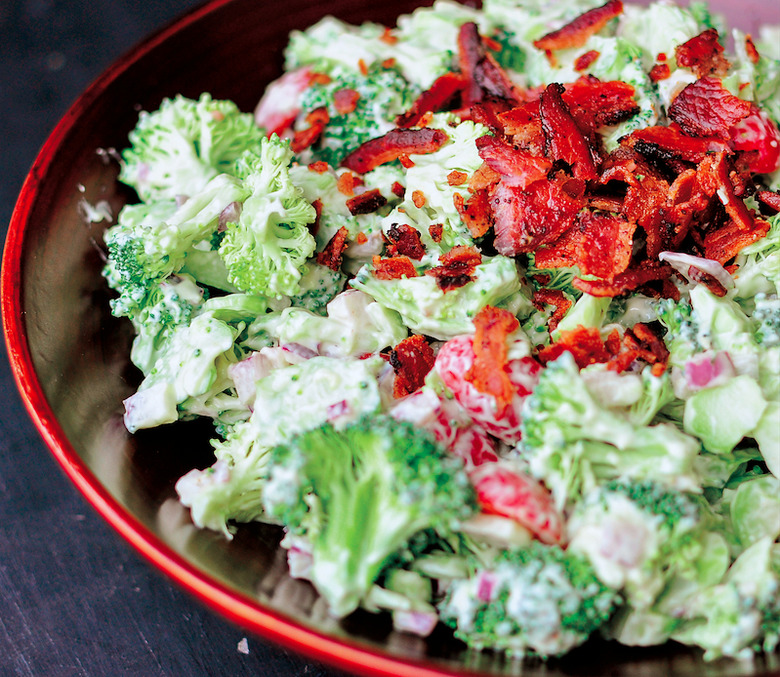 Ingredients
3 slices thick-cut bacon
1/2 large avocado
1 teaspoon grated lemon zest
1/2 cup plain nonfat Greek yogurt
2 teaspoons Dijon mustard
1/4 - 1/2 teaspoon sea salt
1 pound broccoli
3/4 cup cherry tomatoes
1/2 small red onion
Directions
In a large, heavy-bottomed frying pan, cook the bacon over medium heat until crisp. Set aside on a paper towel-lined plate.
Process the avocado, lemon zest and juice, yogurt, mustard and sea salt in a blender or food processor until smooth.
In a large bowl, combine the broccoli, tomatoes and onion.
Pour the avocado dressing over the vegetables and toss to combine.
Crumble the bacon and sprinkle over the salad.
Serve immediately or refrigerate until needed.
Simple Kale Avocado Salad Recipe
Roasted Carrot, Orange And Avocado Salad Recipe
Chilled Lobster Salad With Lemon Thyme Madeleine Recipe