TikTok's Bath Hack Effortlessly Cleans Oven Racks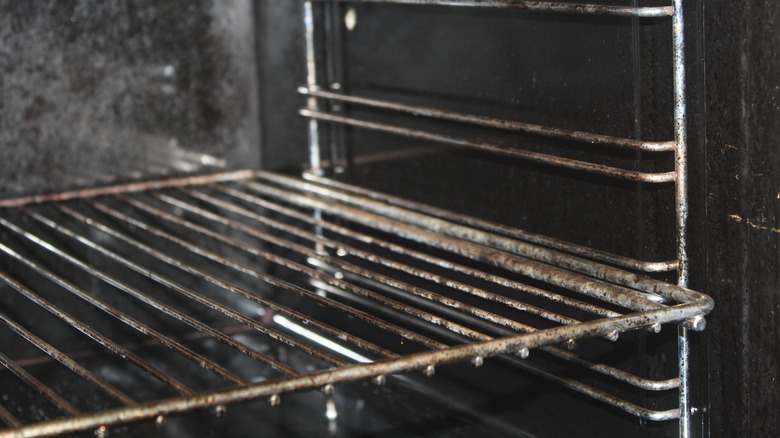 MimAcademy/Shutterstock
Cleaning a charred oven rack has got to be one of the dirtiest jobs in the kitchen. Besides the baked-on grime, let's not forget that the racks are usually larger than a standard-sized kitchen sink (or dishwasher) can accommodate. Therefore, it's harder to give them a good, even soak, which typically softens the mess and allows for easier cleaning. Leave it to TikTok to show the world that, yes, there's a hack for that. It shows viewers that, if you've got a bathtub, you've got the ultimate space to get your oven rack clean.
TikTok user @carolina.mccauley has a page on the outlet that is full of home hacks. Her brief video clips show people everything from really cool cleaning gadgets to how to clean with vinegar. In the oven rack video, she takes her oven racks — which are caked with crud — and basically gives them a dunk in her bathtub, which is plenty big enough to fit the racks. You'll need to give yourself some time if you try this method (about three hours) but the trade-off is it requires absolutely no elbow grease.
Splish splash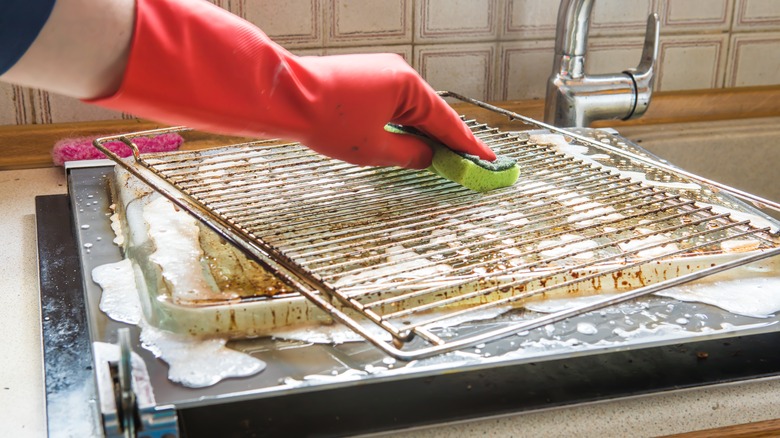 Sokor Space/Shutterstock
In her 13 second video, Mccauley places two oven racks and an oven tray in a bathtub along with three dishwasher tablets. She then fills the tub with hot water — just until the racks are submerged. She lets them soak in the tub for three hours, at which point the racks are shiny, grime-free, and look as good as new. The water left behind in the tub looks visibly dirty with flecks of black bits on the bottom (presumably the caked-on grease from the racks).
There's no scrubbing or rinsing involved; in fact, it appears the hardest thing to do is get the racks pushed back into the oven. As far as the tub goes, Mccauley doesn't mention how she's going to clean it now that it's played host to oven grease and baked-on food, but there's no doubt she's got a bathtub cleaning hack somewhere in her arsenal.
Other ways to clean your oven racks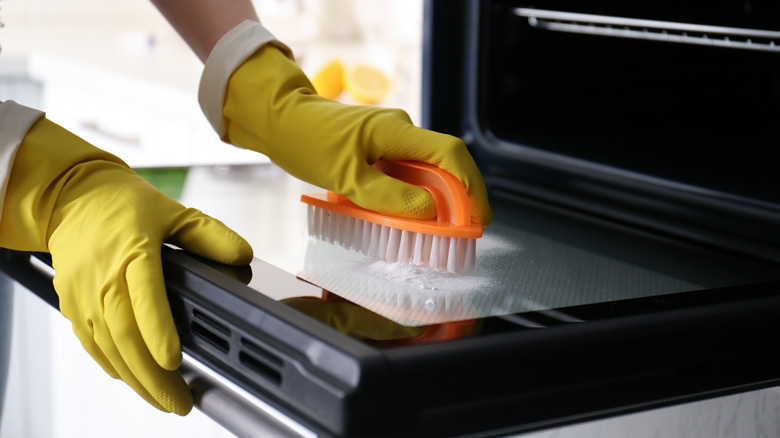 New Africa/Shutterstock
This is hardly the only way to get your grungy oven racks clean. A popular alternate method is soaking them in hot water (sink or bathtub) with dryer sheets and a little dish soap. After a few hours, caked-on grease supposedly wipes away with little effort (you can even use the dryer sheets to do the wiping). Just remember, anytime you clean your racks in the tub, lay a towel down first to protect the bottom of the bathtub from scratches.
Another method involves an actual oven cleaner, like Easy Off, but you don't spray it in your oven. First, you place your oven rack in a plastic trash bag, spray oven cleaner all over it, close up the bag, and let it sit for almost an hour. Wipe the grime with paper towels or a sponge and rinse.
If you want to avoid chemicals at all costs, you can give baking soda a try. This method also starts with submerging your dirty oven racks in hot water in the bathtub. Add a generous amount of baking soda and let it sit overnight. Baking soda is fantastic for softening up stains, dried-on food, and grease. The next day, you should be able to wipe the gunk away, rinse, and dry.
Since it makes little sense to clean your oven racks and not the rest of your oven, you can also go the au natural route by using lemon water or a baking soda-dish soap mixture. Your appliance will be sparkling just in time to bake your next lasagna.