What Is A Jelly Roll Pan And Why Would You Need One?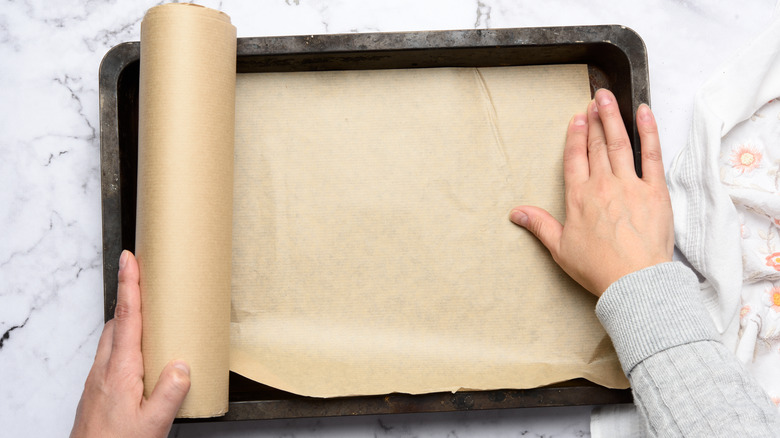 NDanko/Shutterstock
Maybe you are browsing kitchen items for a gift registry, or maybe you just want to start building a well-stocked kitchen with all the best gadgets and tools. Chances are at some point, you will start looking to add different sizes of rimmed baking sheets to your collection. There's no doubt the names and various dimensions can be confusing. There are full, half, and quarter sheet pans, the classic 9x13 pan, not to mention a whole array of cookie sheet options. Having a variety of sizes on hand is key, but when space is at a premium, it is important to make wise purchasing decisions. 
With all these choices, buying something called a jelly roll pan might feel unnecessary. A baking sheet where the name implies it is used for just one recipe seems like an unnecessary one-trick-pony addition to your kitchen. However, prepare to be surprised; this versatile 15-by-10-inch pan just might be the exact tool your kitchen has been missing. Not only can you make stunning desserts from it, but this pan doubles as a baking tray with just enough lip to keep juices from dribbling all over your oven.
A jelly roll pan was originally designed for its namesake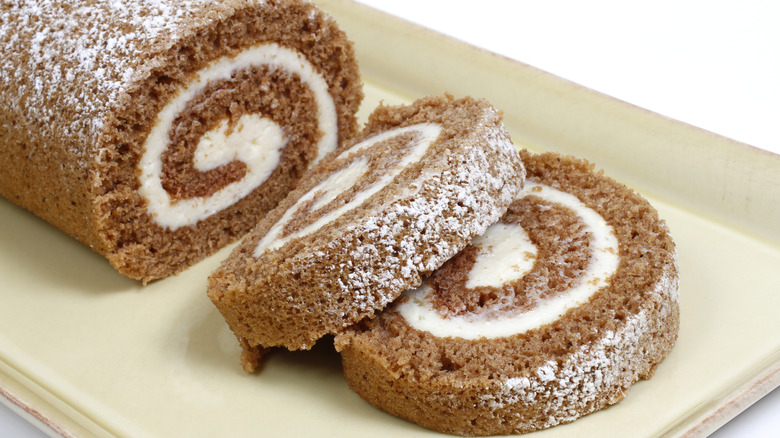 Nredmond/Getty Images
If you've never heard of a jelly roll pan, the namesake dessert might be new to you as well. A jelly roll is a large, thin sponge cake that is filled with jam, jelly, or cream, and then rolled into a cylinder shape. To serve, it is sliced into rounds, showing off the elegant spiral of cake and filling. This may seem simple, but it takes practice to master the art of rolling the cake without cracking it.
The 15-by-10-inch jelly roll pan was developed to create the perfect-sized sponge cake for filling and rolling. Other pans result in either a sponge cake that is too large to roll comfortably, or they are too small, resulting in a cake that is too thick for the recipe.
Recipes specifically for a jelly roll pan might be called jelly rolls, rolled cakes, cream rolls, or Swiss rolls. In fact, a traditional Christmas "Yule Log" or Bûche De Noël is an elegant take on a rolled cake. While making jelly rolls is a fun enough reason to get the pan, it's the versatility that really sets it apart.
A jelly roll pan is a versatile tool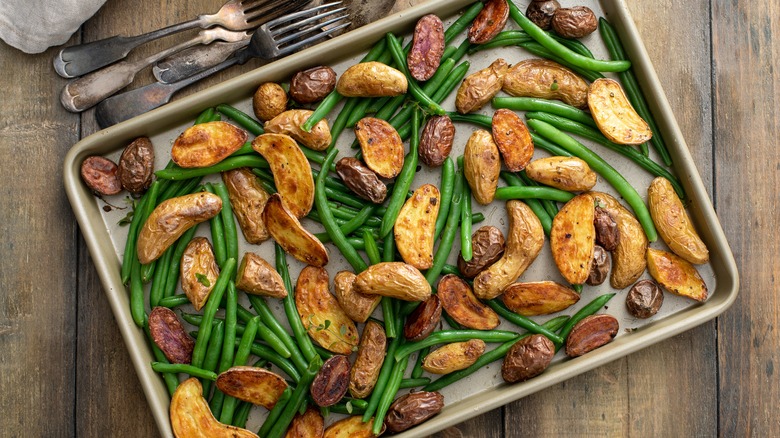 Elena Veselova/Shutterstock
Don't worry; a jelly roll pan has uses far and beyond your grandma's cakes. Since the size is smaller than a typical rimmed baking sheet, it is perfect for studio apartment-sized ovens. Plus, they are more likely to fit in your dishwasher than a half-sheet pan. A full-sized baking sheet is 18-by-26 inches — even a half-size sheet, 13-by-18, is larger than the jelly roll pan. Therefore, when it comes to effortless clean-up, the jelly roll pan wins hands down.
For smaller families, a jelly roll pan is the ideal size for sheet pan dinners. Plus, it's easy to grab when roasting a batch of vegetables or meats, and the one-inch high raised sides keep oil or juices from spilling over into the oven. Also, if you prefer thinner brownies or chewy chocolate chip cookie bars, the size of a jelly roll pan spreads out the batter or dough a little further for the ideal crispy texture. Once you add a jelly roll pan to your kitchen collection, it just might become your favorite go-to baking sheet.