Super-Chewy Chocolate Chip Cookie Bars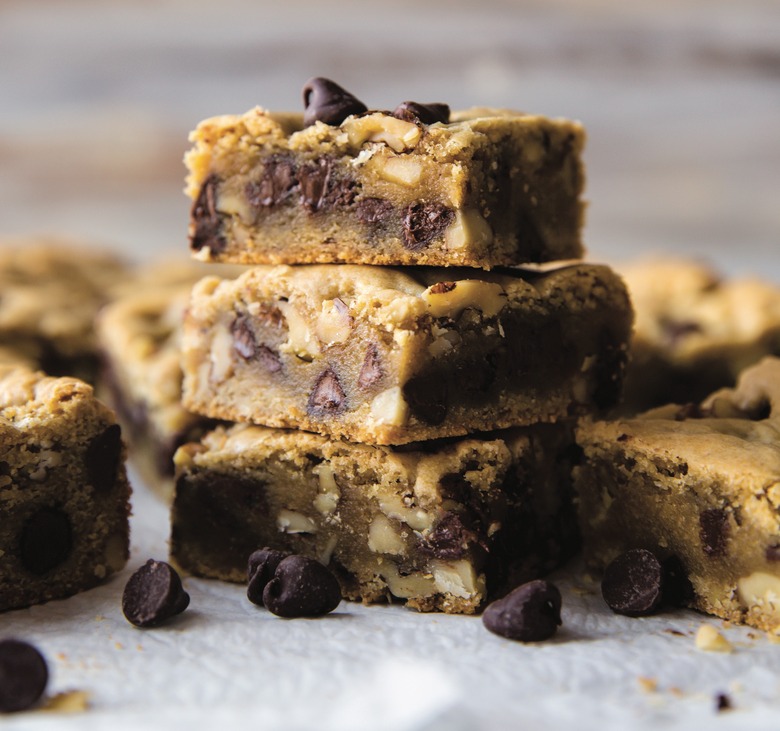 We may receive a commission on purchases made from links.
What's not to love about an all-cookie cookbook? Sally McKenney, of popular blog Sally's Baking Addiction, has a new collection of her favorite recipes out that will revolutionize your holiday baking season. These super-chewy chocolate chip cookie bars are guaranteed to be a hit. 
Also known as "spread-and-bake" chocolate chip cookies, these couldn't be easier!
Sally Says: Unlike regular chocolate chip cookies, I use all brown sugar in these bars for lots of flavor.
Make-Ahead Tip: Prepare the dough, following steps 2 through 4, then cover tightly and refrigerate for up to 3 days or freeze for up to 3 months. When ready to use, allow the dough to come to room temperature (if frozen, thaw in the refrigerator first), preheat the oven to 350°F (180°C), and continue with step 5. Baked bars can be frozen for up to 3 months; allow to thaw overnight in the refrigerator, then bring to room temperature before serving.
Super-Chewy Chocolate Chip Cookie Bars
Revolutionize your holiday baking season with Sally McKinney. These super-chewy chocolate chip cookie bars are guaranteed to be a hit.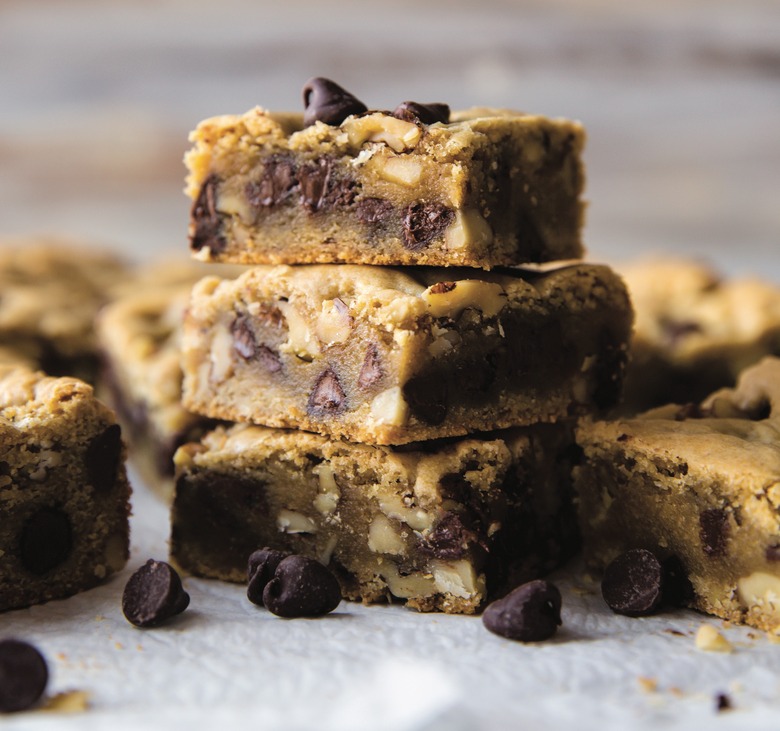 Ingredients
2 3/4 cups all-purpose flour
1 teaspoon cornstarch
1 teaspoon baking soda
3/4 teaspoon salt
3/4 cup unsalted butter
2 cups packed light brown sugar
2 large eggs plus 1 egg yolk
2 teaspoons pure vanilla extract
1 1/2 cups semi-sweet chocolate chips
1 cup chopped walnuts
Directions
Preheat oven to 350°F (180°C). Line a 9 × 13-inch (23 × 33 cm) baking pan with parchment paper, leaving enough overhang around the sides to easily lift the bars out. (I encourage parchment so that you can easily remove the baked dough as a whole and not cut it into bars while it's in the pan.)
Whisk the flour, cornstarch, baking soda, and salt together in a medium bowl. Set aside.
In a large bowl, whisk the butter and brown sugar together until combined. Whisk in the eggs and egg yolk, then whisk in the vanilla extract until combined.
Add the dry ingredients to the wet ingredients and stir with a rubber spatula or wooden spoon until the cookie dough comes together. Stir in the chocolate chips and walnuts. The dough will be soft, yet heavy.
Press the dough evenly into the prepared baking pan. Bake for 24 to 27 minutes, or until the edges and top are lightly browned.
Remove from the oven and allow to cool completely in the pan on a wire rack. Once cool, remove the baked dough from the pan by picking it up with the parchment paper on the sides. Cut into squares.
Bars will stay fresh in an airtight container at room temperature for up to 1 week.