How Giada De Laurentiis Sweetens Her Tomatoes In 20 Seconds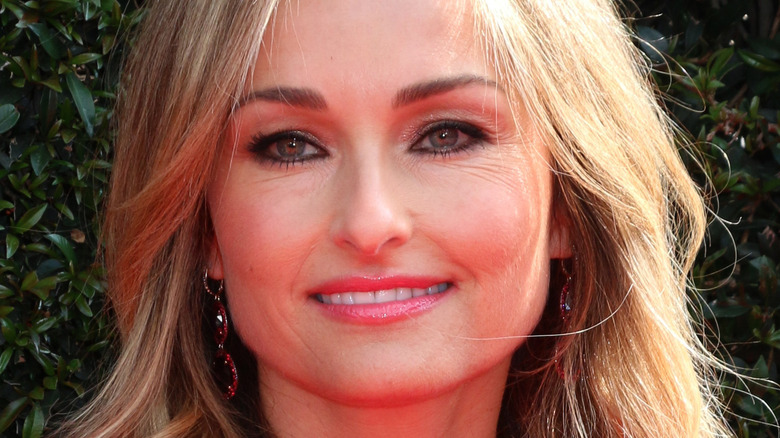 Kathy Hutchins/Shutterstock
The end of summer is peak tomato season, but that doesn't mean you have to limit how you enjoy them to only raw or cooked down into marinara. Chef Giada De Laurentiis amps the tomato's natural sweetness in just 20 seconds by grilling the fruit for her caprese salads.  
Similar to roasting, an invaluable technique for transforming subpar winter tomatoes, grilling concentrates their sweetness by breaking down the tomato's sugars. Caramelization creates depth, adding a new flavor profile and golden grill marks while intensifying their 'tomatoey' flavor.
Unlike roasted tomatoes, often cooked slowly in a low-temperature oven, De Laurentiis takes advantage of the warm weather and grills them quickly outdoors on a scorching grill. She adds them to caprese salads traditionally made with raw tomatoes, layering warm grilled tomatoes between thick slices of mozzarella and fresh basil leaves. Since fresh mozzarella is best served between 64 and 77 degrees Fahrenheit, this technique enhances the mozzarella's buttery texture and taste. Here's how to grill tomatoes at home. 
How to grill tomatoes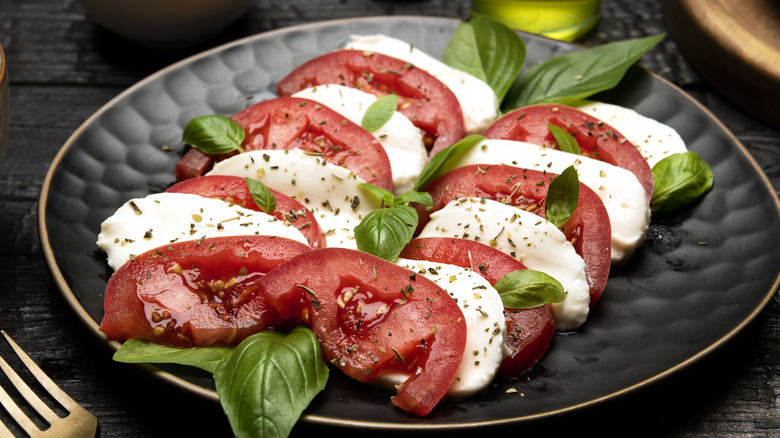 Rouzes/Getty Images
To keep the tomatoes from falling apart on the grill, start with a firm tomato that's ripe but not overripe and mushy. Prep the tomato by rinsing and drying it. Heirloom, Roma, Early Girl, and other two to four-inch round tomatoes should be cored and thickly sliced across the equator. Small varieties like cherry and grape can also be grilled, but they should be left whole.
Preheat the grill to medium heat, around 350 degrees Fahrenheit. You'll know it's ready when you can't keep your hand close to the hot grates for more than a few seconds — tomato's fructose and glucose sugar caramelize between 230 and 320 degrees Fahrenheit. Please note that placing tomatoes on a cool grill will lead to them sticking.
Since moisture is the enemy of caramelization, blot the sliced tomato's surface with a paper towel to absorb excess water. Then, brush the slices with olive oil and season both sides with kosher salt and freshly ground black pepper. 
Grill the tomato for ten seconds before flipping. It should lift from the grill easily, but if it resists, give it a few more seconds. Flip the tomato and grill the other side for another ten. Season the grilled tomatoes with more salt and pepper, then enjoy them warm or hot in recipes including a caprese salad.
Where to use grilled tomatoes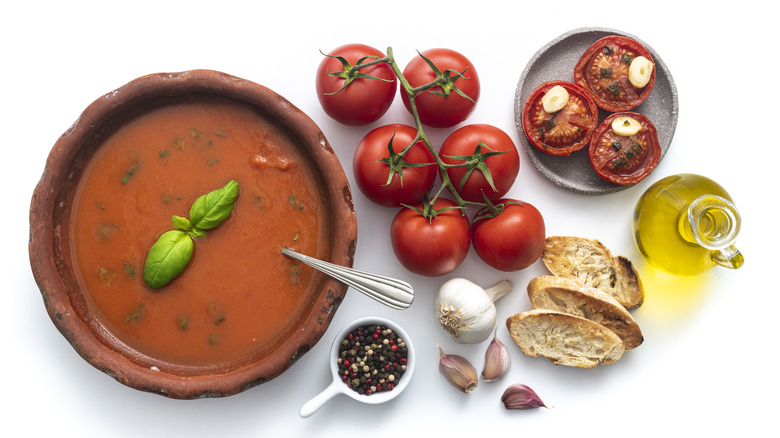 Mediterranean/Getty Images
Grilled tomatoes are delicious when seasoned with just salt and pepper. Still, you can play with its flavor by sprinkling additional ingredients on the raw tomatoes before grilling. Woody herbs like thyme, oregano, and rosemary can withstand high heat. Since the tomatoes cook for 20 seconds, minced garlic can be brushed on without worrying that the garlic will burn. 
Splash some vinegar on the tomatoes before grilling to further increase their sweetness. The high heat will reduce the vinegar while caramelizing its sugars. Or increase its umami with grated parmesan cheese on the tomatoes before grilling. Crumble salty feta or ricotta salata on grilled tomatoes to add a tangy component, and at the end of the summer, raw or grilled corn, cut off of the cob, is a sweet addition that adds texture to salads. Grilled tomatoes are similarly delicious as a side dish or added to an antipasto or mezze platters, especially when served with bread. 
Incorporate grilled tomatoes in any tomato recipe that could benefit from a smoky element. Leftovers will last a few days in the refrigerator and can be puréed into soups and pasta sauces or enjoyed cold right out of the fridge. 
For main courses, use them to upgrade grilled chicken and fish — or add them to grilled cheese sandwiches for the best late-summer lunch. Line grilled tomatoes up on a grilled vegetable platter alongside quick-cooking veggies like asparagus, zucchini, or whatever is local and in season. The possibilities are endlessly delicious.