Goat Water Is The Staple Dish Of Jamaican Weddings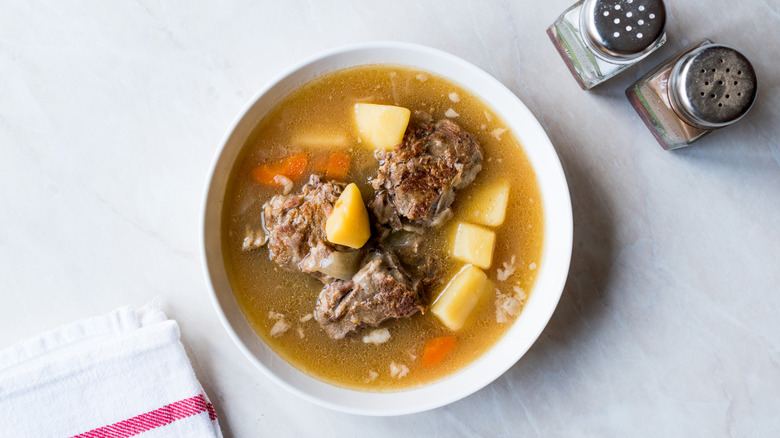 Alpaksoy/Getty Images
From the freshest seafood to jerk chicken, conch, and year-round dishes made with goat meat, Jamaican cuisine is as exotic and beautiful as the land it's from but it also takes a lot of influence from Africa, Asia, and Europe due to the island's history in trade and exploration. Some dishes like jerk pork, goat curry, and Jamaican patties are fairly widespread and popular with tourists. Others, like goat water, are mostly familiar with only the locals.
Also known as mannish water or goat head soup, goat water is often served at large gatherings and special occasions, specifically at weddings. Of course, there's a reason behind this. Goat water has long been considered an aphrodisiac, particularly for the groom. The dish is said to boost the male libido. It is thin and brothy but hearty at the same time as is filled with goat meat, potatoes, plenty of garlic, hot peppers, and sometimes dumplings, making it a delicious choice for anyone (bride, groom, or guest).
How to make goat water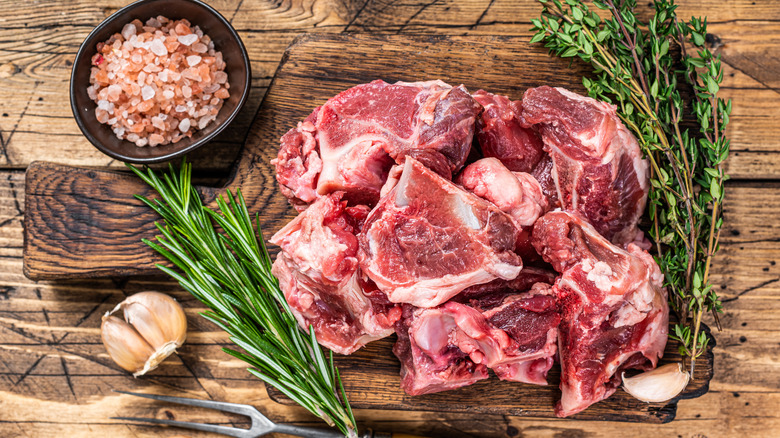 Mironov Vladimir/Shutterstock
Traditionally, a goat head is used to make this soup, but it's common today for people to opt for goat meat that's been cut into chunks. It's really a matter of preference and availability. The goat meat is then placed in a pot with water, herbs and spices, and garlic, and the soup simmers until the goat meat becomes tender. At this point, you add the root vegetables, which can include potatoes, taro root, yams, and carrots, plus hot peppers (specifically scotch bonnets).
There isn't one single recipe for goat water and ingredients can vary to include adobo seasoning, tripe, celery, bell peppers, onions, rum, and basic dumplings made of flour, water, and salt. Substitutions like mutton instead of goat, and sweet potatoes and plantains are also acceptable, especially if traditional ingredients can't be found. Considered a signature Jamaican dish, it's also popular on the islands of Antigua, Grenada, St. Kitts, and Nevis, but on Montserrat, goat water is considered the national dish.
More Jamaican wedding traditions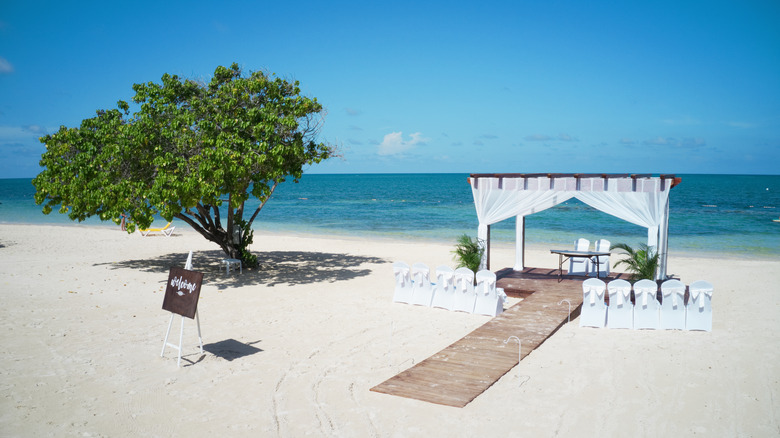 AeroPictures/Shutterstock
If you do find yourself getting married or attending a wedding in Jamaica and you don't see goat water on the menu, there will still likely be some other type of goat dish present, like curry goat. Another element to Jamaican weddings is — surprise! — rum, a spirit that has long been associated with the island. It will probably take the form of a rum cake, which is traditionally served at weddings. It's so important to the celebration, in fact, that the cake often makes an entrance, in a similar manner to the bride. A Jamaican black rum cake is carried into the ceremony, hidden by a lace veil. It's only uncovered when it's time to cut into it.
Like most weddings, there will be a lot of eating and drinking, but that doesn't end when the bride and groom are whisked away to their honeymoon at the end of the night. In Jamaica, you'll need to brace yourself for Tun T'anks Sunday, which takes place on the Sunday after the wedding when the entire wedding party and guests go to church and then to a second reception for further celebrating, with plenty more goat water and rum cake to go around.