Krispy Kreme Debuts Dozens Of New Coffee Drinks With Free Donut Deal
Krispy Kreme already kicked off autumn with its lineup of four varieties of pumpkin spice donuts. Now, the chain is offering an upgraded way to wash those donuts down, too, with the release of its new coffee drinks.
Krispy Kreme already had a solid coffee game, one year even scoring the top spot for the "best coffee shop brand" in the United States. But with an eye on elevating its hot, iced, and frozen coffees, Krispy Kreme is offering new roasts that it says are richer and smoother than its previous blend. You can try out the new blends all on their own with the chain's classic coffee,the decaf version, or in an Americano or espresso.
Meanwhile, the brand's many iced, frozen, and hot lattes will benefit from the bean upgrade, too. You try it out by sipping on anything from an Original Glazed Iced Coffee, which boasts the flavor of Krispy Kreme's iconic donut, to a classic vanilla latte or a caramel mocha. Or, go for the ultimate fall pairing by teaming up those pumpkin spice donuts with a pumpkin spice latte.
What else is new at Krispy Kreme?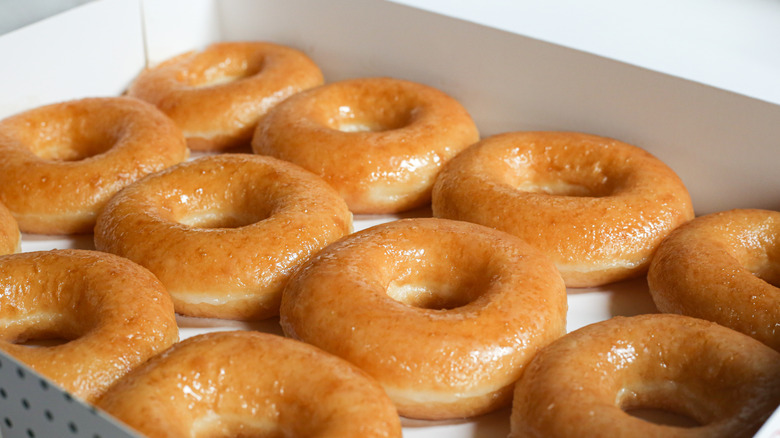 Pong Stocker/Shutterstock
While Krispy Kreme elevated dozens of its hot, iced, and frozen coffees simultaneously by changing up the beans and roasts, the brand also made another addition, expanding customers' ability to customize their beverages. Now, coffee drinkers can opt out of dairy by requesting oat milk for their lattes and cappuccinos. Customers can also choose between classic and medium roast espresso to customize the flavor of their latte. The deeper flavor of the medium roast would be especially tasty in the caramel mocha latte.
So to show how excited they really are, from September 14 – 17, Krispy Kreme will be rewarding anyone who buys one of its updated coffee drinks with a free donut of their choice. Snap up the sweet deal at any Krispy Kreme location, or use the code SWEETDUO on pick-up or delivery orders on Krispy Kreme's app or website.