Lemon Drop Shots Are Better Shaken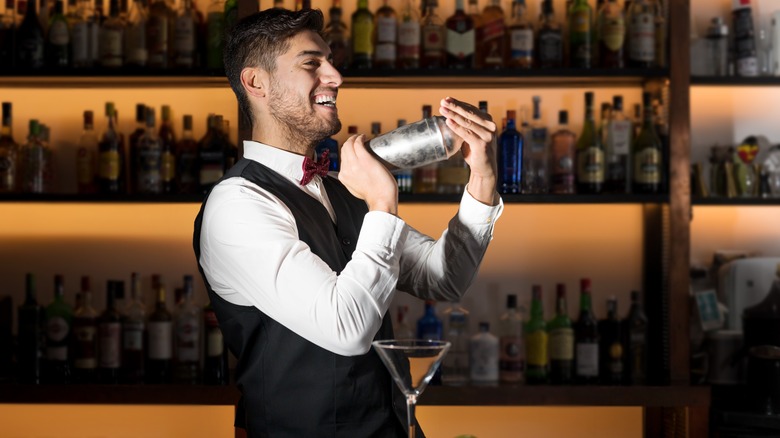 David Herraez Calzada/Shutterstock
Vodka is suitable for almost anything. It is the star in many cocktails, from the elegant classic martini to the brunch favorite Bloody Mary. However, if there is one companion that fits best with the neutral spirit, it is citrus fruits. From the fragrant essential oils of its zest to the sweet and tart taste of its juice and pulp, citrus of all types are fantastic partners for the versatile vodka.
One of the simplest pairings of vodka and citrus is the lemon drop shot. Traditionally served as a shot of ice-cold vodka alongside a wedge of sugar-dipped lemon, you are encouraged to toss the vodka back in one go before biting into the lemon, letting the sugar-enhanced lemon juice soothe the burn of the spirit. But there is another way to enjoy the lemon drop, and it is by making it into a mixed drink. With the addition of lemon zest and a sweetener or triple sec, the shaken lemon drop is a slightly milder and sweeter version of the original.
A shaken lemon drop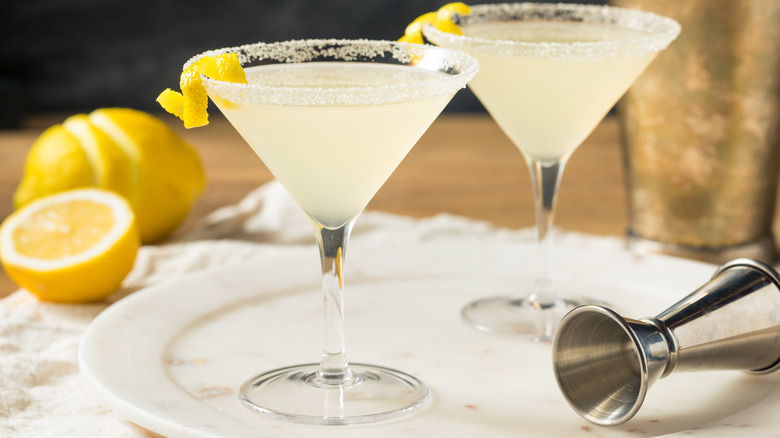 Bhofack2/Getty Images
To make a shaken lemon drop, you need some very good vodka, like Tito's or Grey Goose, and some fresh, juicy lemons. For the sweetener, you can use a simple syrup by combining sugar and water in a one-to-one ratio in a small saucepan until everything is dissolved. When chilled, it can be used in many different types of cocktails, including the vaulted martini.
On the other hand, you can use a triple sec, which is a sweet liqueur made by soaking an ample amount of dried orange peel in neutral spirits. The best example of a premium triple sec is Cointreau. It might seem strange to use an orange liqueur to make a drink that is focused on lemons, but the orange flavor pairs very well with its citrus cousin, and its sweetness blunts a bit of the acidic edge of the lemon.
Whether you choose to use simple syrup or orange liquor, combine it with vodka, fresh lemon juice, grated lemon zest, and ice into a cocktail shaker. Shake it vigorously to chill the ingredients and strain it into shot glasses. For a sweeter taste and a crunchy texture, rim the shot glass with sugar and lemon zest.
Lemon-forward drinks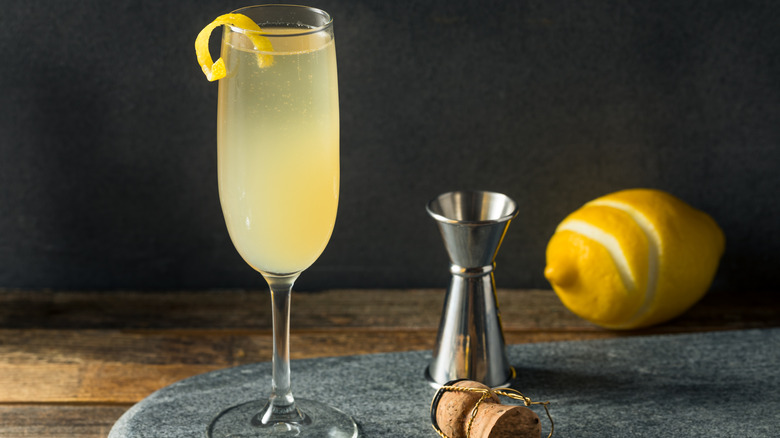 Brent Hofacker/Shutterstock
While undeniably refreshing and delicious, a concentrated mix of liquors such as the lemon drop shots are not for everyone, especially for light drinkers. However, the same formula can be made into a long drink by straining the shot into a tall glass with ice and top with seltzer water. Serve with a wedge of lemon on top for a Tom Collins cocktail that is fresh, light, and mild. Try adding some lemon-lime soda or sparkling lemonade if you like your drinks on the sweeter side.
Another way to enjoy the pairing of lemon and liquor is a classic French 75 cocktail, which combines the herbaceousness of gin, the sweetness of triple sec, and the freshness of lemon juice with the bubbly goodness of champagne. Mix everything except the champagne in a shaker and fill half a champagne flute, then fill the rest with champagne or sparkling wine such as a cava or prosecco.