The Earthy Sea Salt Oprah Brings With Her To Restaurants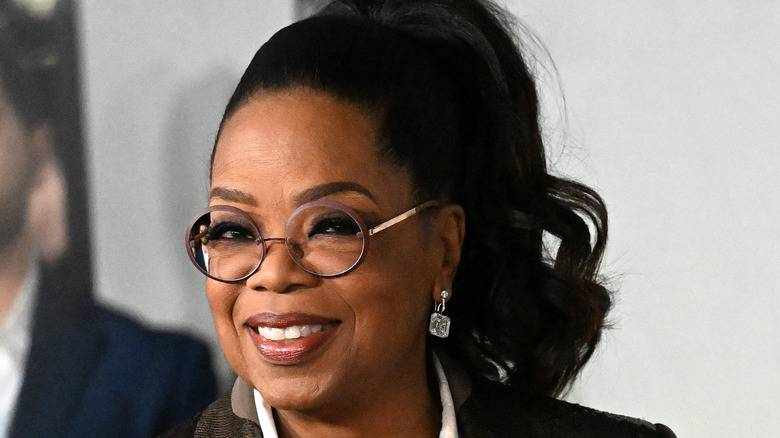 Albert L. Ortega/Getty Images
Oprah is famous for many things, including her annual "Favorite Things" list. The list can include everything from clothing items she loves to wear to books she has read and even exciting food products she has discovered.
Back in 2017, Oprah included her favorite sea salt on the list. However, this is no ordinary table salt; it is a salt so unique and unparalleled that she actually brings it with her to restaurants. In fact, she once pulled a jar of truffle and rosemary sea salt out of her purse at the dinner table, much to the surprise of her server. If this high-end truffle salt wasn't on the menu, she wanted to make sure she brought her own supply. Oprah has even been known to request truffle salt in hotel rooms.
This is just one of many products from the 110-year-old family-owned truffle company Sabatino Tartufi. Oprah loves their truffles so much that she actually joined the company on a truffle-hunting expedition in Italy.
What is in Oprah's favorite sea salt?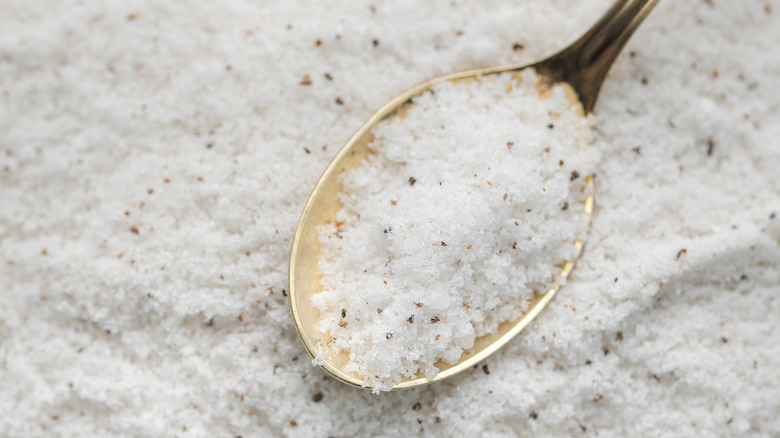 Almaje/Getty Images
Oprah's favorite seasoning blend is made by incorporating fresh herbs and truffles with Sicilian sea salt. This particular variety is made with black summer truffles, rosemary, and black pepper. Adding high-end truffles impart warm, earthy flavors and aromas to the salt and ultimately the dish it is sprinkled on as well.
The brand prides itself on harvesting these prized delicacies at their peak and preserving the truffles for year-round enjoyment. Best of all, the product can be enjoyed by just about anyone regardless of dietary restrictions. The finishing salt is kosher, vegan, non-GMO, gluten-free, dairy-free, and soy-free. Oprah's favorite truffle and rosemary sea salt is available in a 3.53-ounce jar that is the perfect addition to your spice cabinet at home. It is also sold in a set of ten individual small packets that are convenient for those who need on-the-go seasoning, just like Oprah.
How to use truffle salt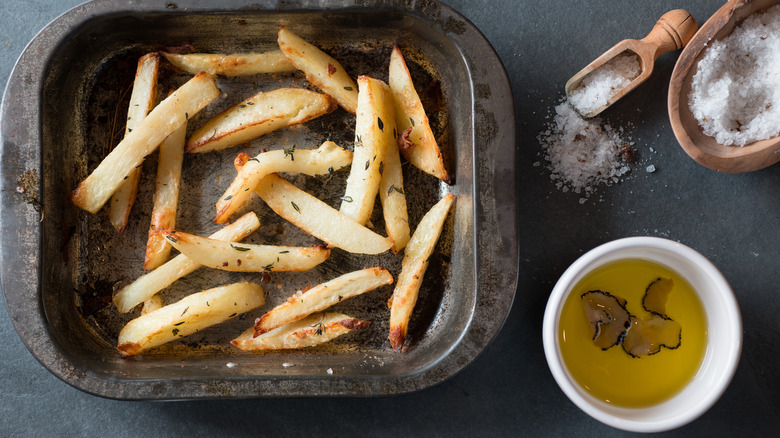 Photographyfirm/Getty Images
This elegant truffle salt can be used in place of salt to season just about any dish. Oprah's obsession with all things truffle runs deep — ever since she was given a Christmas basket from Lisa Marie Presley in 2008 that included truffle salt. From that point on she was hooked, so one can presume she adds it to a wide variety of meals. It can be sprinkled onto meats, fish, eggs, or vegetables as a final flourish finishing salt just before serving. The salt also shines on potatoes or, of course, on french fries. It is even an unexpectedly luxurious addition to popcorn on movie night. The Sabatino Tartufi website offers its own recipe ideas — such as green beans with rosemary truffle salt, or white bean and rosemary dip with truffles.
Truffles bring that certain je ne sais quoi to a dish, loaded with umami goodness and earthy fragrance perfect in many savory meals. In the end, you can feel free to get creative and try a touch of truffle salt in your next experimental cooking endeavor. Who knows — you might even start keeping truffle salt at your desk to perk up work lunches! It really is that good.