Norway's Most Unnerving Restaurant Is Inside A Floating Orb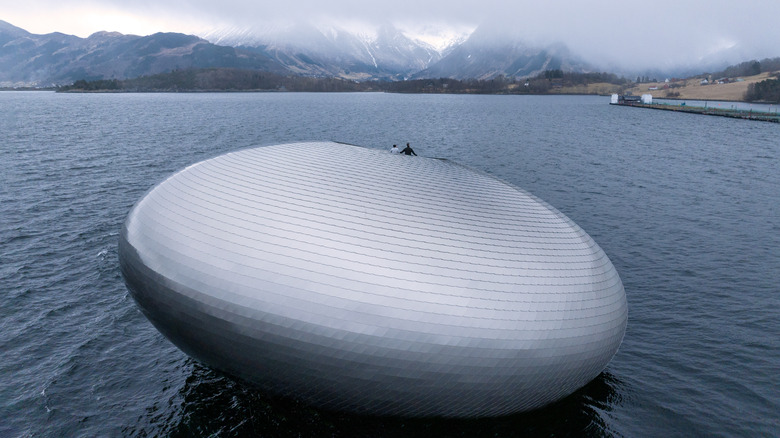 Sebastian Lamberg Torjusen/Iris
One of the most unique dining experiences on earth can be had in the middle of a fjord in Norway. Accessible only by boat, Iris restaurant eerily hovers offshore, partially submerged within the frigid waters of the Hardanger Fjord, located inside the world's largest floating art installation – the Salmon Eye. The double-curved ellipsoid structure is a massive orb covered with 9,500 stainless steel plates that resemble glittering fish scales. The restaurant's remote location has drawn unnerving comparisons on social media to the 2022 film "The Menu," a horror satire about mega-rich foodies who travel to an exclusive restaurant on an island, with Ralph Fiennes as the movie's sinister head chef. Disconcerting similarities and expensive menus aside, the spectacular setting and offerings at Iris are not works of fiction.
The restaurant calls it "expedition dining" — rather than food being transported from its source, Iris brings its guests directly to its ingredients. With produce, seafood, and meat sustainably sourced from local farms, fishers, or foraged from the natural surroundings, Iris delights with a gourmet, 18-course culinary adventure like no other. The journey begins in the town of Rosendal from where guests sail by electric boat to the island of Snilstveitøy and are welcomed with hors d'oeuvres at chef Anika Madsen's boathouse. From there, the boat ferries visitors to their destination aboard the Salmon Eye; first into an immersive, underwater visual performance space, then to the Iris' dining room — where meals are served amidst 360-degree panoramic views of glaciers and mountains.
Scandinavian style expedition dining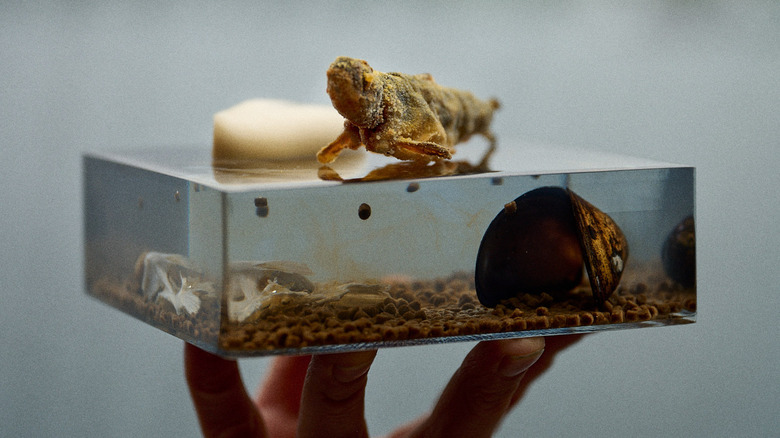 Tobias Lamberg Torjusen/Iris
Danish chef Anika Madsen brings an activist's perspective to her cooking, incorporating the message of global food system issues into her meals, both in the form of provocative presentations and unexpected ingredients, as well as by offering solutions through sustainability practices and new ways of thinking about and acquiring food. She previously worked at the Michelin-starred restaurant Formel B, and before moving to Norway to open Iris, had been the head chef at the Copenhagen restaurants Roxie and Fasangården. The Salmon Eye was conceived of and built for Eide Fjordbruk, the only CarbonNeutral® certified salmon farm in the world, and was created to advance information and education about sustainable seafood production through aquaculture — a fitting partnership for a chef with a passion for discovering sustainable seafood recipes.
A video posted to TikTok on the day it opened called Iris the "most spectacular restaurant in Norway," and has since garnered over 13 million views. With breathtaking footage of the boat ride there, the picturesque sphere set out in the fog-shrouded fjord, and a peak at some of the exquisite dishes, the video's commentator surmises that the restaurant "will definitely get three Michelin stars eventually." It turns out the original poster of the video is Mari Eriksmoen, a well-known Norwegian opera singer, and one of the first intrepid visitors to experience the tasting menu at Iris, which only seats 24 guests per day during its two daily 12-person seatings. Each expedition lasts six hours.
Tasting the future of sustainable fine dining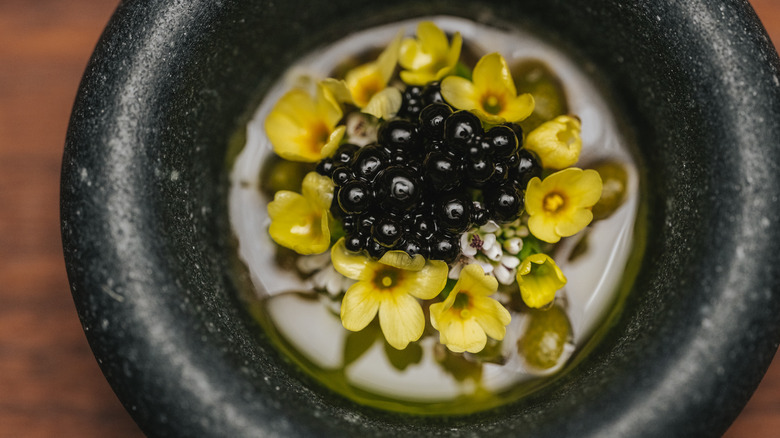 John Asle E. Hansen/Iris
The Iris tasting menu tells a story through its 18 courses. Chef Madsen stated in a press release that, "it has always been close to my heart to lift the less-known ingredients into the spotlight. If I discover an ingredient that will lead to a greener future, I am not afraid to push boundaries."
Menu highlights include "Rocky Roe Palthæsta" with smoked cod roe, kohlrabi, and salted, dried scallop roe. "Uni-fication" is crispy kelp and sea urchins, described as a "symbolic meeting of two possible potential protein sources of the future." Further down the menu is "500 Meters," made with nearby-harvested, juniper-smoked blue mussels, beach crab bouillon, and "peas of the ocean" made from seaweed. "Weeds of the Sea" is Norwegian cuttlefish tagliatelle with dashi-butter sauce made from kelp, unripe strawberries, and lovage. "Horn to Hoof pt.1" is braised reindeer tongue with smoked reindeer heart, yellow beets, and lemon thyme — and "Horn to Hoof pt.2" is reindeer entrecôte, lardo, butternut squash puree, plums, and berries.
Reservations for Iris are booked months in advance. From the nearest international airport in Bergen, there is a two-hour ferry ride to Rosendale. The boat ride from Rosedale to and returning from the Salmon Eye is included with a reservation, which costs $3,200 NOK per person, approximately $300 USD. Wine is an additional $235 — and $140 for non-alcoholic pairings. Tickets for February, March, and April 2024 expeditions will be released on December 1, 2023.