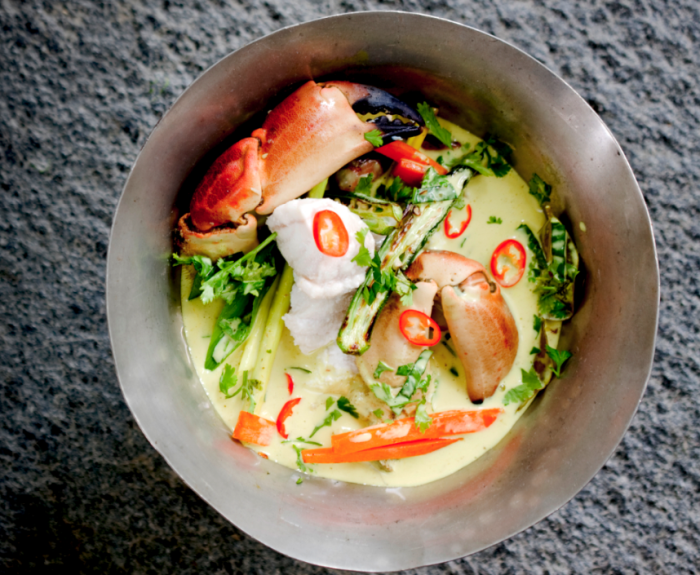 If you're looking to add more sustainable seafood recipes to your cooking repertoire, we've hand-selected 20 of our very favorites. Eating sustainably from the sea is a lot easier than you think — a lot of your most-loved fish (and shellfish, especially) are on this list. Peruse our list and next time you're at the fish market, consult The Good Fish Guide, a list of your best options from the sea. We've got spicy, fried, poached, grilled, freshly shucked and much more.
Okay, we might as well say it: Thai curry should be hot. You can then debate whether it should be hot as hell or just make you a bit thirsty. It's trial and error, to be honest, but remember, you can always add heat afterward — the other way around is a bit trickier.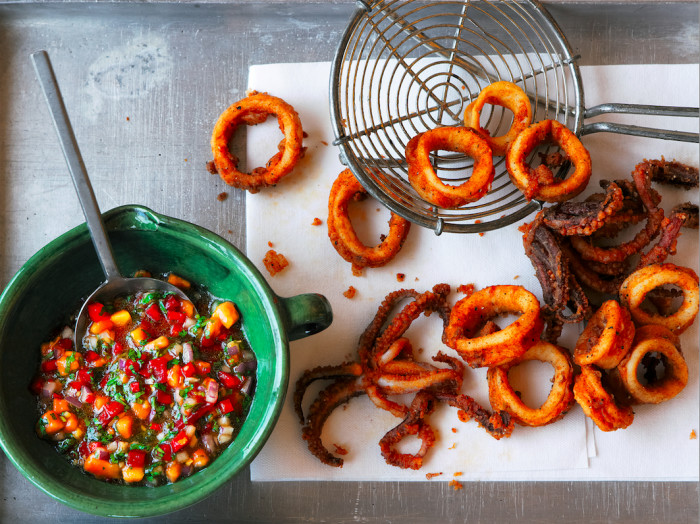 The key to frying squid is to have the oil nice and hot so the squid cooks very quickly. A handheld thermometer is useful to indicate the temperature of the oil, but the temperature will continue to rise if the oil is left on the stove! The usual way of frying squid is to first coat it in either a batter or a seasoned flour. Batter is great but quite messy, so I opt for the simpler seasoned-flour approach.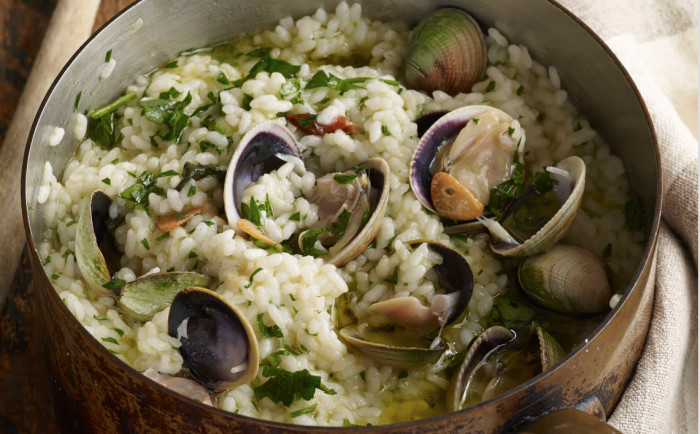 I used to like going to the fish market around Christmastime with Eder's maternal grandmother, Eulalia. The authoritative Basque matriarch would take an elevator from Bilbao's Casco Viejo, where she lived, to Begoña, the neighborhood that towers high above the city. "Better fish at better prices," she would say. "Of course she was right," Eder would later say, "because she is a woman." Eulalia's fish lady was a well-known secret, betrayed by the lines that formed around the block. She had an incredible variety of fish and other sea critters, and everything she sold was pristine.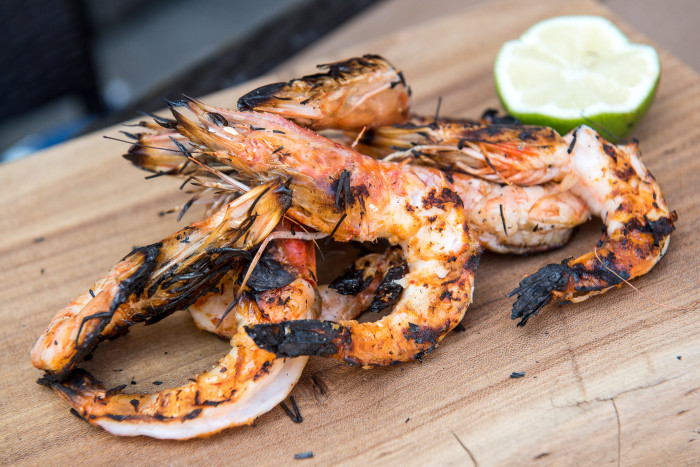 Grilled prawns are grilled prawns. If you buy a nice, plump, fresh product from your favorite guy at the fish counter, you're going to have a good time — even if you scorch the thing. But please don't. Oftentimes grilled prawns (and shrimp for that matter) can be straightforward. Salt and pepper, a burst of acid. Done. New York City chef Harold Dieterle does the opposite, brushing the little guys with a spread made with some of Thailand's most iconic flavors: coriander, lemongrass, galangal and lots of coconut milk. It's as if you were sipping a bottle of Chang on a beach in Ko Samui. And when cooking with prawns, always leave the head on. That's where the flavor is.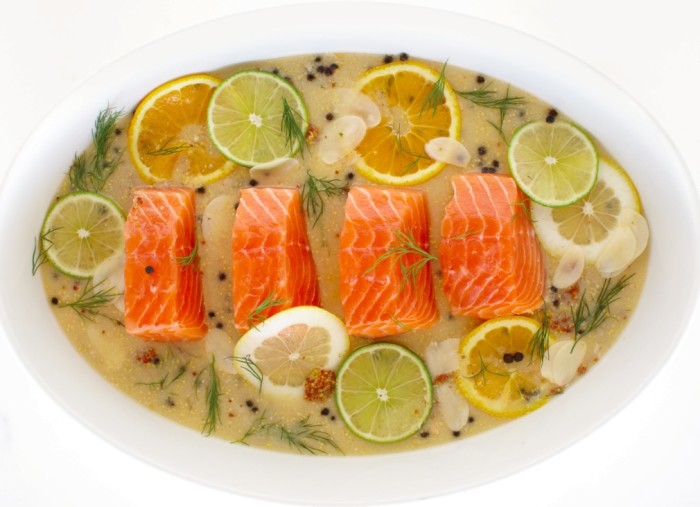 Poaching fish is an easy, healthy way to get dinner on the table in a flash — as in this citrus-poached salmon with Dijon mustard recipe. The bright, tangy citrus broth made with orange, lemon, lime, dill and white wine enhances the forward flavor of the salmon and doubles as the base for the mustard sauce. The poached salmon also makes a terrific salad for a hearty sandwich.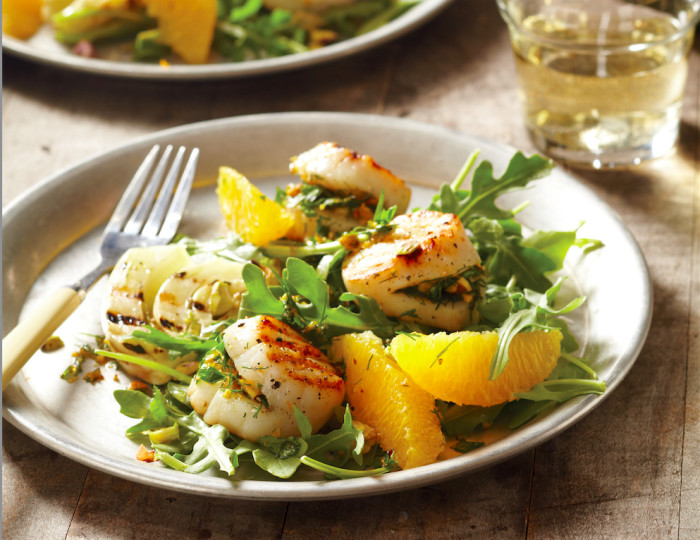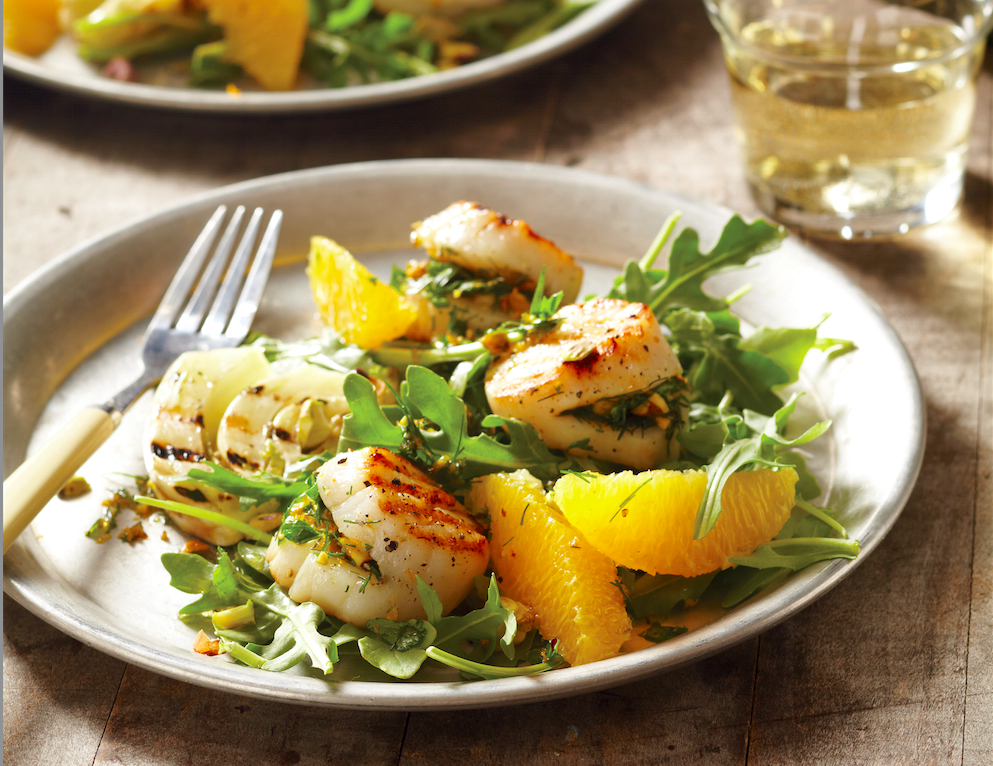 Each bite of these stuffed scallops contains a burst of fennel, orange, parsley and pistachio.
"There are a million lobster rolls out there, and not just in Maine anymore," says chef Clark Frasier. "But as we sampled them around our great state we found that although often delicious, lobster rolls in general were a bit rich without anything to cut that richness. Our obvious solution to this culinary dilemma was to add fresh herbs from our garden! With the addition of tasty herbs such as fennel top, Italian parsley, chives or any other 'soft' herb, the lobster roll is both rich and balanced."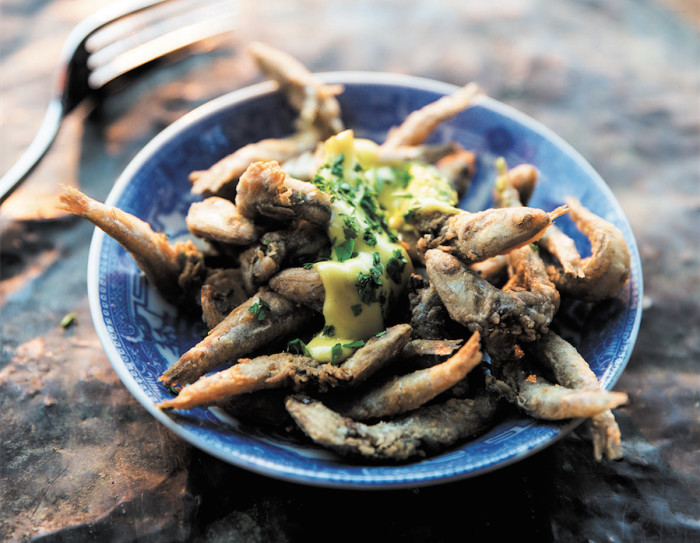 This is my riff on an Italian street-food favorite: paper cones of small, salty fried fish served with a dollop of creamy aioli and a wedge of lemon. For me, this is the highest and best use for small fish like smelt and anchovies because the fish don't need to be gutted, beheaded or scaled, and because tiny crispy fish are really good to eat. This is a great party food — for a fun presentation, serve the fried fish in cones made from newspaper.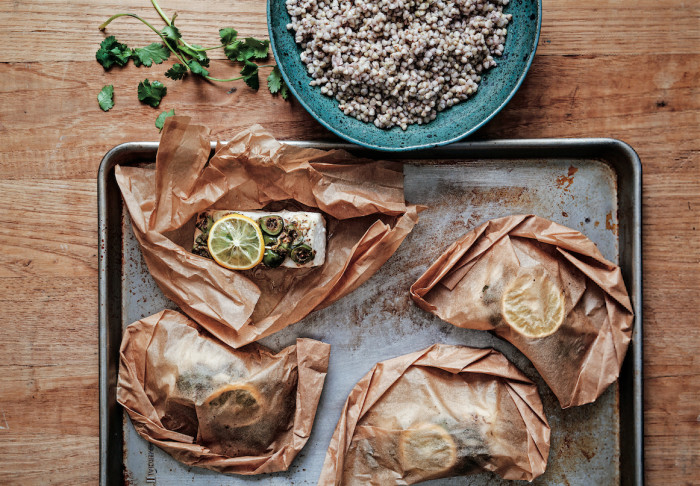 Halibut is a light-fleshed fish well suited to being dressed in this fragrant olive tapenade — a variation on traditional Mediterranean olive spreads. This exquisitely simple preparation uses parchment paper shaped into a "pocket" for cooking the fish with minimal loss of moisture. (If you don't have parchment paper, you can use foil.)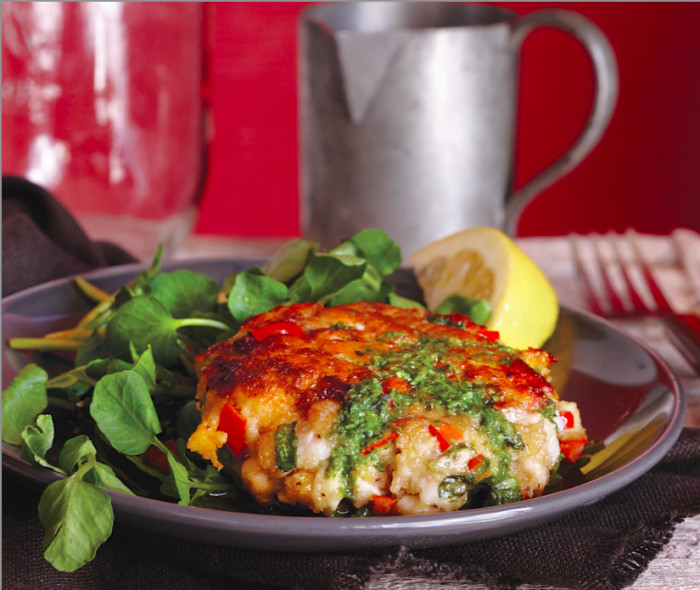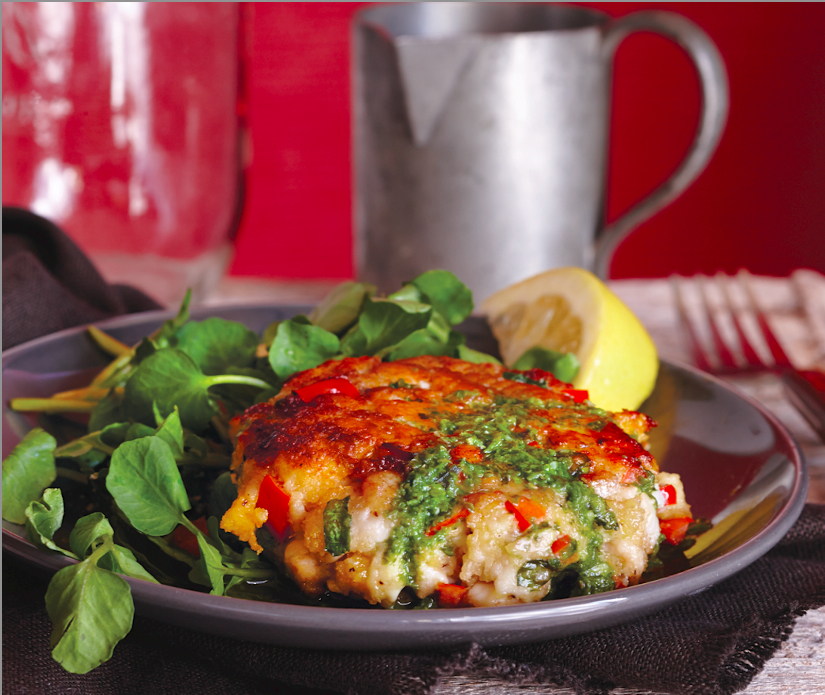 You can trust a cookbook from the Lodge Company as much as its beautifully seasoned and totally indestructible cast-iron cookware. This hefty book holds 200 Dutch oven, skillet and grill pan recipes from chefs across the country. Renew your dedication to the sturdiest pan in the kitchen with a few of these curated dishes, like these crispy, savory fried trout cakes.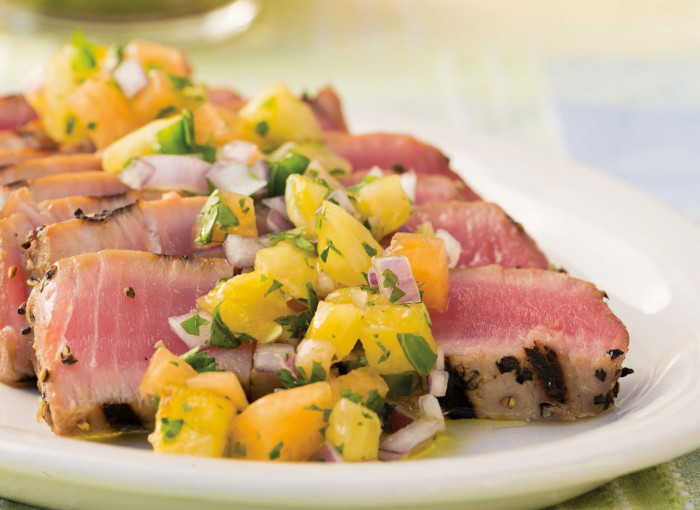 A trick I often use for fish is to turn a simple dry rub blend into a oil-based seasoning paste, since the added oil helps keep the fish from drying out. The sweet cantaloupe and pineapple in the salsa nicely offset the high ratio of black pepper on the tuna.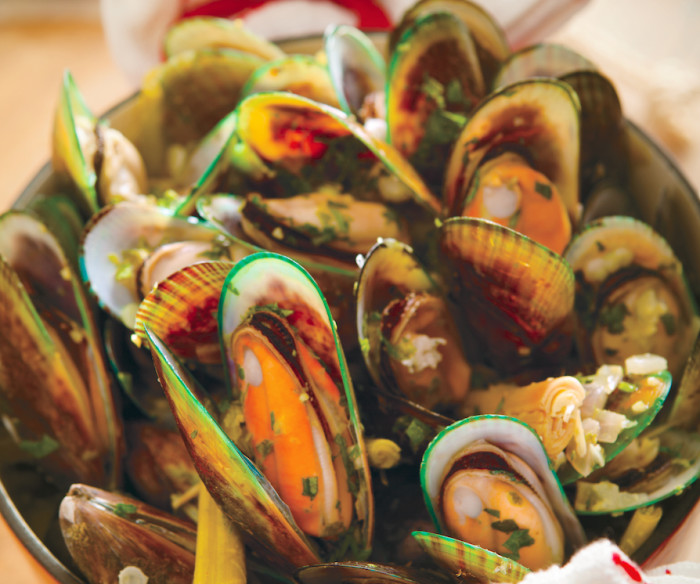 In the late 15th century, while looking for a direct sea route from Europe to India for the spice trade, the Portuguese discovered Goa on the southwestern coast of India. Goan cuisine blends the pungent spice of Indian food with the influences garnered from over 400 years of Portuguese colonialism. On the riverbanks, simmering pots of seafood curries including fish, clams, crab, prawns, black mussels and longish green mussels called shinnaneo steam away, tended to by local fishermen and their families. The powerful aromatic broth, curry paste, garlic, cumin, coriander and cinnamon bark are tamed by the creaminess of coconut milk, bringing a beautiful balance to the broth. Cooked within five minutes or so, the mussels are served on the go during the hustle and bustle of the morning rush!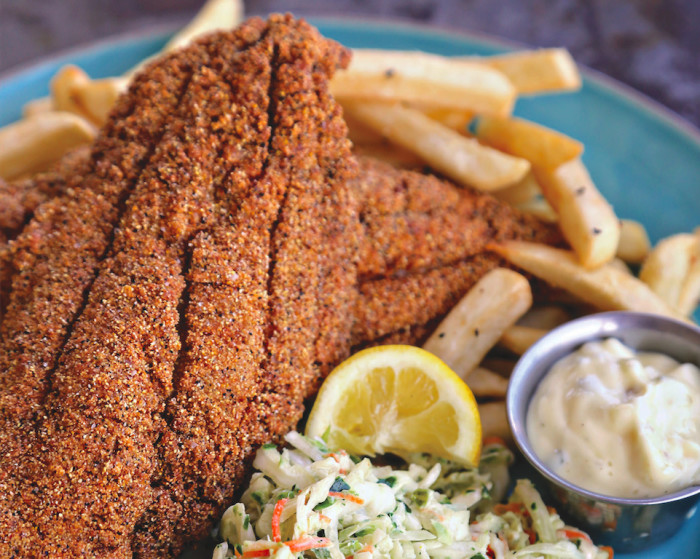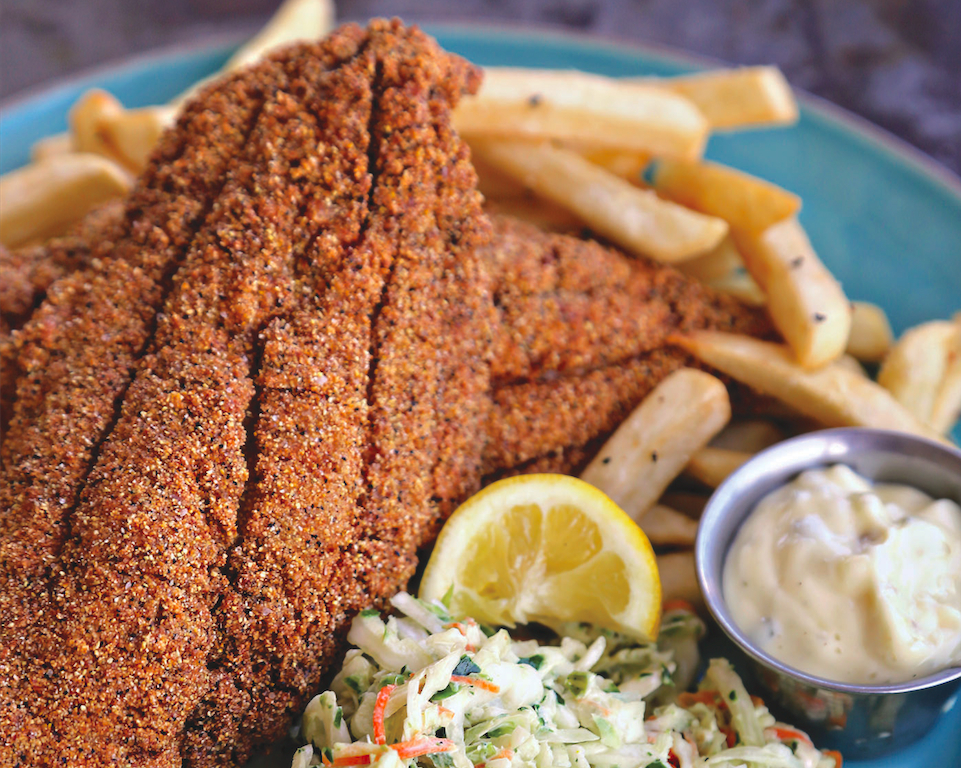 Mississippi farm-raised catfish is the best in the world. I'm not sure why, but I am sure that the folks in the Delta know their catfish. Farm-raised catfish is clean tasting, with a nice flaky texture when cooked correctly, and will compare favorably to much more expensive fish.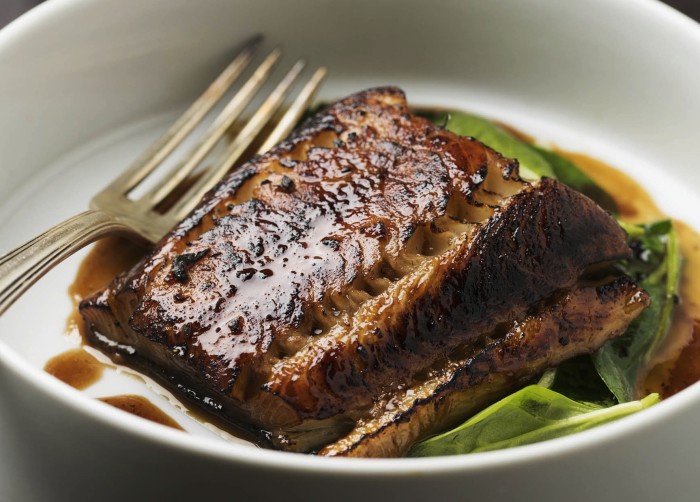 This flavorful black cod recipe is fun to make, thanks to the blowtorch. The marinade gives the full-flavored fish a tangy bite. Pair with a sessionable, malty beer, such as an altbier, so as not to overpower the fish.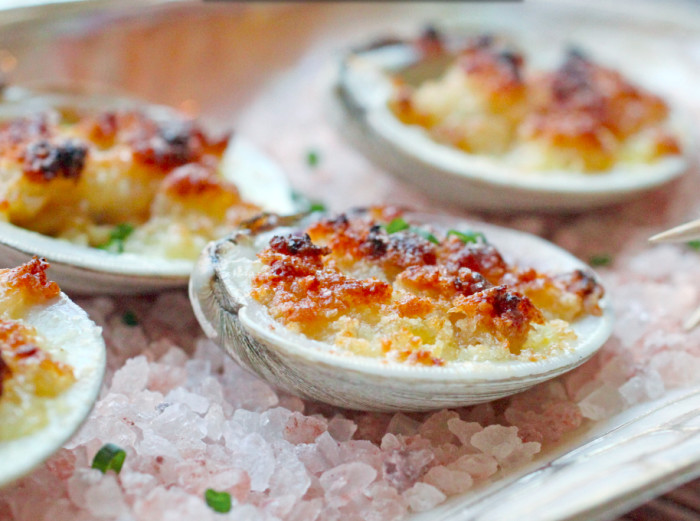 While I was in Lima, I learned how to make conchitas à la parmesana, which are scallops on the half shell with aji amarillo, buttery Parmesan, and breadcrumbs. When I came back, I thought local, littleneck clams would make the perfect substitute, and these little guys have quickly moved into my favorite spot for an easy and light hors d'oeuvre. Tasty and addictive, you can prep these ahead of time and throw them under the broiler for a few minutes once guests arrive.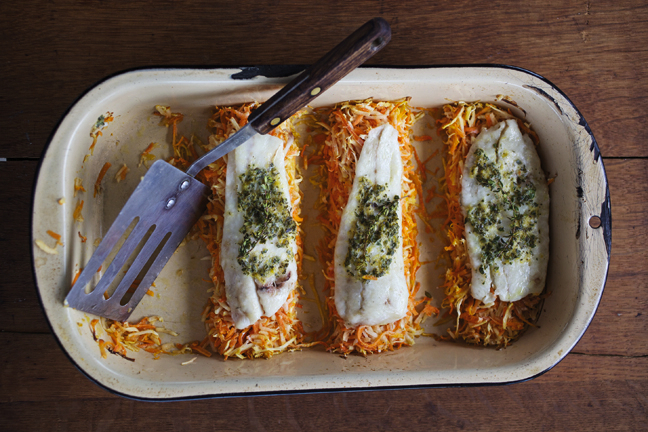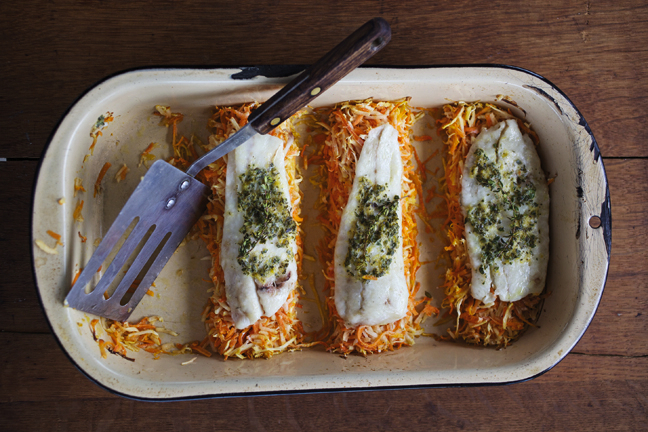 This dish plays off of the natural sweetness of flounder, carrots and parsnips. It is truly a dish of its ingredients, so choose the carrots and parsnips well, because they carry the recipe. Serve this dish as its own course, with no sides, possibly preceded by something with different flavors, like a game terrine or something acidic and pickled. Drink a sweet white wine.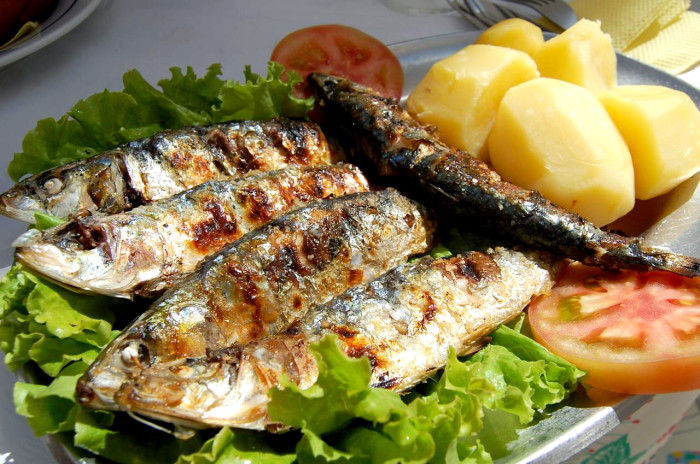 Sardines are quick-cooking, versatile, sustainable and tasty! This is finger food at its best, perfect for outdoor cooking and eating. If it's not grilling season, you can make this grilled sardines, charred lemons & chiles dish indoors in a well-seasoned cast-iron skillet instead. Also read how chef Seamus Mullen gives much love to the sardine.
This salad is a celebration of the beautiful combination that is octopus and chorizo — a match made in heaven. It's important that once your octopus is cooked, you let it rest and come to room temperature before grilling. Don't think of grilling as an extra step — it takes only a few minutes and substantially enhances the taste of octopus by creating smoky, crispy bits on the outside while the inside stays tender.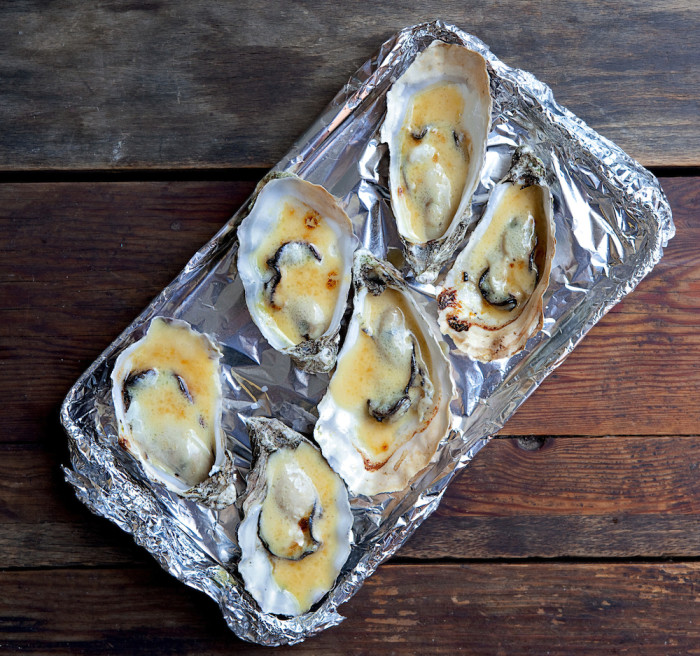 While many prefer their oysters au naturel or very simply fried, there's nothing wrong with adding a little booze to the party and heating things up. The fruity flavor of Calvados, an apple brandy from France, is the perfect light enhancement. With additional sweetness and tang from fresh grated apples (use your favorite kind), this is one hors d'oeuvre that requires all your oyster-shucking skills.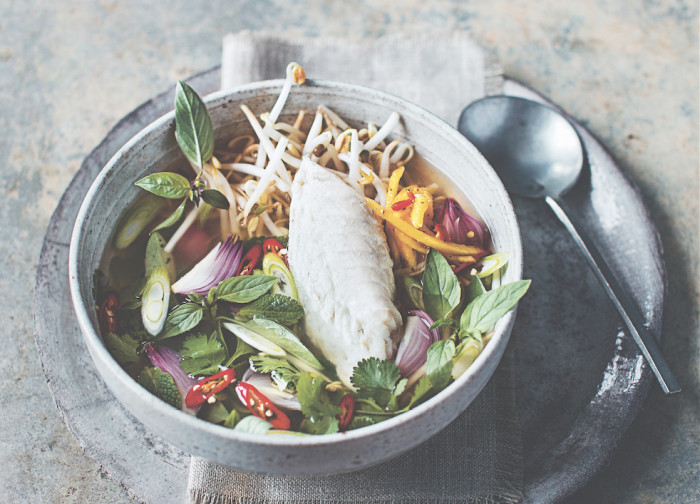 While in Cambodia, I ate the most unusual crab and lime soup. It was like nothing I had ever tasted — its vibrancy and clarity snapped my senses awake. This recipe is a nod to that memory.