The Fast Food Sandwich That Cures Ina Garten's Bad Moods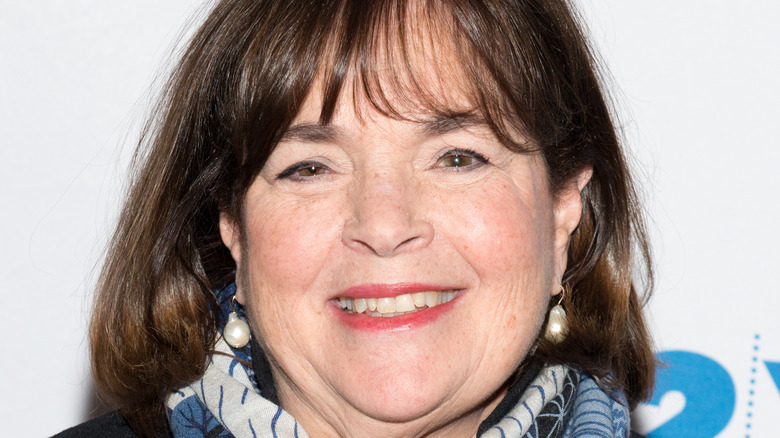 Noam Galai/Getty Images
Ina Garten has another reason why she is so relatable to people everywhere. In her 2018 cookbook, "Cook Like a Pro," the celebrity chef shared, that just like us, she needs a break from cooking now and again and, when she does, she doesn't always dine out at swanky upscale restaurants.
Garten recalls a day when she was feeling particularly cranky, and her husband Jeffrey took her to Shake Shack, where she tried the chain's Chicken Shack sandwich and was blown away by its taste and texture. The chef was then "thrilled" when "Shake Shack: Recipes & Stories: A Cookbook" was released in 2017, which offers 70 of the restaurant's famous recipes, including its famous ShackBurgers, crinkle-cut fries, and The Barefoot Contessa's all-time favorite fried chicken sandwich.
Since Garten always wants to share what she discovers with fans, Garten took to Instagram to post a photo of her Shake Shack lunch with the hashtag #crazygood. The only thing disappointing is that her meal didn't include one of the chain's frozen custard milkshakes.
Why Ina hails Shake Shack 'fast fine dining'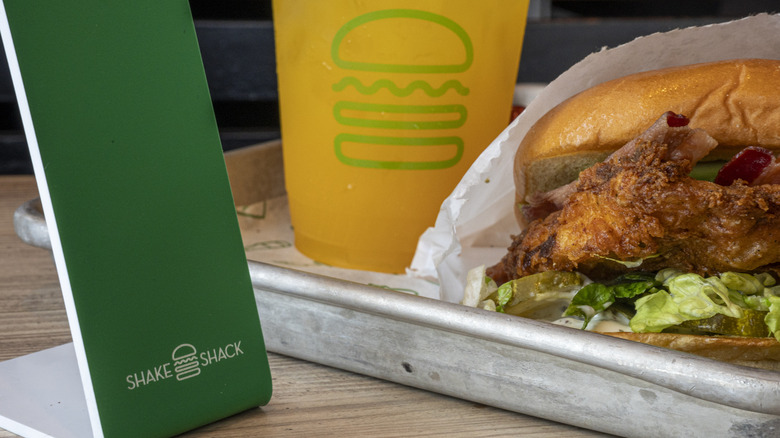 Bloomberg/Getty Images
In the eyes of Ina Garten, Shake Shack is not just another fast food restaurant. The chain all but created a new category, which the celebrity chef calls "fast fine dining," that delivers American classics like burgers and fries, with a James Beard Award-winning chef at the helm, Danny Meyer. 
Although Garten's cookbook and Instagram post were written more than five years ago, she's still talking about Shake Shack's fried chicken sandwich. In 2022, Garten joined the restaurant chain's executive chef, John Karangis, on "The Drew Barrymore Show" to renew her devotion and make the sandwich's special sauce. Garten raves about the composition of the sandwich and how each component is properly seasoned. The soft potato bun contrasts the crispy fried chicken while the tangy sauce cuts through the richness of fried food. Add a crunchy pickle and fresh lettuce and it's "perfect."
Meyer has developed a reputation for elevating all-American dishes, using seasonal, local, and quality ingredients that justify diners spending $29 for a burger and fries at Union Square Café. However, although Shake Shack uses the same food purveyors and methods at Meyer's upscale eateries, Ina and Jeffrey Garten didn't need to fork over that much. According to Shake Shack's website, the Chicken Shack, a fried all-white meat chicken sandwich, retails for $8.49 unless you customize it, adding avocado or bacon for $1.99 each. The sandwich is served with lettuce, dill pickles, and a buttermilk herb mayonnaise on a toasted potato bun.
How to make Shake Shack's Chicken Shack sandwich
If you'd like to try Garten's favorite fried chicken sandwich at home, you'll need a few ingredients and at least eight hours. Pounded chicken breasts are soaked in a marinade of buttermilk, diced shallots, minced garlic, chopped jalapeño peppers, Kosher salt, and black pepper for eight hours or overnight —this flavorizes and tenderizes the protein. This step could be skipped in a pinch, but the chicken won't taste the same.
While the chicken marinates, the buttermilk herb mayo sauce can be made ahead of time and stored in the refrigerator until you serve the sandwich. Whisk mayonnaise, chopped thyme, Italian parsley, chives, lemon juice, white vinegar, Kosher salt, black pepper, and buttermilk in a small bowl. As Garten points out, a small amount of buttermilk transforms mayonnaise into a sauce by thinning it out, a technique used in other recipes.
Dredge the marinated chicken into all-purpose flour, baking powder, Spanish paprika, cayenne pepper, and celery salt before deep frying it in canola oil. Garten cautions against crowding the frying pan so the oil temperature doesn't lower, which will result in soggy breading. Season the fried chicken with salt and keep it warm while you continue to fry.
To assemble the sandwiches, smear the bottom half of a toasted potato bun with the buttermilk herb mayo, then layer bibb lettuce, dill pickles, and hot fried chicken on top. Add another layer of sauce to the underside of the top bun and sandwich it all together.