Why It's A Faux Pas To Reach For The A1 Sauce At A Steakhouse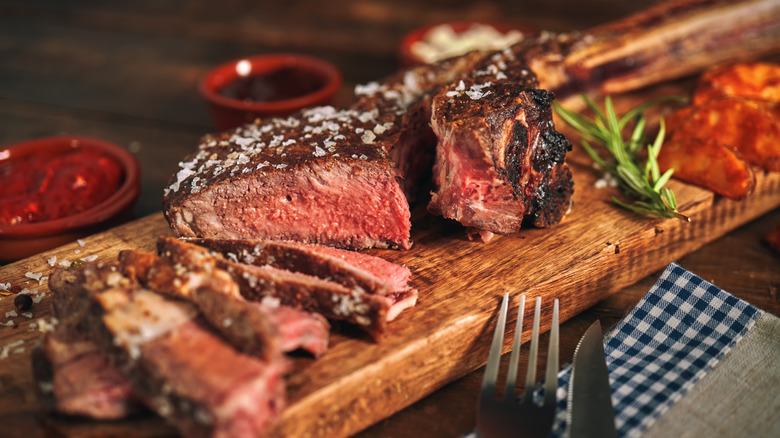 Gmvozd/Getty Images
Like many upscale establishments, there are specific steakhouse etiquette rules when it comes to visiting and dining. Some are obvious, like dressing properly (e.g.: avoiding showing up dressed like you are going to the gym) while some are a little obscure, such as the right way to cut meat when it is first served to you. 
One of the rules that is not often mentioned, but is definitely worth following, is to refrain from requesting bottled steak sauce when your meal is served. You are free to get lost in the sauce in the comfort of your own home, but in a restaurant, it's cause for strange looks from your server. Not only are you expressing doubt about the quality of the steak and the skills of the chefs, but you are also missing out on multiple delicious dipping sauce options from the establishment.
Don't ask for bottled steak sauce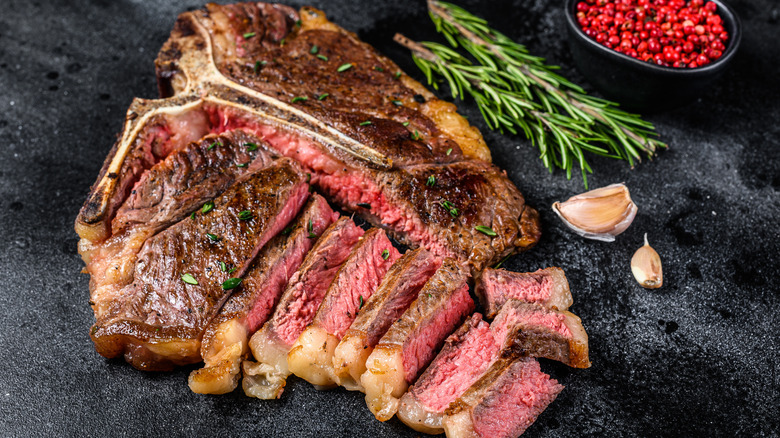 Mironov Vladimir/Shutterstock
There are a couple of reasons why you should not demand steak sauce as soon as you receive your meal from your steakhouse server. First, steakhouses specialize in serving the best cuts of beef, aged in numerous ways to maximize the flavor of the meat. Dousing A1 on a quality steak is like pouring ketchup on lobster: It overwhelms the flavors of the meat. Furthermore, the kitchen crew of a steakhouse has extensive experience cooking and serving steaks that are perfectly seasoned. To dump steak sauce all over a steakhouse steak is as close to an insult as you can get without verbally abusing the chef.
Secondly, if you want a sauce to eat your steak with, there are so many options in a steakhouse outside of commercialized bottled sauces. Instead of asking for the familiar bottle of steak sauce, ask your server what types of sauces they have available. In most upscale steakhouses, chances are you will have several house-made sauces to choose from, from classics such as creamy and tangy Bearnaise sauce, rich peppercorn sauce, or a bright and herbaceous chimichurri. Ask the server what cause will go best with your particular cut of beef, and they might recommend something that is miles better.
Making your own steak sauces at home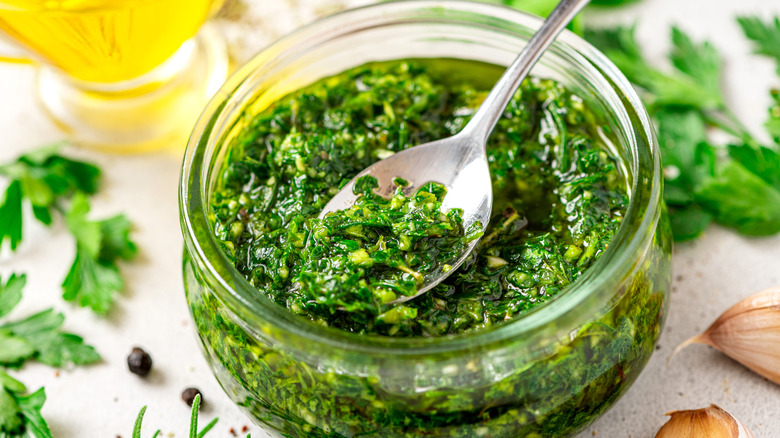 Svetlana Monyakova/Shutterstock
Once you learn to enjoy a steak without using bottled sauce, there is a world of possibilities to explore. For example, the aforementioned bearnaise sauce — made with butter, egg yolks, lemon juice, and tarragon — is a rich and tangy option that will work wonders on a piece of lean filet. Unlike brown steak sauce, a bearnaise will not overwhelm your palate with sweet and tangy notes that prevent you from tasting the perfectly cooked steak. Furthermore, with its delicate taste and rich texture, a bearnaise is also perfect for grilled or steamed vegetables such as asparagus, making this sauce a dual-purpose treat.
Alternatively, if you prefer acidic and spicy profiles, try chimichurri — bright with citrus, spicy with chilis, and easy to make at home in batches. In a food processor, mix olive oil, lemon juice, lime zest, chilis, parsley, cilantro, oregano, salt, and pepper until everything is coarsely chopped. You can use chimichurri on any grilled proteins, including seafood and chicken, or dressed over fresh tomatoes and greens.
Lastly, there's always easy-peasy browned butter. As you cook your steak, throw in large hunks of butter and fresh aromatics (like sage or rosemary, stems intact). Bathe your steak in the melted butter, and when you plate, drizzle a little of the caramelized liquid over your meat for a sumptuous and simple sauce. To really kick it up a notch, try Café de Paris butter to make home-cooked steak feel restaurant-quality.