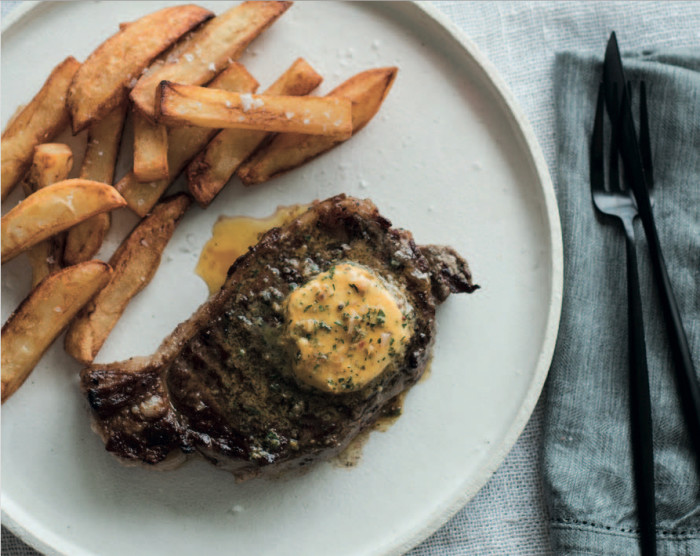 If you don't have a Café de Paris butter recipe, your steak is missing out. This is a book about cheese like you've never consumed it before. Travel around the world for stories from some of the best cheesemakers in the game today, and try their time-tested (or brand-spankin'-new) recipes at home. Author Nick Haddow, founder of Tasmania's Bruny Island Cheese Company, knows the industry and its treats like no one else. 
This is a classic recipe that makes steak sing. If you are not a meat eater, don't despair — it also does wonders for steamed spuds or asparagus. There are 1,001 versions of this, but I have it on good authority that this is the original recipe created by chef Dumont at the Café de Paris in Geneva in 1941. You can fiddle with it if you like to make your own version.
Ingredients
Butter
1

pound, 5 ounces

unsalted butter, softened

1

ounce

ketchup

3

teaspoons

Dijon mustard

1/2

ounce

capers, rinsed

2

ounces

shallots, finely diced

1

tablespoon

flat leaf parsley, finely chopped

1

tablespoon

chives, snipped

1

teaspoon

dried marjoram

1

teaspoon

dill, finely chopped

1

teaspoon

finely chopped thyme leaves

1/2

teaspoon

tarragon leaves

1/2

teaspoon

rosemary leaves, finely chopped

1

clove

garlic, finely chopped

8

anchovy fillets, rinsed and finely chopped

1

tablespoon

brandy

1

tablespoon

madeira

1

teaspoon

worcestershire sauce

1/2

teaspoon

paprika

1/2

teaspoon

curry powder

1/4

teaspoon

Cayenne powder

juice of one

lemon

zest of 1/2

lemon

zest of 1/4

Orange

2

teaspoons

sea salt
Directions
For the butter
In a large bowl, beat the butter by hand or use an electric mixer set to slow speed, until it has a slightly creamy texture.

In a separate bowl, combine all the other ingredients and mix thoroughly. Add this mixture to the butter and beat again until all the ingredients are completely combined.

Place a double thickness of foil, about 12 inches long, on a flat surface and line with a similar-sized piece of silicone paper. Spread half the butter along one of the foil edges and roll up to form a long sausage shape — roll it with your hands like a rolling pin to get a tidy shape and eliminate any air pockets. Twist the ends to seal. Repeat this process with the remaining butter. Place in the fridge to chill before use.

To use, slice a ½ inch thick disc of butter and place on top of a grilled steak (or a steamed spud). Traditionally, the steak is placed back under a hot grill (broiler) to soften and brown the butter, but I don't reckon you need to do this, just let it melt from the heat of the steak.

The butter can be stored in an airtight container in the fridge for a few weeks or in the freezer for several months.