Salt And Pepper Shrimp Stir-Fry Recipe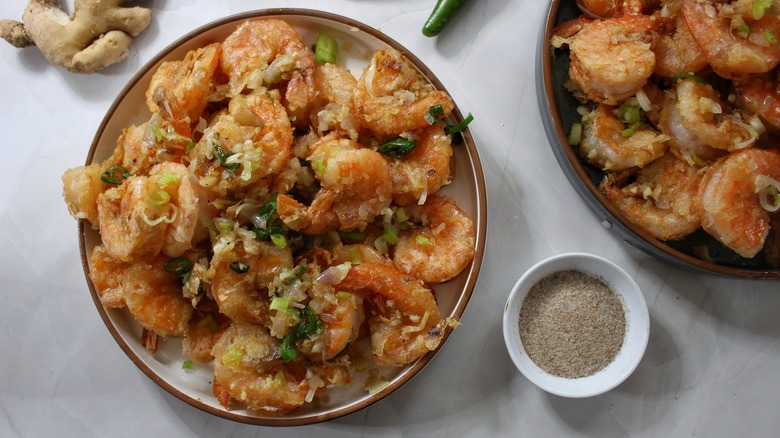 A.J. Forget/Food Republic
Fried shrimp can be made in many different ways, from tempura-battered to coconut-crusted, but recipe developer A.J. Forget calls this salt-and-pepper version "a really interesting way to serve the universal crowd-pleaser." Rather than being coated with anything heavy, these shrimp are merely dusted with cornstarch, creating what Forget terms "a beautiful crispiness." The salt and pepper seasoning, as well as the green onions, garlic, ginger, and chilis, make for a dish that's "packed with all sorts of flavors and just the right amount of heat."
Forget notes that salt and pepper shrimp are traditionally fried with the shells on, adding, "The shells are completely edible, and once fried add another layer of crunch to the shrimp." However, he does say that it's OK to fry and eat the shrimp without their shells if that's your preference. While this dish can be served as an appetizer, you could always add some rice, noodles, or other side dishes to make it into a meal. No dipping sauces or condiments are necessary, though, as Forget calls it "a great standalone dish" thanks to all the seasonings in the recipe.
Assemble the salt and pepper shrimp stir-fry ingredients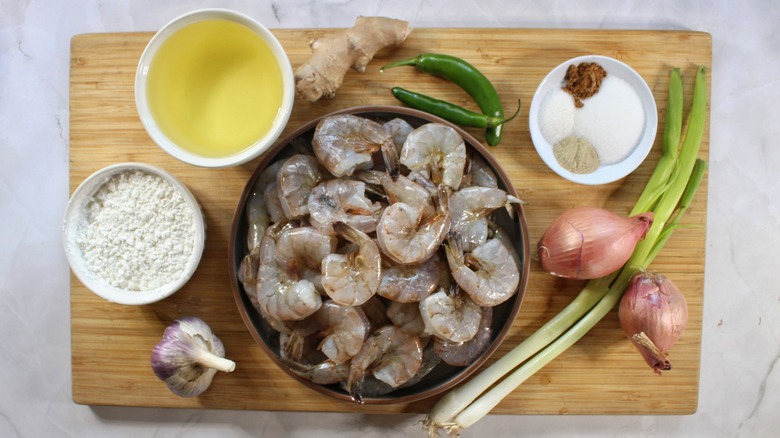 A.J. Forget/Food Republic
The necessary ingredients for the main part of this dish include shrimp (of course) as well as cornstarch, vegetable oil, garlic, ginger, serrano peppers, and scallions. The spice blend is made of salt, white pepper, sugar, and Chinese 5-spice powder. Once you have these 11 ingredients, you should be all set to start cooking.
Make the salt and pepper spice mix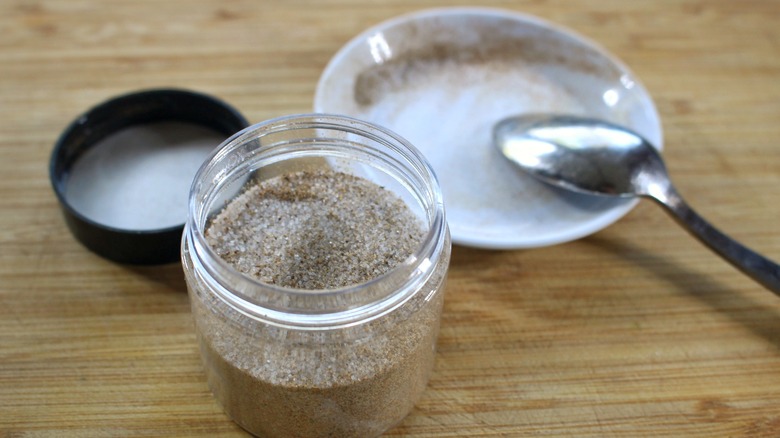 A.J. Forget/Food Republic
Your first step is easy: Simply stir together the salt, pepper, sugar, and 5-spice powder to create the seasoning blend for the shrimp. Feel free make a big batch so you have a bottle of the stuff on hand for future recipes.
Fry the shrimp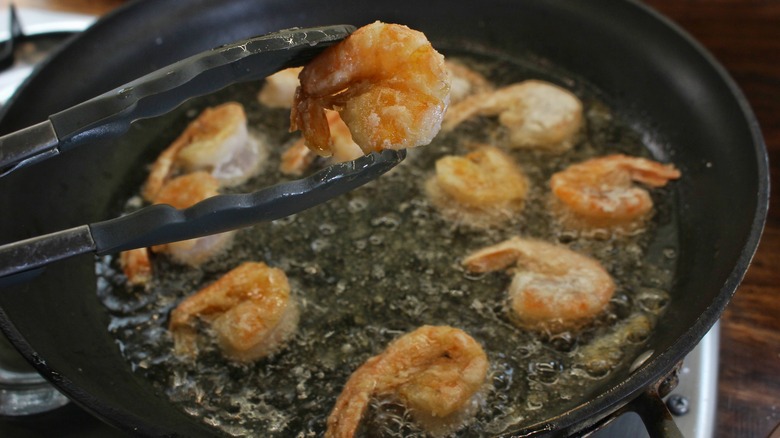 A.J. Forget/Food Republic
Next, add the cornstarch to a shallow bowl or plate and dredge the shrimp until they're coated with the stuff. Then, pour the oil into a heavy pan and heat it up on a high setting. Test the temperature by sprinkling in just a tiny pinch of cornstarch — once the starch sizzles, the oil is hot enough, and the frying can commence.
Forget cautions that the cooking goes quickly, saying the shrimp only need a minute or 2 on each side. "Too much more than that," he warns, "and they will start to get tough." You'll also need to cook the shrimp in batches in order to avoid overcrowding the pan. Once each batch finishes cooking, place the shrimp on paper towels to drain of excess grease.
Cook the aromatics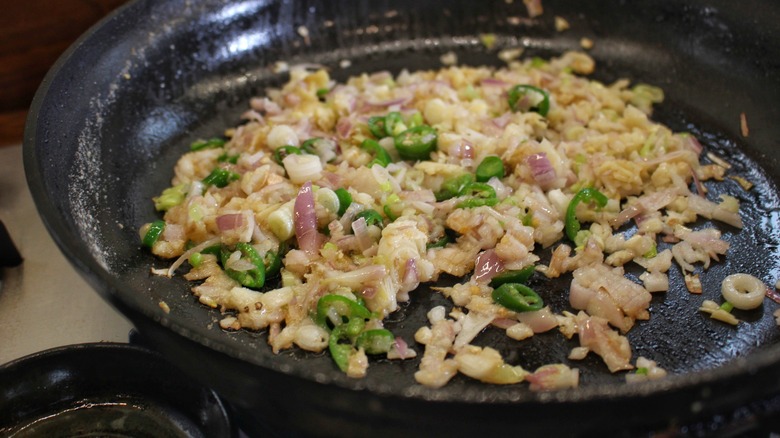 A.J. Forget/Food Republic
When you're done frying the shrimp, take the pan and pour out all but 3 tablespoons of the oil. To the remaining oil in the pan, add the garlic, ginger, serrano peppers, and scallions. Fry them until you can smell them, but stop before they turn brown. This process should take no more than a minute or 2.
Season the shrimp with the salt and pepper spice mix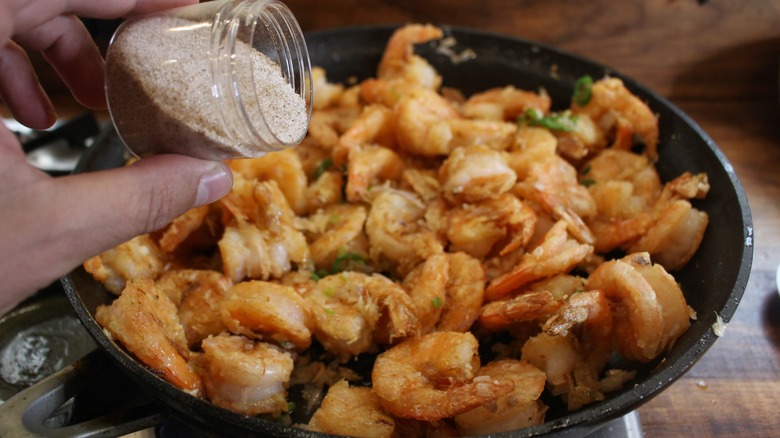 A.J. Forget/Food Republic
Put the shrimp back into the pan, and then sprinkle a teaspoon of the seasoning mixture over the shrimp and then toss them around until they are thoroughly coated with the stuff. The remaining seasoning can go on the side to be sprinkled over individual portions at will.
If you won't be needing all 8 of the servings this recipe makes, it might be best to cut down on the amount of salt and pepper shrimp you prepare, because although Forget says "you won't believe how fast two pounds of fried shrimp can disappear," he also admits that "like all fried foods, leftovers of this dish do not keep particularly well." In a pinch, though, any uneaten shrimp can be refrigerated for a few days and then reheated in the oven or an oiled frying pan.
Salt And Pepper Shrimp Stir-Fry Recipe
A simple yet unforgettable spice blend elevates these crispy, quickly stir-fried shrimps into the tastiest appetizer or main course with rice.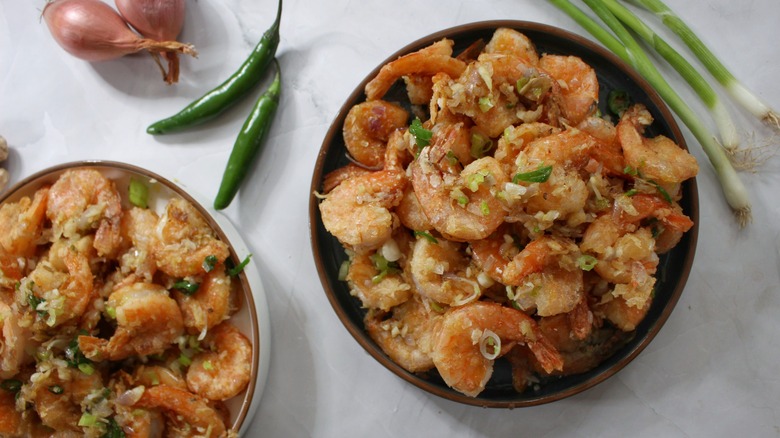 Ingredients
2 teaspoons salt
½ teaspoon white pepper
½ teaspoon sugar
¼ teaspoon Chinese 5-spice powder
2 pounds large shrimp with shells
½ cup cornstarch
1 cup vegetable oil
2 tablespoons minced garlic
2 tablespoons minced ginger
2 serrano peppers, thinly sliced
2 scallions, thinly sliced
Directions
Combine the salt, white pepper, sugar, and 5-spice powder in a small bowl, and set aside.
Dredge the shrimp in cornstarch.
Heat the oil in a heavy pan until it is hot enough that a sprinkle of cornstarch sizzles.
Fry the shrimp in batches for 1-2 minutes on each side until they are crispy and golden. Drain the shrimp on paper towels to absorb the excess oil.
Pour all but 3 tablespoons of oil out of the pan.
Use this oil to fry the garlic, ginger, serranos, and scallions for 1-2 minutes until they are fragrant but not browned.
Return the shrimp to the pan, add 1 teaspoon salt and pepper mix, and toss until coated.
Serve the shrimp right away with the remaining salt and pepper seasoning on the side to be added as desired.
Nutrition
| | |
| --- | --- |
| Calories per Serving | 309 |
| Total Fat | 20.4 g |
| Saturated Fat | 1.4 g |
| Trans Fat | 0.2 g |
| Cholesterol | 182.6 mg |
| | |
| --- | --- |
| Total Carbohydrates | 9.0 g |
| Dietary Fiber | 0.3 g |
| Total Sugars | 0.4 g |
| Sodium | 349.3 mg |
| Protein | 23.1 g |