Coke Zero's New Limited-Edition Mystery Flavor Is Inspired By The Year 3000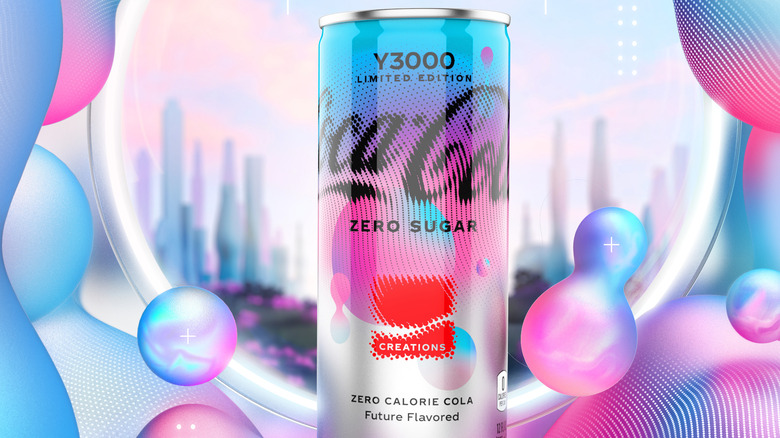 Coca-Cola
In a move that some would consider bizarre and others, groundbreaking, Coca-Cola began releasing new flavors of its soda pop without recognizable, distinct flavors in the early 2020s. For example, 2022 brought Coca-Cola Starlight, a limited edition flavor that the company described as, "inspired by space ...[with] notes reminiscent of stargazing around a campfire," (via CNN). Other nondescript flavors since then have included Ultimate, Dreamworld, and Byte. Now, another vague new flavor is hitting the market with Coca-Cola Y3000 Zero Sugar.
A press release for the launch explains that the beverage is inspired by the year 3000. Obviously, the world is nearly 980 years out from the next millennium so Oana Vlad, Senior Director of Global Strategy for Coca-Cola specified that the drink is, "everyone's idea of what the future might look like." 
Together with actual artificial intelligence (AI), the soda giant took ideas from around the world on what humans believe will be mankind's emotions, goals, favorite colors, and preferred flavors to create Y3000. If you're looking for a flavor profile though, unfortunately, it's about as cloudy as its most recent predecessors.
What exactly does the future taste like?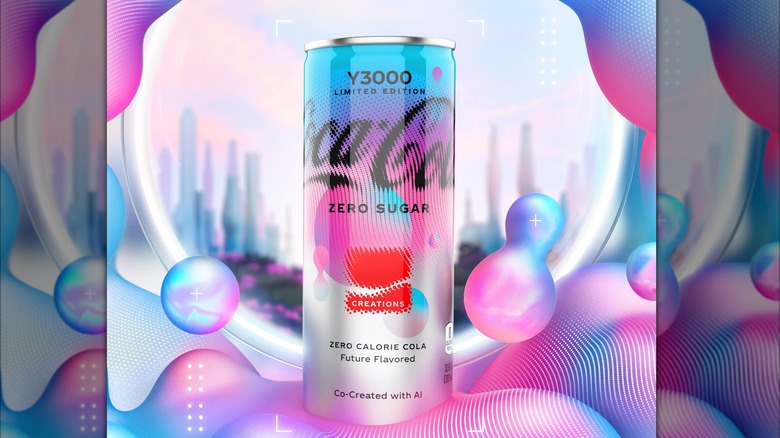 Coca-Cola
This is the first time Coca-Cola has used artificial intelligence to create not only a product but an experience to go with it. Consumers can scan a code on each can or bottle that will take them to the Coke Creations site where they can get a visual of the world in the year 3000, based on the AI and human intelligence the company gathered for the new product. No flavor notes have been released to give consumers a hint of what to expect upon their first sips, but, ultimately, it should taste like Coke Zero Sugar, with a little something extra that people most likely won't be able to put their fingers on.
The packaging itself states that Y3000 Zero Sugar is "Futuristic Flavored." It couldn't look more different than Coca-Cola's classic red and white branding. With shades of bright blue, pink, purple, and a touch of red, Y3000 also includes the famous "Coca-Cola" script written in dots that resemble carbonation bubbles. The design, too, was created with AI in an effort to align the new flavor with the idea that society is constantly morphing and evolving into what is, hopefully, a bright future for all. Coca-Cola Y3000 Zero Sugar is available in select locations for a limited time, while the full-sugar version is available in North America.