Gato Cafe: Here's What Happened After Shark Tank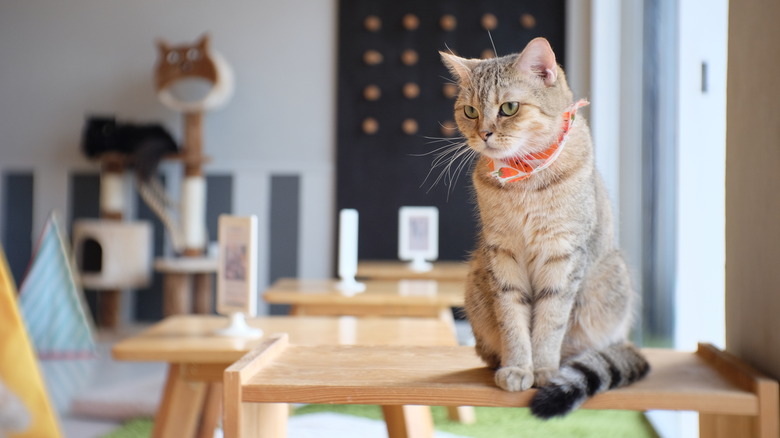 Phatthanun.R/Shutterstock
Although it often makes lists detailing the worst "Shark Tank" failures in the history of the long-running ABC reality show, the concept for Gato Cafe was a rather brilliant and timely one. According to the cat cafe's erstwhile founder, Adriana Montano — a Barranquilla, Colombia native and Florida resident, Gato Cafe (yes, gato is Spanish for cat) was intended as a combination coffee shop and cat hangout, with the feline residents all on loan from a local animal shelter and available for adoption.
This concept has its roots in Asia, of course. Taipei, Taiwan was the birthplace of the cat cafe, with the original opening in 1998. The innovative idea quickly migrated to Tokyo, Japan — where it exploded in popularity. By 2014, a year before Montano appeared on "Shark Tank," the concept was still a novel one in the U.S. Only one cat cafe pop-up had opened in New York — to such success that more NYC cat cafes have opened — and three more were in the works for California. Montano's would have been the first cat cafe in Florida – there are now at least 14. Yes, the idea of a cat cafe was indeed prescient.
In her pitch for the show, Montano noted that she was seeking $100,000 in exchange for 15% equity in the company (per YouTube). But unlike most other "Shark Tank" pitches, her company (Gato Cafe) hadn't even been created yet. She had raised only $2,000 when she auditioned for the show — and had yet to formulate a workable business plan.
What happened to Gato Cafe on Shark Tank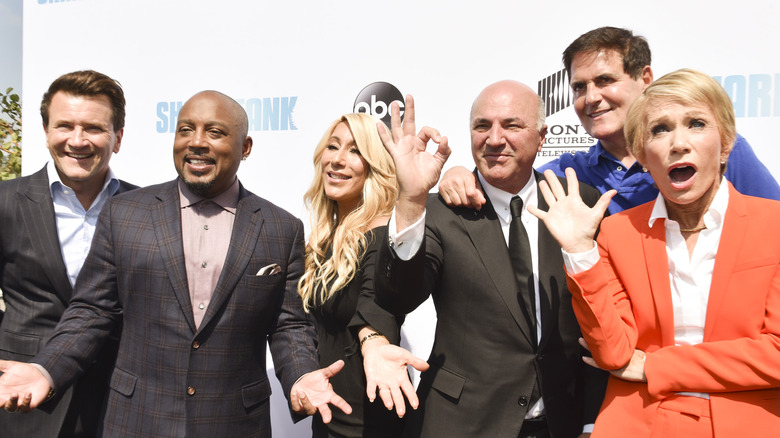 Rodin Eckenroth/Getty Images
Long-time watchers of "Shark Tank" know that if 15% equity share is valued at $100,000, that means the company itself is valued at about $667,000. However, in the case of Gato Cafe, there was no company, only an idea for one. This fact was not lost on the "Shark Tank" investors when Montano's pitch aired on May 15, 2015, during the show's sixth season. The Sharks — which on this episode included GoPro founder Nick Woodman, as well as regulars Mark Cuban, Lori Greiner, Kevin O'Leary, and Daymond John — weren't about to bid for an opportunity to fund a company from scratch, particularly when they could just as easily build a cat cafe without Montano's help. Woodman was at least nice enough to advise her to apply for a loan, an avenue she had already explored. O'Leary, meanwhile, professed not even to like cats.
So yes, this was a "Shark Tank" fail, in that no deal was reached. But although Montano hadn't built an actual business that could attract investors, it wasn't for lack of effort. Given her background in cat rescue — she had previously worked with the non-profit Alley Cat Allies — Montano had the blessing of the Broward County Humane Society and had also started a crowdfunding campaign. She had also taken steps to get a loan and had managed to generate local media interest in the concept. 
Gato Cafe before Shark Tank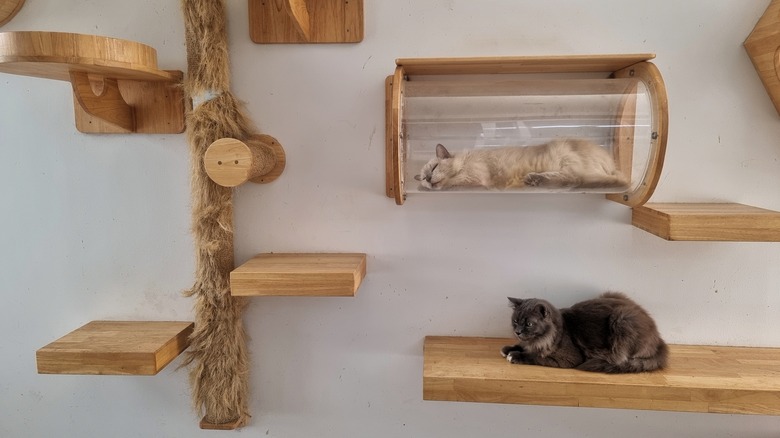 RJ22/Shutterstock
According to Montano, the idea of opening a cat cafe occurred to her about five years before her "Shark Tank" episode aired when she was working as a feline advocate for Alley Cat Allies. She was aware of the concept's popularity in Asia, and that cat cafes had also opened successfully in European capitals Paris and London. But she waited until she felt the time was right, and in retrospect, it was. Cat-themed cafes would soon start popping up all over Florida. 
Montano and her husband and co-owner Michael Meng had planned out the operation of the cafe very carefully. In addition to charging a $3 cover (which they upped to $9 on "Shark Tank") for entrance to the cafe, they had discovered what they thought was the perfect ratio of humans to cats, so that the former could enjoy the right amount of fur-petting therapy. This ratio was approximately 15 cats for 35 patrons (via YouTube). The two entrepreneurs had also narrowed down the potential location area for their cafe — Boca Raton or nearby Delray Beach in Palm Beach County, Florida  — and if everything went right, they had a map of possible franchise locations throughout the Southeastern region of the U.S. 
Gato Cafe's real beneficiary, however, was intended to be the cats. Not only would the kitties be free of their cages while inhabiting the cafe, but they'd be available for adoption to patrons who took a liking to them. The cafe would, in effect, save lives. 
Is Gato Cafe still open?
Aleksandra Dymochkina /Getty Images
Gato Cafe isn't open. In fact, it was never open. Unfortunately, Montano's timely and well-thought-out concept was not backed by sound business planning. Seeking a six-figure investment to buy equipment, get a liquor license, and eventually train staff is not a recipe for "Shark Tank" success. The Sharks are usually unwilling to invest without a proven track record of generating both sales and profit. 
The fact that there were successful cat cafes around the world was proof of concept, and it was certainly a positive that Montano received press coverage locally prior to her "Shark Tank" appearance. Both the Palm Beach Post and the South Florida Sun Sentinel published profiles about Gato Cafe, and its worthwhile goal of saving cats via adoption. In 2015, the same year the Gato Cafe idea was pitched on "Shark Tank," the Broward County Humane Society – the proposed source of Gato Cafe's adoptable cat population — put down more than half of all the cats and dogs kept there.    
But Gato Cafe ultimately never garnered enough interest, and it wasn't just the Sharks who took a pass. Montano and Meng's crowdfunding efforts didn't go well, either. Despite seeking $75,000 in funding on Indiegogo, they only received commitments for $330 from a dozen loyal backers — less than half of 1% of their total goal.
What's next for Gato Cafe's founders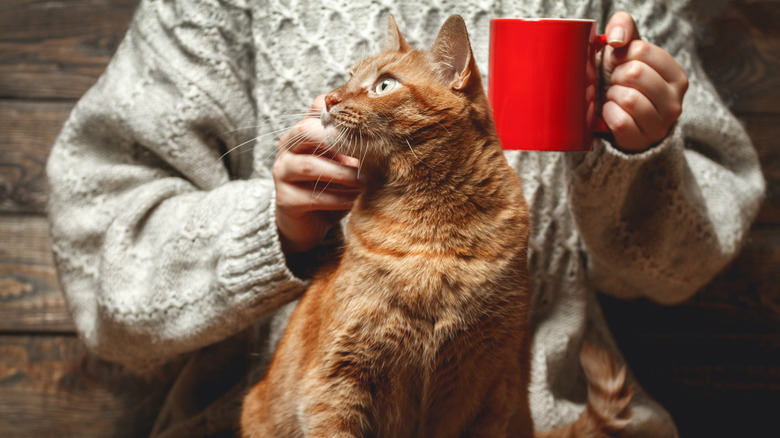 perfectlab/Shutterstock
Montano and Meng never proved that they could make the business work. That doomed them on "Shark Tank," and likely contributed to their frequent inclusion on lists detailing the worst "Shark Tank" failures. But it bears repeating that these entrepreneurs were not just out to make money. They were also trying to save lives. Cats are reputed to have nine of them, but that's certainly not the case in the nation's animal shelters. 
When Gato Cafe failed to reach its crowdfunding goals or to receive investment on "Shark Tank," its owners apparently abandoned plans for the project. Gato Cafe's website no longer exists, and links to its Facebook and Twitter pages no longer work (although there are cafes with similar names in several countries). Nor do Montano and Meng appear to be serial entrepreneurs. Since their original idea failed to launch, they've kept a low profile and stayed out of the news. 
So we don't know what's next for Gato Cafe's founders. What we do know is that the cat cafe concept has proven to have legs. According to Meow Around, there are currently 144 such cafes open in North America.