Sweet Golden Maduros With Mint Mojo Recipe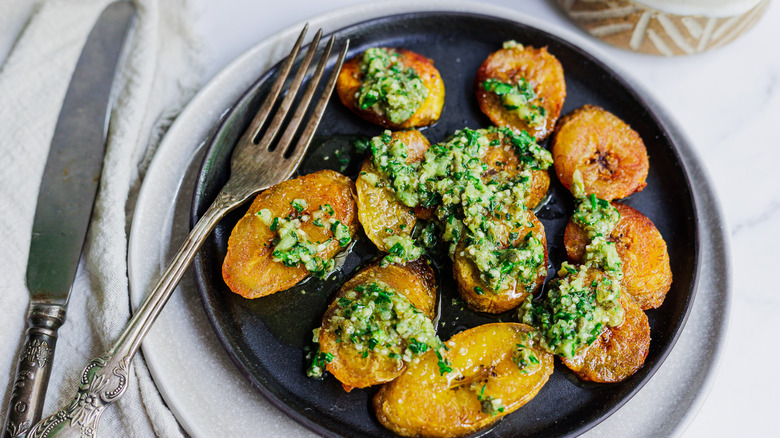 Ksenia Prints/Food Republic
If you're looking for an appetizer that is bursting with flavor and zest, our sweet golden maduros with mint mojo are the perfect choice. This dish combines the sweet, caramelized goodness of ripe plantains with a zesty mint mojo sauce, a Cuban-inspired condiment that adds a refreshing and tangy twist to your meal. It's a crowd-pleaser that's easy to prepare, and suitable for both seasoned cooks and beginners.
According to Ksenia Prints of At the Immigrant's Table, this recipe marries the rich flavors of fried sweet ripe plantains with the vibrant kick of a garlicky-minty sauce. Mojo, which simply means garlic sauce in Spanish, is an easy blended condiment that explodes with the scent of citrus, mint, and parsley. With just a handful of ingredients and straightforward steps, you'll enjoy this delightful fusion of sweet and tangy flavors in no time.
Say goodbye to complex cooking and hello to a simple, satisfying dish that's destined to become a household favorite. Let's jump right in and whip up these sweet golden maduros with mint mojo!
Gather the ingredients for sweet golden maduros with mint mojo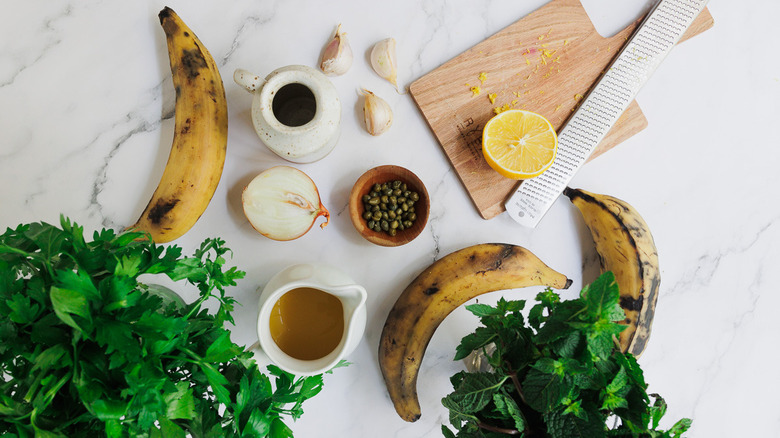 Ksenia Prints/Food Republic
To make this easy dish even easier, get your mise en place set up before starting to cook. To make the fried plantains, you'll need ripe plantains and enough neutral oil to shallow fry them (canola or vegetable oil will do well). To make the sauce, grab some fresh mint leaves for that burst of freshness, zesty lemon juice, vibrant fresh orange juice, garlic cloves to infuse the sauce with a delightful kick, fragrant parsley to add depth, capers for a touch of brininess, small onion to balance the flavors, and finally, olive oil, which binds everything together and adds a rich, savory note to the overall creation. With this assortment of ingredients, you're all set to craft sweet golden maduros with mint mojo that's bound to impress your taste buds.
Fry the plantains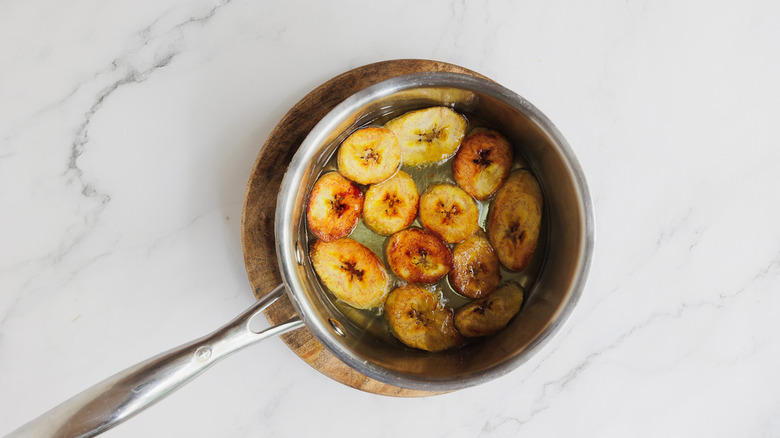 Ksenia Prints/Food Republic
The first step in creating this Latin dish is to prepare the plantains. By peeling and slicing them into rounds about half an inch thick, you ensure that they cook evenly and turn out perfectly sweet and crispy.
Frying the plantains in a pan over medium heat with a generous amount of oil is essential to achieve that lovely golden-brown exterior. While frying, you can experiment with the cooking time slightly to adjust the level of crispiness to your preference. A shorter fry will produce a softer texture, while a longer fry will make them extra crispy.
Make the mint mojo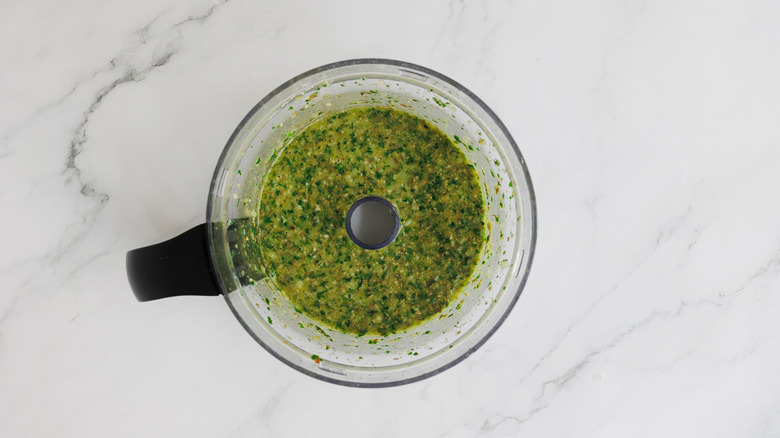 Ksenia Prints/Food Republic
While the plantains are sizzling away, it's the perfect time to prepare the minty dipping sauce. This sauce adds a burst of flavor to the dish, and its fresh, tangy notes complement the sweetness of the plantains.
To make the sauce, add all the remaining ingredients to a food processor or a high-speed blender. You can experiment with the sauce's consistency by adjusting the blending time. A shorter blend will produce a chunkier sauce, while a longer blend will make it smoother. Feel free to taste and adjust the sauce by adding more of any ingredient to suit your personal preference.
Serve it up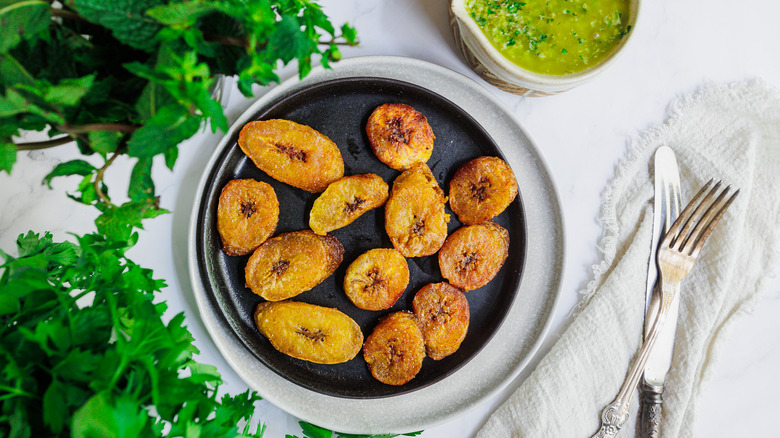 Ksenia Prints/Food Republic
Once the plantains are perfectly fried and the mint mojo sauce is ready, it's time to bring it all together. Serving the plantains with the sauce and extra lemon wedges adds that final touch of flavor and zest.
You can also get creative with the presentation by arranging the plantains on a platter and drizzling the sauce over them for an elegant look. Remember, this dish is versatile, and you can adjust the cooking times and sauce quantities to match your taste. Serve it with a nice, frosty mojito cocktail, and a melty Cuban sandwich for a main course.
Leftovers can be enjoyed as a snack or side dish for the next few days, offering a convenient and tasty option. Just make sure to keep the sauce and plantains separate to avoid them getting soggy.
Sweet Golden Maduros With Mint Mojo Recipe
This dish combines ripe plantains with a zesty mint mojo sauce, a Cuban-inspired condiment that adds a refreshing and tangy twist to your meal.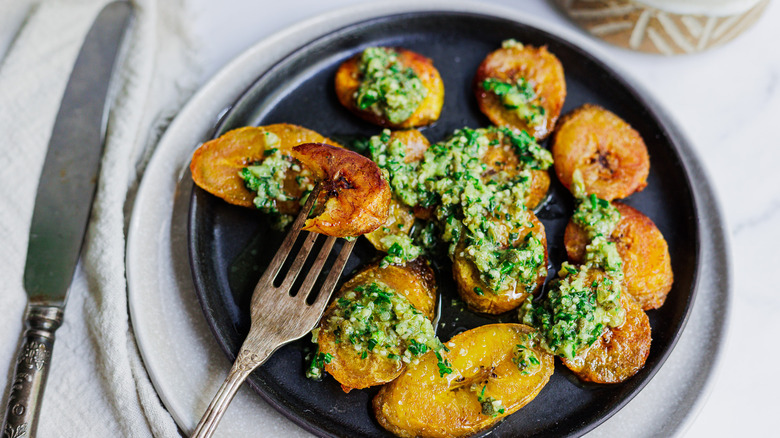 Ingredients
2 ripe plantains
Oil, for frying
½ cup fresh mint leaves
1 ½ tablespoons lemon juice
2 tablespoons orange juice
2 medium garlic cloves
1 cup parsley
¼ cup capers
1 small onion
½ cup olive oil
Directions
Slice the plantains into ½-inch slices.
Set a pan to medium heat. Add enough oil to cover the plantains at least halfway up the sides. Place the plantain slices in the pan, forming a single layer (work in batches if necessary). Fry for 3-5 minutes, until the plantains are golden brown on one side.
While the plantains fry, add the remaining ingredients to a food processor or high-speed blender. Blender until a smooth texture is achieved.
Flip the plantains and fry on the other side, for 2-3 minutes. Remove the fried plantains and place them on a paper towel-lined plate to absorb excess oil. Repeat with remaining plantains.
Serve fried plantains with sauce.
Nutrition
| | |
| --- | --- |
| Calories per Serving | 460 |
| Total Fat | 31.2 g |
| Saturated Fat | 4.0 g |
| Trans Fat | 0.0 g |
| Cholesterol | 0.0 mg |
| | |
| --- | --- |
| Total Carbohydrates | 48.7 g |
| Dietary Fiber | 4.2 g |
| Total Sugars | 25.3 g |
| Sodium | 220.9 mg |
| Protein | 3.1 g |