The Sweet Sangria Bobby Flay Gifted To Ina Garten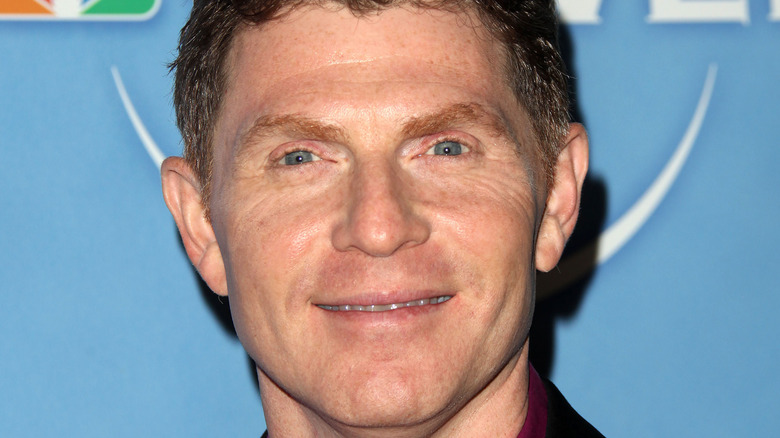 DFree/Shutterstock
Who doesn't love a good crossover moment, especially between two culinary giants like Barefoot Contessa Ina Garten and Grilling God Bobby Flay? The two are actually close friends, as well as cooking stars on the same network, with countless Food Network shows and occasional holiday specials co-hosting gigs under their belts. 
Their friendship timeline goes back to when Flay had his restaurant Mesa Grill in New York City, which was founded in 1991 and focused on the Southwestern flavors Flay would become known for in his career. The restaurant closed its doors in 2013, but not without first leaving a mark on Garten and her partner Jeffrey.
The couple lived in a New York City apartment across the street from Mesa Grill and were frequent guests. It's in one of these moments that Flay made his guests an autumn sangria full of fruit, brandy, apple cider, and cinnamon that Garten absolutely loved. She has continued to make it for herself ever since. She even featured the recipe for this sweet drink in her book "Cook Like a Pro." And since the Caesars Palace location of Mesa Grill has also closed (to make way for his other restaurant concept Amalfi), Garten may be your only ticket to sampling Flay's version of the flavorful cocktail.
How to make Bobby Flay's seasonal sangria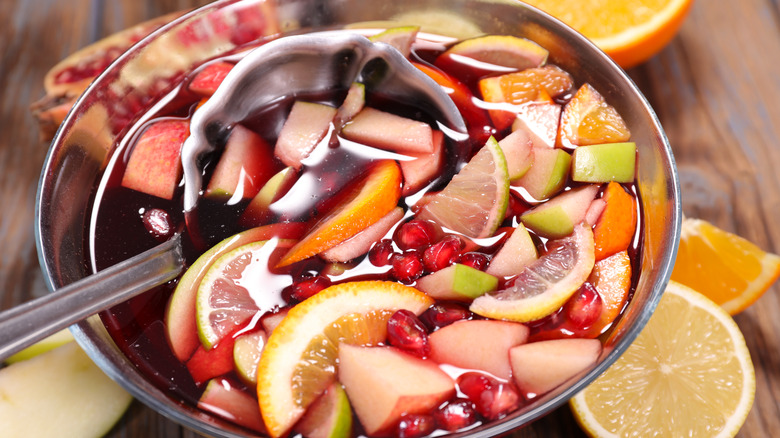 margouillat photo/Shutterstock
While many classic sangria recipes top the beverage with sparkling water, or something else bubbly like the soda in the case of Alton Brown's irresistible sangria, Bobby Flay's autumnal version is only diluted with a little apple cider. This drink is definitely stout, and to make it well, it will take a little planning since a couple of the components get better with time added into the process.
Ina Garten's take on Flay's recipe starts with a cinnamon syrup. Next, equal parts sugar and water are quickly simmered with whole cinnamon sticks to make an aromatic simple syrup, which deepens in flavor as it sits (Garten suggests a minimum of four hours and up to three days, so definitely plan ahead). 
The fruit components also require a long soak. Pears, apples, pomegranate seeds, and oranges all get sliced and diced and added to a pitcher. The fruit combo is then stirred together with apple and pear brandy, apple cider, a bottle of red wine, and the pre-made cinnamon syrup. You'll want to steep the mix for up to three days, and serve over ice with a couple generous spoonfuls of the boozy fruit.
What kind of red wine should you choose?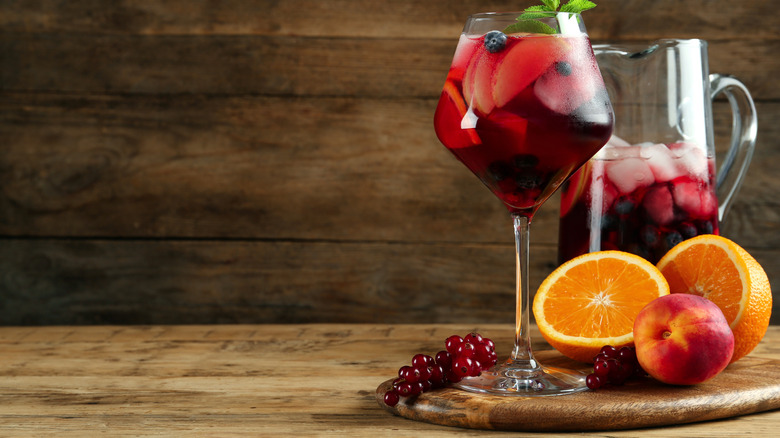 Liudmila Chernetska/Getty Images
In "Cook Like a Pro," Ina Garten writes that Bobby Flay used a spicy red wine for his zesty sangria, though she doesn't specify which varietal. In her own recipe, the Barefoot Contessa opts for a cabernet sauvignon. Many cabernet sauvignons can be rich, chocolatey, and spicy, with notes of dark fruits, which would be excellent alongside cinnamon and brandy. But some varieties can be quite savory and smoky. 
A peppery syrah or an oak-aged zinfandel with notes of baking spices could all pair well with the warm flavors present in this sangria recipe. If you are after a lighter and sweeter flavor profile, opt for a gamay. If you want a bit of fizz, but don't want to water things down, grab a bottle of lambrusco. You may also want to ask the salesperson at the wine shop for a recommendation to make sure you are grabbing a bottle that fits the fruit-forward vibe.
Whichever wine you choose, make sure it's one that's drinkable on its own, as no amount of yummy additions will cover the taste of bad wine. However, sangria is not really the time to splurge on something super special, either. The subtleties of a top-notch bottle will be overpowered in the drink, while the flavor of a more economical wine will round out and soften as it sits with all the sangria ingredients — especially in this complex, full-bodied recipe.