Blend Up End-Of-Season Watermelon For Irresistibly Sweet Lemonade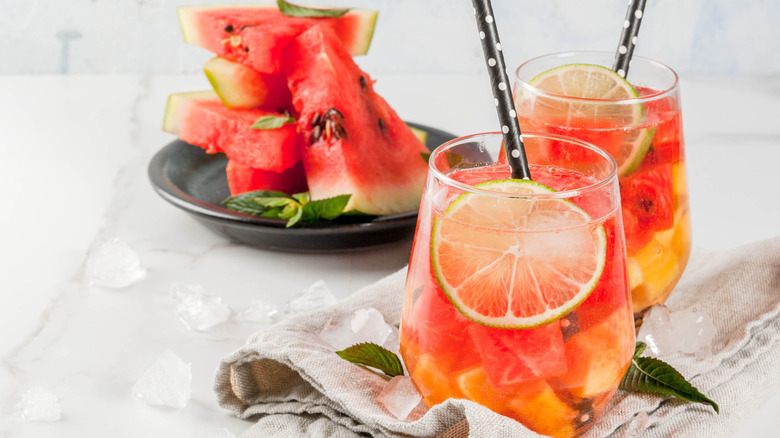 Rimma Bondarenko/Shutterstock
It's no secret that roasted lemons make the best lemonade. However, when it comes to achieving the sweetest and most tantalizing flavor, you should actually add a little watermelon. That's right — when life gives you melons, blend them up and make lemonade because there's no better way to naturally sweeten a deliciously tart glass of the citrusy drink quite like adding in a few refreshing splashes of freshly made watermelon juice. Not to mention that the ultra-hydrating and juicy flesh will give your iced yellow beverage a lovely Insta-worthy pinkish hue.
If you have a few slices left over from a family barbecue or have a whole one sitting on your kitchen counter still waiting to be enjoyed, using the large, thick-skinned fruit to elevate a homemade pitcher of this popular drink is a great way to repurpose the last scraps of watermelon towards the end of the season. It's delicious, hydrating, and will keep you cool during late-summer heatwaves.
Liven up lemonade with watermelon juice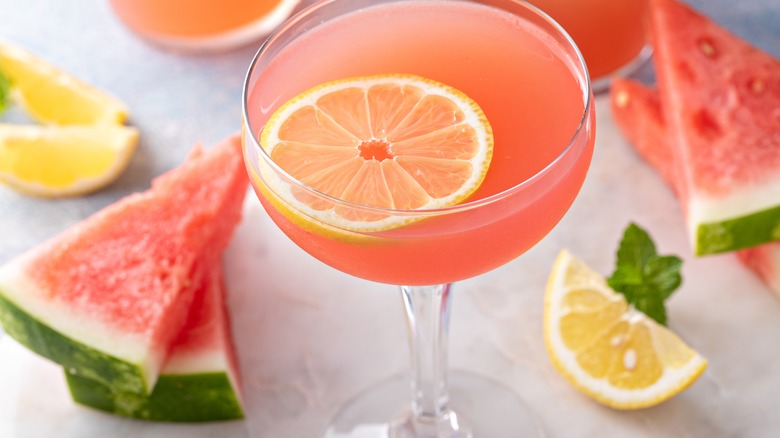 Elena Veselova/Shutterstock
Sugar is a fundamental element of any lemonade recipe because it helps to balance out the tartness of the lemons. However, since watermelons are naturally so sweet, they're the perfect trick for adding an irresistible note of sweetness to each and every sip without heaps of white sugar. To put this into perspective, eight ounces of watermelon contains a little over 14 grams of sugar whereas the same serving of lemonade typically features about 25 grams, so it's a great option for those who want to reduce added sugar in their meals.
Making the watermelon juice is even easier than whipping up a batch of homemade lemonade. Simply remove the rind and any seeds from your leftover watermelon, puree the bits in the blender, and then add the fruit juice to your lemonade to taste. Pro tip: You can also strain the puree after blending for extra silky smooth melon juice. And, for an even more fragrant and flavorous taste, you can add in a variety of herbs like mint, rosemary, and basil to instantly elevate a mediocre lemonade.