Polish Egg Salad Is For Cream Cheese Lovers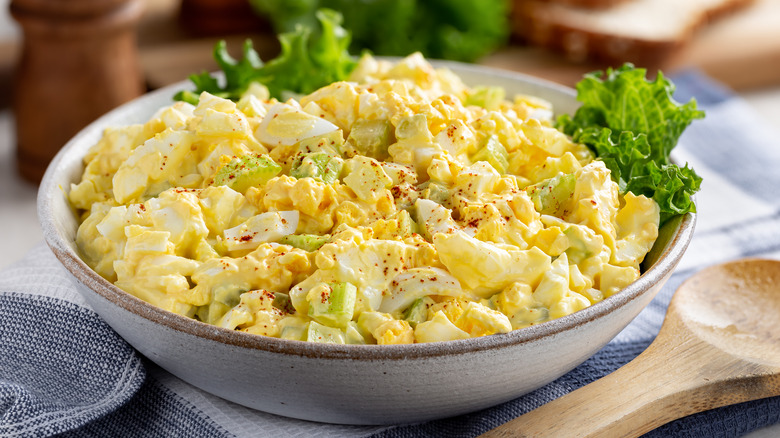 Chas53/Getty Images
If you like boiled eggs, you are almost certainly a lover of egg salad. The mix of creamy mayonnaise, tender egg whites, and jammy egg yolks is a blank savory canvas for all sorts of additional seasoning and add-ins, allowing anyone to tailor their egg salad to their liking. Protein-filled and delicious, it is great served atop a green salad or stuffed into a pita bread as a sandwich.
There are just as many variations of the egg salad as there are people who make the dish — from creamy Japanese egg salad on milk bread to mayo-heavy American iterations. One interesting variation involves the use of cream cheese and butter in place of mayonnaise. With a denser texture and a stronger flavor from the cream cheese, this Polish egg salad (not to be confused with salatka jarzynowa, a potato-vegetable salad) is a new twist on the old formula. Its thicker texture makes it ideal as a spread on crackers as an appetizer — or as the main attraction on an open-faced sandwich.
A thicker, spreadable egg salad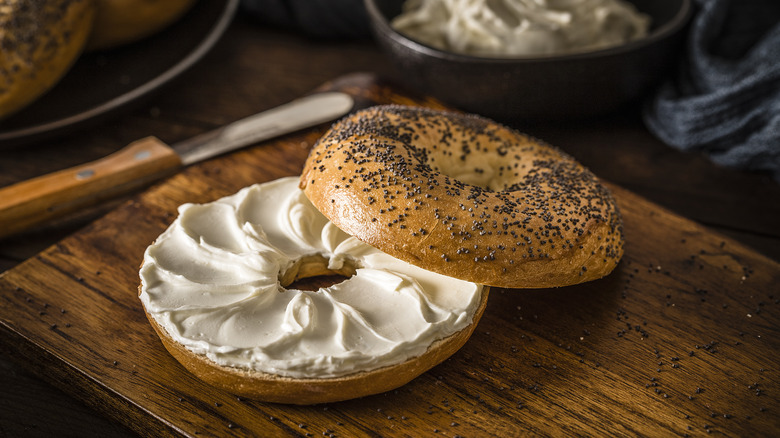 Carlosgaw/Getty Images
To make this twist of the classic egg salad, you will need cream cheese, softened butter or full-fat milk, hard-boiled eggs that are cooled and peeled, chopped white onions, mustard, salt, and ground pepper. Optionally, you can give this egg salad some lightness and crisp texture with the addition of chopped celery and scallions.
In a stand mixer with a whisk attachment, combine cream cheese with softened butter until slightly fluffy, making it usable as a binder for the eggs. If the mixture is too thick, add a little bit of milk at a time until it reaches the consistency of a dip. Chop the hard-boiled eggs by hand or with an egg slicer, and add them to the mixing bowl along with the onions, mustard, salt, pepper, and the optional vegetables. Fold everything together with a soft rubber spatula until everything is combined. Scoop the salad into large ramekins and garnish with fresh herbs such as minced parsley or chives.
How to serve Polish egg salad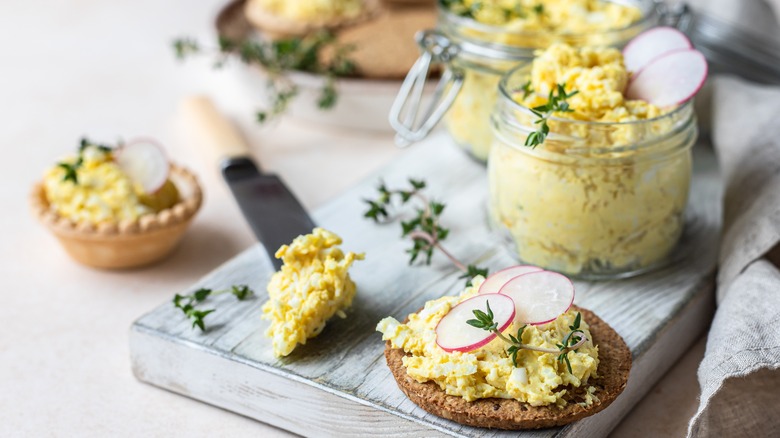 Maslova Valentina/Shutterstock
Polish egg salad, using cream cheese as a binding agent, is an inspired and delicious riff of the classic. Unlike the one made with mayonnaise, this version will come out of the fridge with a much thicker texture, not unlike a dip or spread. As such, it is the perfect companion to thick cucumber slices, flatbreads, and various types of crackers — all perfect for dipping. It also serves as a hearty filling for tea sandwiches when topped with watercress.
If you prefer a thinner texture but still wish to keep the tangy flavor of cream cheese, you can halve the cream cheese and replace it with sour cream, which gives you a slightly thinner texture that could be easier to use as a dip. Other additions to egg salads can include additional protein such as diced ham, or seasonings such as Old Bay, smoked paprika, and cayenne pepper.