Ina Garten's Favorite Plating Technique Is Inspired By Picture Frames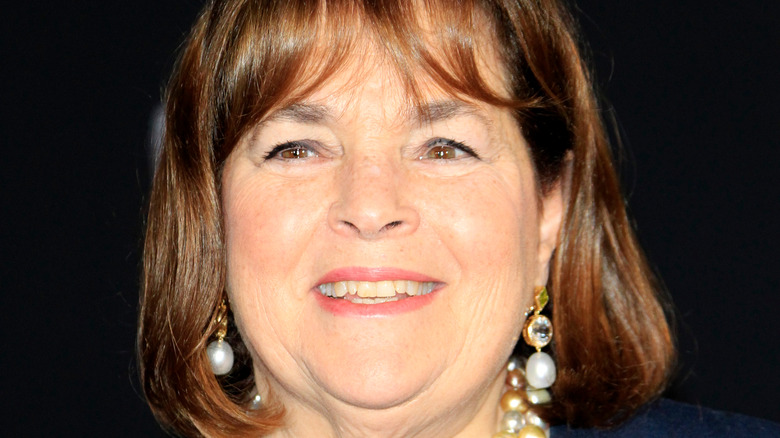 Kathy Hutchins/Shutterstock
We may receive a commission on purchases made from links.
Ina Garten has shared her culinary and entertaining approach since 1999 through 13 bestselling cookbooks and a popular cooking show. While she has tweaked recipes along the way, offering several upgraded versions of roasted chicken, for example, the Barefoot Contessa's design aesthetic remains steady, whether serving supper for herself and Jeffrey or hosting a formal dinner party.
In Garten's 11th cookbook, "Cook Like a Pro," published in 2018, she shares her favorite plating techniques, which she often echoes in interviews and social media posts. According to Garten, food looks the best on simple white serving pieces, which she purchases from homeware stores, restaurant supply outlets, and home stores. As Garten explains in the "Ask Ina" section of her website, her extensive collection of white china is purchased mainly from Williams-Sonoma and Crate & Barrel, favoring brands like Pillivuyt and Apilco.
Despite her affinity for Chinese blue and white dishes, food "pops" against a white backdrop, which is why her Instagram feed is consistently filled with images of her white dinnerware collection, something viewers of her Food Network show are familiar with. While plating the food on white dinnerware is a crucial first step, simply throwing the food on a platter isn't enough. Garten likes to frame the food, leaving a white border along platters like a picture frame to "showcase" her culinary creations.
How to showcase food like Ina
In her book "Cook Like a Pro," Garten compares plating food to arranging flowers in a vase, stating that the flowers should be the focal point, not the vase. The same holds for serving food. While using beautiful, intricately patterned serve ware is tempting, it detracts from the main attraction — the meal.
When serving salads and pasta, traditionally served in deep bowls, the Barefoot Contessa prefers shallow bowls and platters that don't hide the food. Food is piled high, leaving a white frame around the perimeter so guests can admire what they are about to eat.
Garten factors in the shape and size of the food to find a platter to complement the dish. Slow-cooked meats like brisket or pot roast, which are angular and blockish, are placed on shallow, round platters to soften the edges. Opting for oval platters, Garten elongates the platter when serving long, narrow recipes like beef tenderloin, 
When appropriate, Garten likes to serve individual portions to make the presentation feel more special and intimate. Chocolate mousse is served in stemware, and individual chicken pot pies and mac and cheese are prepared instead of a family-style meal.
Ina's casual elegance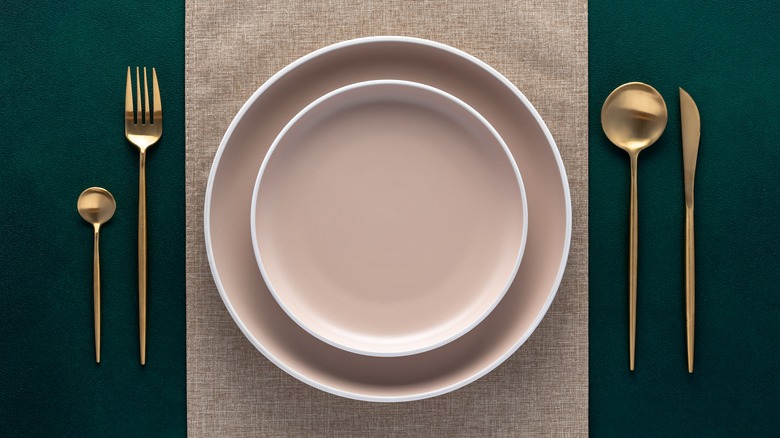 Tetiana A/Shutterstock
Garten is known for her casual elegance and sets the tone when she hosts with music, the menu, and where she serves a meal. Her style simultaneously makes guests feel at home by eating meatloaf in the kitchen instead of the dining room. She juxtaposes the comfy vibe with cloth napkins and real silverware placed next to simple white plates, letting guests know they are special enough to make "an effort." Each detail is considered, preferring the soft look of unironed linen over starched napkins and tablecloths.
Always serving on white doesn't mean the tablescape needs to be boring. On Garten's kitchen shelves and often on her tables, she pairs white china with old hotel silver, which she collects and uses daily. Garten keeps a jar of antique silver-tasting spoons near the stove, like a shiny bouquet.
This high-low aesthetic has become a trademark her legions of fans have come to love and replicate. Pops of color are added to tablescapes with the food and a centerpiece, which Garten says on an Instagram post is where "every table setting starts."