Marcus Samuelsson's Caipirinha Cocktail Packs A Swedish Twist
false/Shutterstock
Marcus Samuelsson's culinary style is influenced by his diverse background, making it as polished as his wardrobe. Born in Ethiopia and raised in Sweden, the dapper chef infuses his African and Nordic roots into the eclectic dishes he serves at his famous restaurants, like Red Rooster Harlem. His cookbooks are filled with fusion recipes that tell the story of his heritage and pay tribute to his adoptive family and grandma Helga, including recipes like Sweden's hot wine beverage Glögg or incorporating the Ethiopian spice mixture, berbere, in certain dishes.
When deciding what to serve at his African-themed party, the chef honored his African heritage with a unique (and very Samuelsson) twist on a Brazilian favorite: the caipirinha. African culture influenced Brazilian cuisine during its three centuries of slave trade (from 1540 to 1888), so the drink choice is quite logical. Samuelsson uses a Nordic liquor, aquavit — the national spirit of Sweden, Denmark, and Norway — to add a Scandinavian influence to Brazil's national cocktail. The addition of cranberries creates a jeweled red hue and adds a festive flair.
Samuelsson's Cranberry Caipirinha
The caipirinha is traditionally made with fresh lime juice, finely granulated sugar, and the Brazilian spirit, cachaça, also called Brazilian rum. Cachaça is produced solely in Brazil and is made from fermented sugar cane juice, unlike rum, which is distilled from molasses. Although cachaça is often placed in the rum category at liquor stores, the spirit is described as less sweet with an earthy, grassy flavor, distinguishing the two. 
Samuelsson's caipirinha substitutes cachaça with aquavit, which is distilled from grains or potatoes like the neutral spirits vodka and gin. Aquavit is then infused with aromatics like caraway or dill, citrus peel, and spices like fennel, cardamom, clove, and juniper for a distinctly Scandinavian taste. 
Samuelsson makes a cranberry caipirinha in a cocktail shaker by muddling chopped cranberries with a lime wedge, a little water, and a tablespoon of granulated sugar. He adds one-third of a cup (two ounces) of aquavit and ice cubes to the shaker before straining the cocktail into a rocks glass filled with ice. Samuelsson serves his ruby-red version with a lime wedge or wheel, making this version perfect for the holidays.
Additional variations of the Caipirinha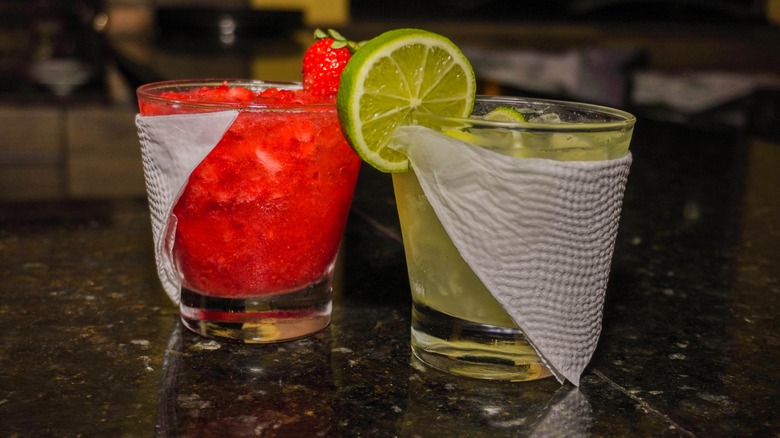 Andre Crispim/Shutterstock
For five centuries, the caipirinha has been enjoyed in South America, and now the rest of the world is finally catching on. While the OG is delicious as-is, modern mixologists like Samuelsson serve up subtle variations that appeal to every palette — in every season.
For a tropical twist, try a passion fruit caipirinha. Add ripe passion fruit to the usual suspects to make this refreshing drink even more refreshing. Depending on the season, you can also swap the passion fruit for other tropical fruits like kumquat and pineapple with mint or add berries, like strawberries or raspberries with lime. Just remember to save some of the passion fruit pulp or berries to garnish the cocktail.
Caipirinhas can be made with other spirits if you're fresh out of cachaça. To make the caipiroska, substitute vodka for the Brazilian spirit. The camparinha is a bitter Italian version that substitutes Campari for a pretty pink cocktail.
Some caipirinha recipes replace granulated sugar with other sweeteners like honey or simple syrup, which dissolve better in cold liquids; however, the cocktail won't be as lime-forward. When muddled, granulated sugar acts like an abrasive, releasing the lime's essential oils for a more flavorful drink, so we think it's worth the muscle.