Wendy's Confirms The Rumors: The Pumpkin Spice Frosty Is Here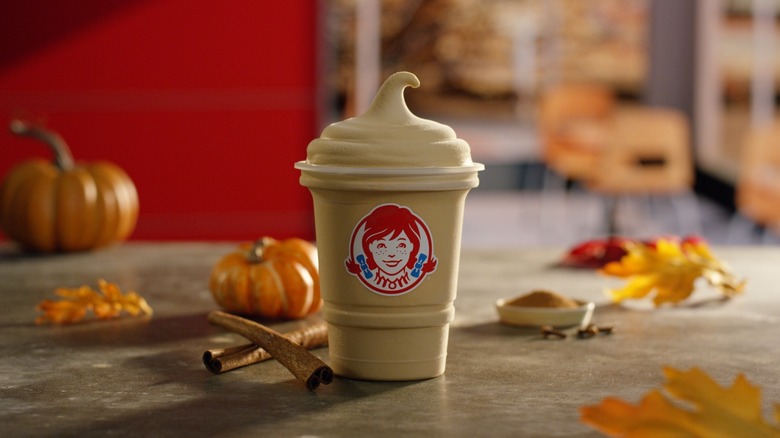 Wendy's
Summer might not be over yet — at least according to the calendar — but a new season is undeniably here. That's right: It's officially pumpkin spice season. The trendy seasonal flavor is now appearing on coffee chain and fast food menus across the nation, from pumpkin spice lattes at Dunkin', McDonald's, and Starbucks to pumpkin spice donuts at Krispy Kreme.
Wendy's, too, has joined in the seasonal celebration, as the burger chain recently announced the upcoming release of two pumpkin spice-flavored drinks: the Pumpkin Spice Frosty, and the Pumpkin Spice Frosty Cream Cold Brew (via press release). Both will be available at Wendy's locations around the U.S. starting on Tuesday, September 12, with a special deal in partnership with Uber One premiering on the following day.
Wendy's is no stranger to seasonal flavors. It released a Peppermint Frosty for the holidays last year, after all. But this year's pumpkin spice treats are being launched for the first time at its restaurants. 
New flavors and seasonal deals coming soon at Wendy's
Wendy's Frosties are akin to richly textured soft-serve milkshakes. The new Pumpkin Spice Frosty will achieve its namesake flavor via a syrup combining cinnamon, nutmeg, and pumpkin. The same seasonal syrup combination will also be used in the soon-to-be unveiled Pumpkin Spice Frosty Cream Cold Brew.
Uber One members are eligible for a special deal involving the Pumpkin Spice Frosty that kicks off September 13, the day after the two new drinks are added to Wendy's menus nationwide. Those who order a Pumpkin Spice Frosty not only get a second one free, but they'll also get a free medium order of fries thrown in for good measure. That, plus the free delivery that comes with an Uber One membership makes this an exceptional value.
These new pumpkin spice-flavored drinks won't be around forever, however, as Wendy's has noted this is a limited-time, seasonal offer. No expiration date has been released, but Wendy's new Frosty Boo! Books coupon offer — which boasts tickets for up to five free Frosties in junior sizes — will only be sold through the end of October. Proceeds from the affordable $1 coupon books go to the Dave Thomas Foundation for Adoption, so not only can pumpkin spice aficionados get their seasonal flavor fixes at a serious discount, but they can support a good cause, too.