When To Defrost Frozen Vegetables For The Best Texture Results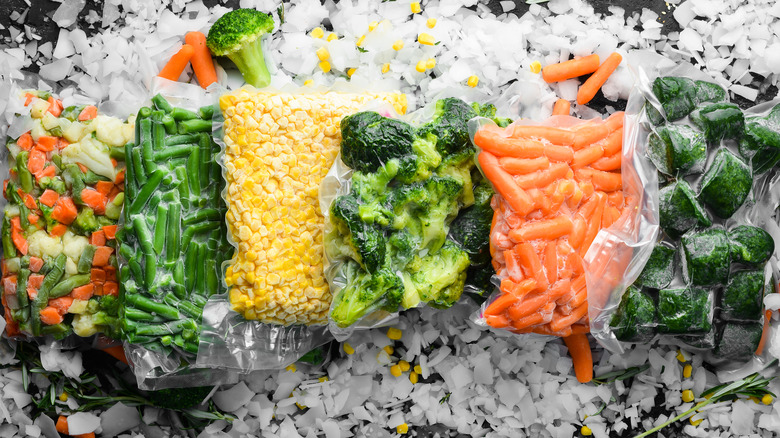 YARUNIV Studio/Shutterstock
Whether home cooks are purchasing bags of frozen vegetables or preserving summer's bounty themselves, frozen produce offers both convenience and a significant time-saving advantage in the kitchen. Manufacturers blanch high-quality produce to retain its color and crispness, a process that is a heck of a lot faster than shelling and blanching fresh peas for a Monday night chicken pot pie — while being just as nutritious.
Flash-frozen at the peak of freshness, frozen vegetables often serve as a less expensive alternative, allowing home cooks to enjoy flavorful produce year-round, especially when it's not in season. Gone are the days when only peas, carrots, and green beans occupied the frozen food aisle. Now, chefs are turning to frozen artichoke hearts, kabocha squash, and sliced leeks to make meal prep easier and dishes more interesting. But unlike sauces and meats, which must be thawed before use, most frozen vegetables yield the best results when cooked directly from their frozen state. Similar to baked goods, thawing vegetables beforehand can lead to soggy textures and wasted time.
Generally speaking, if the produce is individually frozen — think chickpeas, corn, and broccoli — and you don't intend to use the entire package, it should be cooked while still frozen to preserve its texture. However, this is not a free pass to store vegetables in the freezer indefinitely. Unopened bags should be used within a few months, while partially used bags should be consumed within a week for optimal quality in these recipes and beyond.
How to cook with frozen vegetables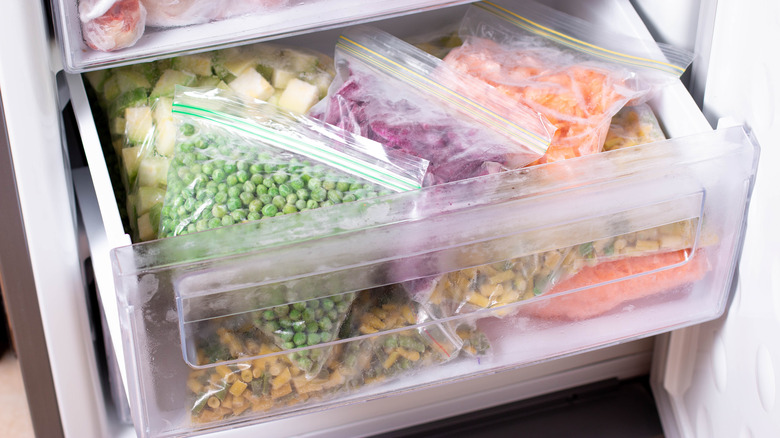 Ahanov Michael/Shutterstock
How you use frozen vegetables depends on the recipe at hand. While most manufacturers include microwave instructions on the packaging, steaming isn't the only method for cooking frozen vegetables. When excess moisture isn't a concern, you can add frozen vegetables during the last few minutes of cooking simmering soups and stews until they're warmed through. In some pasta dishes, frozen produce can even be thrown into the boiling water and drained along with the pasta (though we recommend reserving some cooking water for the sauce). Classic Neapolitan dishes like aglio e olio can get a colorful upgrade with the addition of broccoli or peas sautéed in garlic and oil.
Sautéing frozen vegetables in a hot skillet helps preserve their texture, even though they will inevitably be a bit softer than their fresh counterparts. Frozen eggplant is a delicious time-saver in dishes like Pasta alla Norma, and frozen peppers and onions can caramelize beautifully for your favorite Mexican dishes, like fajitas.
Roasting or grilling vegetables like asparagus or cabbage brings out the veggies' natural sweetness, and the same principle applies to their frozen versions. To achieve this, drizzle oil over frozen vegetables and toss them in your preferred seasoning while a sheet pan preheats in the oven. After a few minutes, carefully arrange the vegetables in a single layer on the hot pan and roast them until the edges are slightly charred and the Maillard reaction has done its flavorful work. Delicious!
The exception to the rule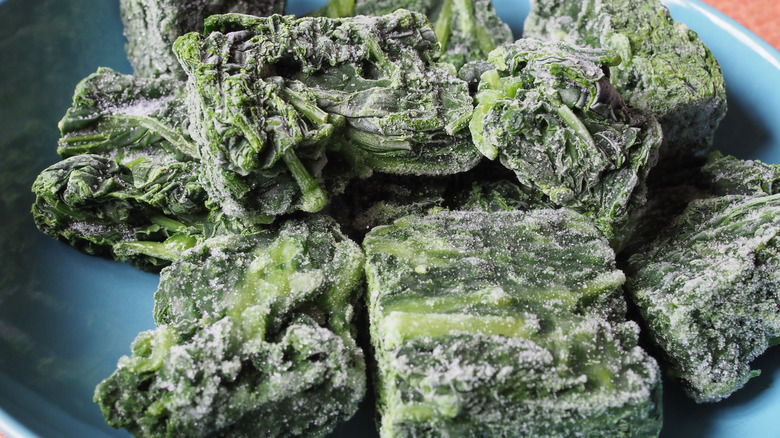 Claudiodivizia/Getty Images
Like any rule, there are exceptions. Greens like spinach and chard, often sold frozen in blocks, need to be thawed before incorporating them into a recipe. Once thawed, it's essential to squeeze out the excess water using a clean dish towel or potato ricer; you'd be surprised at the amount of water these greens can hold. Once drained, greens like chopped spinach can be added to popular appetizers like spinach-artichoke dip, or delicious entrees like the feta-studded, buttery spanakopita.
Keep in mind that frozen vegetables generally cook faster than fresh ones, so you may need to adjust cooking times accordingly — often reducing them by half. While frozen vegetables will be softer than their fresh counterparts, not all need to be heated or cooked before use. Low-moisture options like frozen corn can go directly from the freezer into dishes, including salads. For instance, try substituting fire-roasted frozen corn in a grilled corn pesto macaroni salad recipe. When making pesto, which traditionally isn't cooked, you can blend frozen peas, broccoli, or edamame with the usual suspects — olive oil, garlic, pine nuts, and Parmesan — in a food processor for a delicious pasta sauce variation.
For cold pasta and potato dishes like sesame noodles or picnic salads, place the frozen vegetables in a bowl and then add the hot pasta or potato chunks. This not only thaws the veggies but also halts the cooking process of the starchy ingredients. Toss with the dressing while still warm, and enjoy.