You Can Tour Ina Garten's Luscious East Hampton Garden. Here's How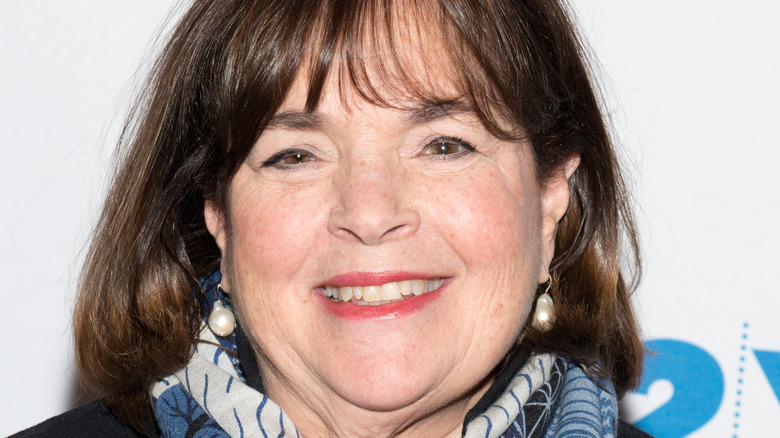 Noam Galai/Getty Images
There's at least one herb that Ina Garten isn't sold on, and that's bay leaves. So, it's safe to assume that you probably wouldn't find any of the aromatic leaves in her East Hampton garden, which she occasionally shares pictures and video clips of on Instagram. For those interested in seeing firsthand what she actually does have growing in her garden, you don't have to marvel at the fruits of the Barefoot Contessa's labor solely on social media: There's a chance you can tour her luscious Long Island garden in person, so long as you're a member of the Connecticut-based Greenwich Botanical Center.
When the celebrity chef isn't busy whipping up delicious-looking homemade dishes and refreshing cocktails, hosting lavish dinner parties, and welcoming entertaining celebrities and other notable figures into her beautiful shingle-style New York home, for episodes of the Food Network's "Be My Guest," the renowned cookbook author can probably be found tending to the lush home garden, which is home to a variety of fruits, vegetables, and herbs just waiting to be enjoyed.
Tour Ina Garten's home garden
For someone as fond of fresh produce as Ina Garten, it should come as no surprise that she has one of the most magnificent gardens around. In a video shared on TikTok, a group can be seen touring the popular chef's various garden spaces and beautifully manicured lawns surrounding her home. But what really piqued viewers' interest was the fact that people were able to tour her gardens in the first place, with someone commenting: "WAIT. She allows tours?!" User @rgarrityrokous, who uploaded the clip, responded that tours were, apparently, available, with just one caveat: "I am a member of the Greenwich Botanical Center," she explained, "and they had a members trip there and a few other gardens in the Hamptons." 
With a mission of promoting conservation and horticulture, the nonprofit volunteer organization, which is based in Cos Cob, Connecticut, offers a variety of classes, workshops, and other nature-based programs in addition to field trips to see the fantastic green landscapes of nearby homeowners like Ina Garten. Memberships to the botanical center, which are good for one year, are available for individuals, families, organizations, and businesses, ranging in price between $35 and $1,000. But, for those interested in exploring immaculate gardens in the area, it may be money well spent.
Here's what's growing in Ina's garden
It's unclear whether or not the East Hampton tour was a one-off. However, similar to the aforementioned TikTok video, tours of Garten's garden can be readily accessed online for those who don't want to obtain a membership to the botanical center or who aren't located near the area. The celebrity chef herself has even taken to Instagram to give a tour of her property's flourishing gardens. In a video shared to her feed, she walks along a gravel path through what she calls her "shade garden," pointing out ferns and crape myrtle trees before turning down a little path paved with large square stones towards what she refers to as her "secret garden."
Looking like something straight out of a fairy tale, the walled garden is overflowing with roses, lavender, tomatoes, fig trees, and a variety of fresh herbs, including sage, chives, thyme, and tarragon. Garten even shares a tip for those desiring their own garden oasis. "Even if you don't have room for a garden, you can always put pots of herbs on the windowsill like basil and tarragon and have delicious herbs for your cooking," she says. And, with fresh herbs plucked straight from the soil to elevate any dish, your meals are sure to taste as if the Barefoot Contessa made them herself.