What Exactly Is A Bento Cake?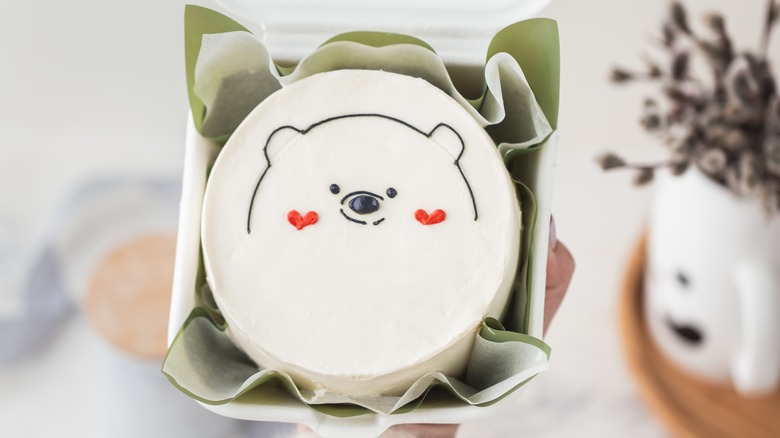 alexanderon/Shutterstock
Contrary to popular belief, you can have your cake and eat it too. In fact, you can eat it all by yourself without having to share one single morsel of its decadent layers, from the sweet creamy frosting on top down to the rich and moist cakey inside. At least, that's the case with bento cakes — small, single-serve cakes that are meant to be eaten by just one person. That's right, there's absolutely no sharing required.
The scrumptious little treats can vary in size but are generally no bigger than three to four inches in diameter and typically only feature two to three short layers of cake and icing. Similar to standard-size cakes, bento cakes can be made in a variety of flavors, from a classic chocolate cake to the miniaturized likes of a cardamom cake with coffee buttercream icing, and can be used to celebrate any occasion, including birthdays, holidays, weddings, and even gender reveals.
Bento cakes are designed for just one person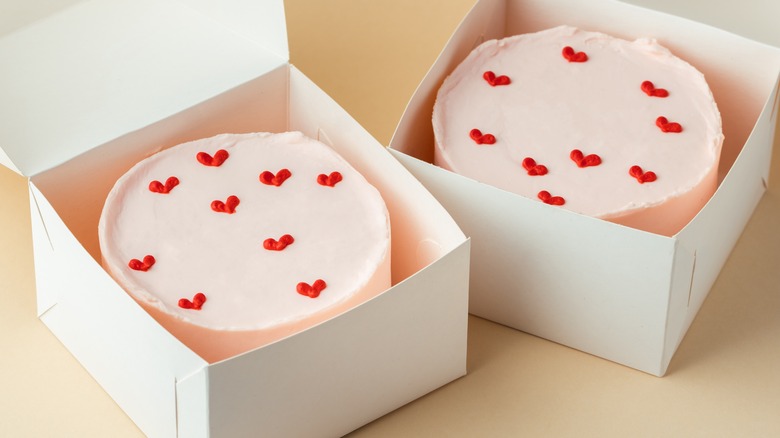 alexanderon/Shutterstock
Also known as lunchbox cakes, the tiny desserts became famous in bakeries throughout South Korea and have swiftly taken off in other parts of the world, including the U.S. and India. However, bento box meals, or single-serve portable lunches, can be traced all the way back to the late 12th century in Japan, with the term "bento" hailing from China's Southern Song Dynasty's word "biàndāng," which translates to "convenient."
Designed to fit in a small box or takeaway container for taking them on the go, bento cakes are still big enough to serve two to four people, making them perfect for smaller parties or more intimate gatherings, which is why they surged in popularity amid the coronavirus pandemic as people moved away from large events in favor of social pods — providing a sweet silver lining to lockdowns. 
But what really sets these adorable cakes apart from their conventional counterparts — that is, aside from their size — is their minimalist design. Although some bakers opt to give them fancier decorations, they usually feature a short message, tiny designs, or a simple piped drawing due to their small diameter, making them almost too cute to eat. 
Where to get bento cakes in the U.S.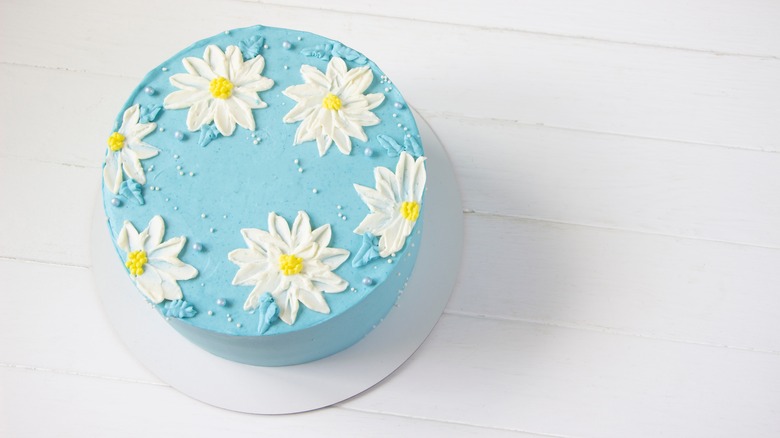 Grandiflora/Shutterstock
For those eager to take a bite out of one of these delightful desserts, bento cakes are widely available in a variety of bakeries across the country, including Washington D.C.'s Superbloom Cakes, the Los Angeles-based Harucake, and New York's Keki Modern Cakes, which makes bento-sized cakes in cheesecake form. And with prices ranging between $10 to $30 on average, they're incredibly affordable compared to larger full-sheet cakes that can easily run upwards of $80.
The delectable mini-cakes have certainly taken social media by storm, with the hashtag #bentocake garnering more than 2.1 million posts on Instagram alone. And for those keen on making their own lunchbox cakes, Tiktok users are sharing their best tips for baking the perfect bento cake, from how to assemble the layers to sketching designs on the icing without messing up. Tiktoker @yusrashomebakery shares that they use a cake cutter to get the smaller size, and then they use the scraps for trifles (cake pops would also be delicious). Overall, this is a low maintenance dessert perfect for small gatherings.