Caramelize Your Roast Chicken With Lemon Curd For Deep, Juicy Flavor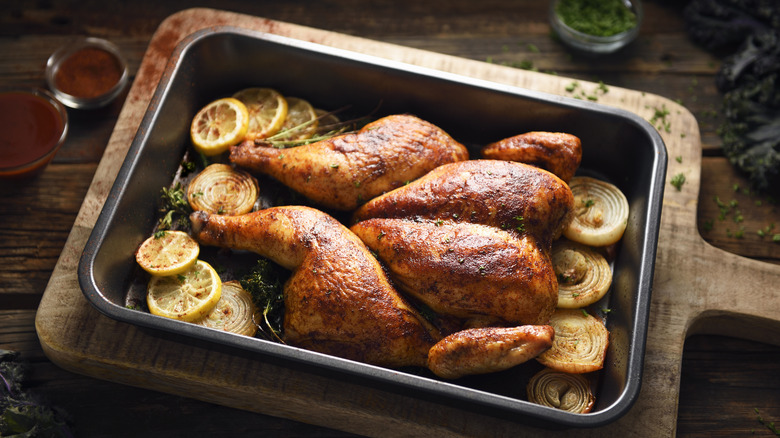 Easybuy4u/Getty Images
Maybe you already love lemon curd as the sunshine-colored creamy top layer of lemon bars or as a tart accompaniment to a light-as-air pavlova, but have you ever tasted lemon curd slathered on roast chicken? As surprising as it may seem, lemon curd is one of the rare desserts that can (and should) make the transition from sweet to savory for an appearance alongside the main course.
If you've ever roasted a chicken before, you may have used a sweet, sticky element, like honey (for a Vietnamese lemongrass chicken) or maple syrup (for a bacon and maple roast chicken) to create a glaze. Lemon curd fulfills the same function while also balancing the sugary component with the acidity of the citrus. Beyond its benefits for the flavor of the final dish, lemon curd can improve the texture, too; the sugars in the curd will caramelize, making the chicken skin crispy, and the moisture from the fats in the curd will create succulent, perfectly cooked meat.
Tips for preparing your lemony roasted chicken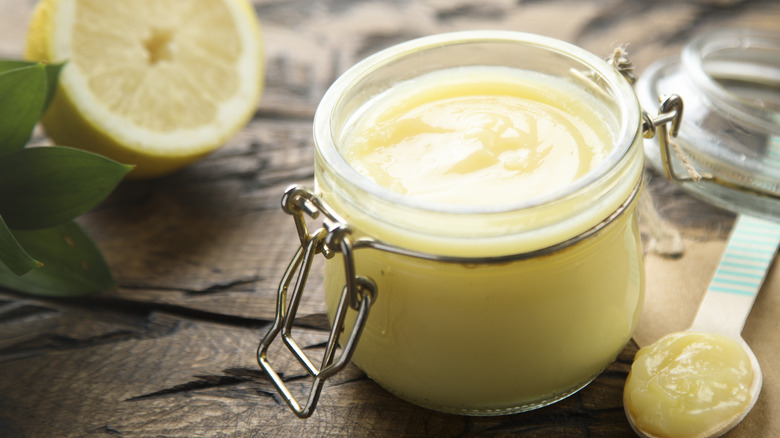 Mariha-kitchen/Getty Images
Whether it's your first time, or you already know everything you need to know about cooking a whole chicken, you'll find that roasting a chicken in lemon curd is fairly easy. You can choose to make the curd from scratch — or, if you want to keep things as simple as possible, you can purchase the curd from a grocery store. For an additional shortcut, ask your local butcher to spatchcock or butterfly your chicken for you, as removing the backbone will help the meat cook evenly.
The trick to maximizing the magic of lemon curd is to use your fingers to generously spread it both under and on top of the skin before placing the chicken in a preheated oven to roast. Finishing with a sprinkle of salt and a drizzle of olive oil will boost the flavor and improve the texture, too. Don't forget your aromatics! Fresh herbs like rosemary or dried sage pair deliciously with lemon.
Other kinds of citrus curd and sides to serve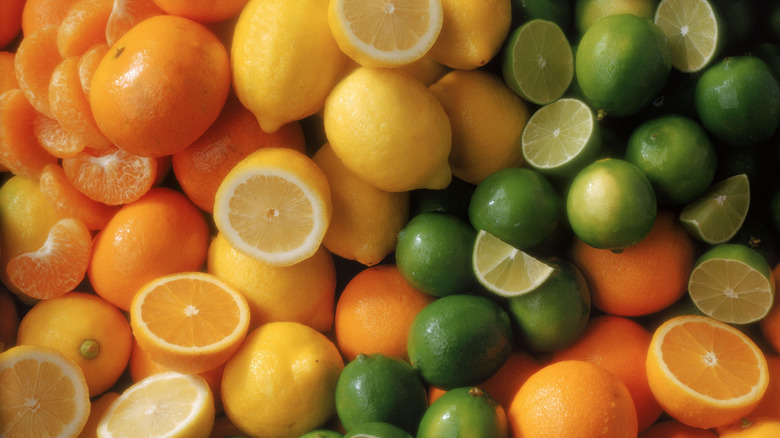 Burke/triolo Productions/Getty Images
Once you've discovered how delicious roasted chicken can be with the addition of lemon curd, you can also experiment with other kinds of citrusy curds — passionfruit, lime, grapefruit, tangerine, and blood orange. You'll probably want to make or buy a little extra curd to have for something sweet after dinner!
Now that you have the main course and dessert figured out, don't forget about the sides. Just about any classic side dish that you'd normally serve with roast chicken — from fresh and bitter greens like spinach and kale to mild and hearty vegetables like potatoes and cauliflower — can pair nicely with the bright, lemony taste of this particular preparation. Garlic goes well alongside a lemon curd chicken while ginger and red pepper flakes each lend a nice bit of heat to the meal. For some added texture and a nutty flavor, you may also want to top your side dish with toasted almonds or coconut.